Printed matter competition to celebrate opening of Artist Textiles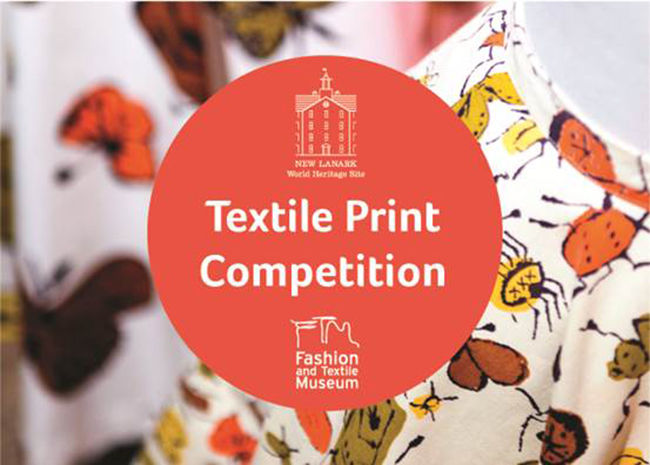 A unique competition is being held to celebrate the opening of London's Fashion and Textile Museum's Artist Textiles – Picasso to Warhol exhibition at New Lanark.
New Lanark, an 18th century cotton-spinning Mill Village and one of Scotland's six UNESCO World Heritage Sites, is delighted to announce the launch of a textile print competition.
Textile production and innovation has been the continuous thread throughout New Lanark's history, from the village's early years as the one-time largest cotton manufacturer in Scotland, to now producing over 60 shades of high-quality woollen yarn using historic textile machinery and launching the world's first Organic Tartan in 2015.
Through an exciting new partnership, New Lanark will be hosting a prominent touring exhibition from the Fashion and Textile Museum in London in 2018. Artist Textiles – Picasso to Warhol traces the history of 20th century art in textiles with highlights including prints of work by Salvador Dali, Henri Matisse, Pablo Picasso and Andy Warhol.
To celebrate the arrival of this exhibition and the village's textile production history, New Lanark are launching a design competition to commission a special 'New Lanark' textile print, to incorporate into a new range of promotional merchandise which will be sold exclusively within the New Lanark Mill Shop.
The textile print should be an all over repeat pattern that embodies the theme of 'Living and Working at New Lanark'.
This theme can incorporate a number of topics such as the village's social history and industrial heritage, textile production, New Lanark's unique architecture, natural surroundings and the Falls of Clyde.
This is a non-exhaustive list and entrants are encouraged to be inspired by conducting their own research into New Lanark by visiting the village or viewing content at their website, on Instagram or through Facebook.
The competition is open to the general public, design students and existing designers. In conjunction with the Year of Young People 2018, New Lanark would be particularly interested to see entries from aspiring designers and young creatives and as such have designated an 'under-16' prize category.
Entries are encouraged to be as creative as possible, whilst keeping in mind the commercial viability of the design and its appeal to New Lanark visitors including international tourists, visitors from elsewhere in Scotland and the local community.
New Lanark will work with the overall winner to incorporate the winning pattern into a range of promotional textile items to be sold exclusively within the New Lanark Mill Shop.
The winner will also receive a Place on a specialist workshop ('Couture Inside Out' OR 'Fashion Drawing') at the Fashion and Textile Museum in London (Travel and accommodation NOT included), as well as Remnant Kings fabric vouchers, a framed copy of print and Complimentary passes to Artist Textiles –  Picasso to Warhol exhibition and the New Lanark Visitor Attraction. There will also be an Under 16 Winner and runner up prizes.
The Fashion and Textile Museum is the only museum in the UK solely dedicated to showcasing developments in contemporary fashion, as well as providing inspiration, support and training for those working in the industry.
Founded by iconic British designer Zandra Rhodes in 2003, the museum is part of Newham College London – one of Europe's largest further education colleges. The Fashion and Textile Museum offers an exciting programme of exhibitions and displays throughout the year, alongside an array of talks, events and workshops with industry professionals. Recent exhibitions at the Museum have included 'Liberty in Fashion', 'Josef Frank Patterns – Furniture – Painting', '1920s Jazz Age Fashion & Photographs' and 'Missoni Art Colour'
To enter click HERE.