New event will mark 150 years of Mackintosh style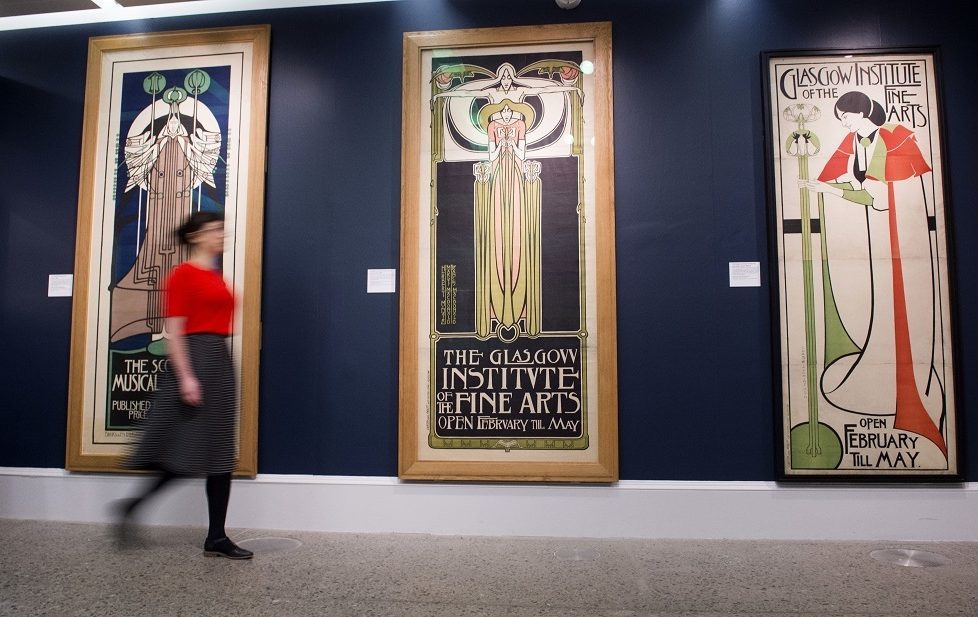 An exhibition marking 150 years since the birth of artist Charles Rennie Mackintosh is being held at Glasgow's Kelvingrove Art Gallery and Museum.
Glasgow Museums will commemorate this significant anniversary with a major new temporary exhibition spanning Mackintosh's lifetime, 1868–1928. By following a chronological narrative, Charles Rennie Mackintosh Making the Glasgow Style presents his work in context to Glasgow, key predecessors, influences and Glasgow Style contemporaries.
The dynamic and entrepreneurial creative spirit in the city in the late 19th and early 20th centuries is captured; showcasing the rich diversity of designers and artists, educators, institutions, manufacturers and industrialists then working in Glasgow and in design and technical education of that time at The Glasgow School of Art.
Charles Rennie Mackintosh Making the Glasgow Style showcases the very best of Glasgow's internationally renowned civic collections, alongside key loans from The Hunterian, The Glasgow School of Art, the V&A and a number of private lenders. Several of these works have never been on public display and the majority have not been shown in Glasgow for 30 or more years.
Councillor David McDonald, the Chair of Glasgow Life and Depute Leader of Glasgow City Council, said: 'We are delighted to bring this magnificent exhibition to Kelvingrove to celebrate the incredible legacy and creative genius of Glasgow's greatest cultural icon.
'Charles Rennie Mackintosh's ground-breaking work is now synonymous with Glasgow and lauded internationally so it is only right we mark the 150 th anniversary of his birth with something very special.
'This exhibition gives Mackintosh aficionados space and time to enjoy a wealth of stunning objects, a number of which they will never have had the opportunity to see before. It has given us an opportunity to invest in the conservation and preservation of some fantastic pieces of art and design in our civic collections and share a new presentation of the Glasgow Style story, its influence and its incredible art with a whole new generation.'
Born in Glasgow on 7 June 1868, Charles Rennie Mackintosh went on to be regarded as one of the most creative figures of the 20th century and a leading figure in both the Scottish Arts & Crafts Movement and European Art Nouveau. An architect, designer and artist, Mackintosh left a legacy of magnificent work and is considered one of the principal exponents of the Glasgow Style.
Key highlights include a section of lathe and plaster wall with a stencilled design by Charles Rennie Mackintosh for Miss Cranston's Ingram Street Tearooms. An early example, from 1900 of his internationally renowned rose motif, this wall section was salvaged just prior to the building being gutted and repurposed into a hotel in 1971.
Meticulously conserved, this stunning piece of architectural history will be on display for the first time since its removal from the former tearoom premises. This will be shown alongside a number of other decorative elements and fittings from the interiors of the Ingram Street Tearooms, again for the first time on public display; conserved especially for this show.
Renowned for his architectural designs, his transformative use of light and his approach to the interior as a total work of art, the exhibition examines Mackintosh's architecture and design before finishing with a look at his career away from Glasgow, the evolution of the Glasgow Style into Art Deco and his move into intricate watercolour painting towards the end of his life.
The exhibition at Kelvingrove Museum is one of the highlight events in a yearlong celebration throughout 2018 entitled Mackintosh 150.
It is co-ordinated by Mackintosh heritage partners from across Glasgow and beyond and includes a programme of events at The Lighthouse and at Mackintosh Queen's Cross, as well as the re-opening of Mackintosh at the Willow, Miss Cranston's original tearooms in Sauchiehall Street. The Glasgow School of Art, The Hunterian at the University of Glasgow, House for An Art Lover and the new V&A Dundee will all play host to dedicated event and exhibition programmes.
Charles Rennie Mackintosh Making the Glasgow Style runs until Tuesday 14 August.
Tickets cost £7 per adult/£5 per concession, children under 16 free. For more information visit www.glasgowmuseums.com.