Mark 21 years of the Britannia berthing in Scotland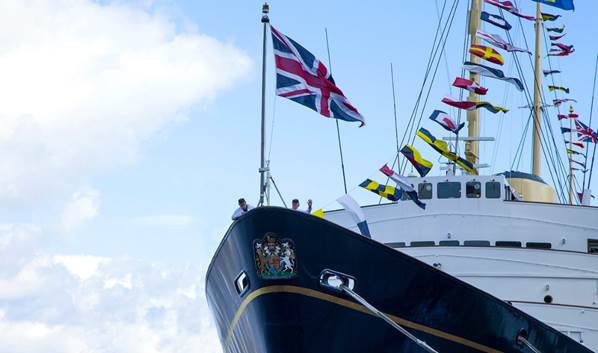 A special celebratory evening is being held to celebrate The Royal Yacht Britannia's 21 years in Edinburgh.
Taking place from 7pm on Saturday 19 October, visitors will be welcomed aboard along the red carpet by Britannia's piper to experience an unforgettable evening marking 21 years since Britannia arrived in Edinburgh.
The evening starts with Champagne and canapés in the State Drawing Room whilst the pianist will entertain guests on Britannia's original grand piano, once played by Sir Noël Coward, Princess Margaret and Princess Diana.
The reception will be followed by a captivating private tour of Britannia's State Apartments, giving an insight into how the Royal Family and crew lived and worked on board.
A delicious four-course menu will be served in the elegant state dining room by Britannia's butlers. Featuring the very best Scottish ingredients, the dinner will be prepared by chef Mark Alston and his team in the original Royal Galleys. A light jazz trio will add ambience throughout dinner.
During Royal service, Her Majesty The Queen would have a Beating of the Retreat at the end of State occasions held on board Britannia. Experience a unique musical finale to your evening with a spectacular performance on the quayside.
Tickets are £225 inc VAT per person, and to book click HERE.
Visitors can enhance their experience with a night on board the new luxury floating hotel, Fingal, berthed only a few moments away from Britannia. Guests booking tickets to our Royal Experience dinner can enjoy 10% off rates for cabins on board Fingal.