Life drawing comes to Scottish Maritime Museum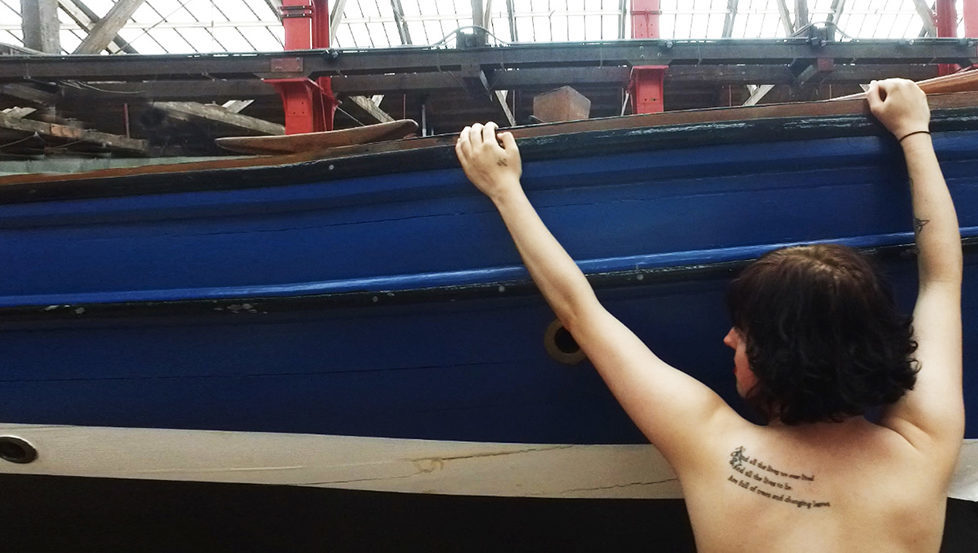 Scottish Maritime Museum will swap shipping for stripping as it hosts a Life Drawing with All The Young Nudes event.
The Scottish Maritime Museum's vast, Victorian glass roofed Linthouse will be the scene for an extraordinary after hours sketching event on Friday, 31 August.
One of the highlights of the Museum's art inspired events and activities celebrating the Maritime Perspectives exhibition, the Life Drawing event will be hosted by Glasgow's popular All The Young Nudes Drawing Club in the Linthouse on the Harbourside in Irvine.
The informal evening will begin at 6.30pm when guests will get an opportunity to see the exhibition and listen to live folk music by DLú before sketching begins at 7pm.
Sketchers can choose to draw everything and anything from beautiful historic boats and detailed engineering machinery through to two life models or the whole scene as it unfolds.
Fiona Greer, curator of art at the Scottish Maritime Museum, said: 'We're very excited to welcome All The Young Nudes and sketchers to the Linthouse for what will be a rather unique opportunity to experience life drawing against the magnificent industrial and historic setting of the Linthouse of 1872.
'Like all our great events and activities taking place alongside our new art exhibition, this event is ideal for beginners and those with experience. It's a wonderful one off opportunity to draw from life inside this Cathedral of Engineering and one not to be missed.'
Joanna Suskind of All The Young Nudes added: 'If you haven't tried before, then drawing from life, especially the human form, is an amazing skill. It teaches you to focus, concentrate, observe and clears your brain! This is the perfect opportunity to try it for yourself!.'
Tuition will be informal and on request.
Sketching will finish at 9pm and the event closes at 9.30pm.
Tickets for the event are priced £11 per sketcher, including all drawing materials, when purchased in advance online or directly from All The Young Nudes or at the Museum. Tickets on the day will be priced £15.
More information and tickets can be obtained HERE. http://atyn.co.uk
Other upcoming events include an Etching Workshop with textile artist Laura Frood on Saturday 22 September.
The day-long taster day is ideal for adults and children over 12 years of age and those wanting to try etching for the first time.
Etchers will be able to tour the Maritime Perspectives exhibition during the day, taking inspiration from the stunning etchings exhibited including those by official WW1 War Artist Sir Muirhead Bone and William Lionel Wyllie.
Fiona Greer will also lead another Curator Tour of Maritime Perspectives at 2pm on Tuesday 4 and 11 September. The Tour on 4 September will be a Touch Tour, enabling visitors to experience artworks in a unique way – through touch and scent. The Touch Tour is especially suited to visitors with a visual impairment.
Kate Downie will be the next artist to feature in the Museum's popular Meet the Artist: Tea, Talk and Tour event at 2pm on Saturday 8 September. Kate will talk about her experiences capturing the North Sea oil industry.
The Scottish Maritime Museum's Maritime Perspectives: Collecting Art of a Seafaring Nation exhibition is the first full showing of the Museum's new national art collection. Maritime Perspectives is open daily until 21 October. Entry is included in the Museum admission.
Information about all upcoming events and tickets are available HERE.