Cultural connections will come to the fore with new Glasgow exhibition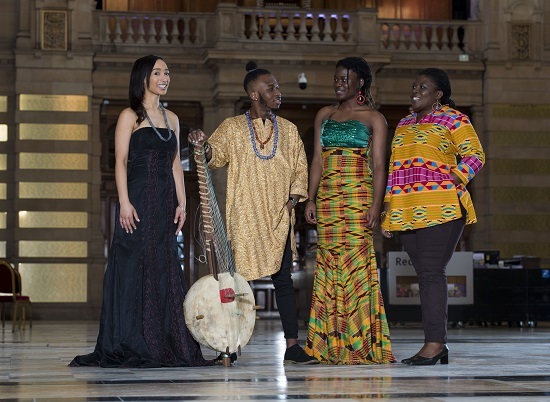 A Scottish museum is exploring cultural connections with a new display.
Glasgow's Kelvingrove Art Gallery and Museum has undertaken an ambitious redisplay of the World Art and Cultures Gallery.
The brand new gallery has now opened to the public with two new displays that tell the story of African Style and the Ancient Tea Horse Road.
The number of objects on show has increased by 45%, including three new acquisitions of work by Scottish artists of African descent.
Glasgow-based Ghanaian designer Naa Densua Tordzro made an elegant, bespoke evening gown in Ghanaian Kente cloth for the African Style – Connecting Past, Present and Future display. Next to it is a 'pasichigare' entitled 'we are nature', a stunning, intricate digital artwork combining poetry and art created poet Tawona Sithole and artist Tarneem al Moustawa-Sithole.
Naa Densua Tordzro said :'I trained as a fashion and textile designer back home in Ghana. Kente for me is home. When I wear kente I feel proud. Kente is a royal cloth and as a woman from a royal family, I have chosen to use this to represent my identity and also the identities of any Ghanaian living in Scotland.
'I am honoured to see my gown in Kelvingrove. I hope the new display will encourage other Africans living in Scotland to visit and share my pride in our culture and its contribution to society.'
Chair of Glasgow Life, Councillor David McDonald, said: 'Glasgow has always been and continues to be a welcoming place for people from all over. As a city we benefit greatly from the different cultures and traditions of those who choose to live in Glasgow. Art from across time and place continues to inspire and surprise and uniquely presents art as a universal global phenomenon.
'As such we are delighted to work with local artists who are proud Africans happy to call Glasgow home. It is wonderful to be able to share their culture and story in our newly redisplayed Cultural Connections Gallery.'
Activities to celebrate the new exhibition are planned for Saturday 7 April 2018 at Kelvingrove Museum.
The public are invited to join in an exciting mix of textile printing and storytelling to recognise the creative connections between African Countries and Scotland.
Other objects include an intricately beaded African cape, a traditional headrest from Kenya, hand-crafted jewellery from across the continent, and other examples of dress from the region such as East African kangas. Striking photography and a short film produced by young Africans from Glasgow add context to the stories shared in the gallery.
The second story tells of the importance of the tea and horses that led to the forging of the Ancient Tea Horse Road, the longest trade route in the world. A cup of tea is enjoyed daily by millions of people across the world, for many it is a mode of relaxation for others a symbol of respect and goodwill.
Using objects, photographs and AV interpretation the new display explores the rise in popularity of tea and the women who have dedicated their lives to the industry.
For thousands of years, until the end of World War II, caravans of traders with mules and human porters travelled across an ancient network of dangerous trails that crossed the Himalayan Mountains to exchange tea, horses, minerals and salt between Tibet, China, India and Myanmar. The Tea Horse Road also acted as a channel for the communication of art, ideas and culture between the otherwise isolated tribal peoples who lived along its length, enabling them to be transformed by individual cultures.
The history of tea-drinking in Tibet dates back to the 7th century. Over time the demand for tea increased to become a vital part of the Tibetan diet. Tea cannot grow in Tibet's harsh climate, so it had to be imported from China. The tea was exchanged for Tibetan war horses, needed by the Chinese to defend against invaders from Mongolia. This trade gave the Tea Horse Road its name, although caravans also carried other valued goods.
Pat Allan added: 'We commissioned truck art from Punjab. The town of Sirhind is famous for its artists' brightly coloured, dramatic truck painting, and trucks from across the whole of North India are driven here to be decorated.
'The designs on Himalayan trucks from Kashmir were particularly striking so we requested some of the works, such as the cabin ceiling on display, in Kashmiri style.'
The Cultural Connections Gallery is located on the first floor of Kelvingrove Art Gallery.