Colourful event to mark the change of seasons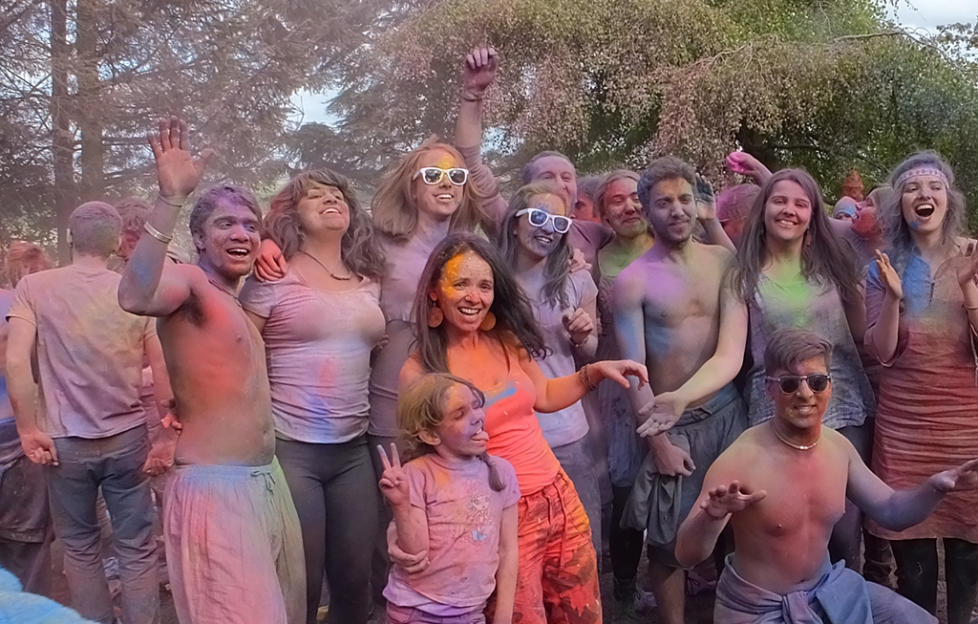 Hundreds of people from across Scotland will take part in Holi, the Indian Festival of Colours, at a farm next weekend.
On Saturday 18 May, at the Krishna Eco Farm, a project of ISKCON Scotland in South Lanarkshire will celebrate the change of seasons by the throwing of coloured paints.
Holi is an ancient tradition celebrated in India, and has rapidly grown in popularity across the UK, appealing to both young and old and bringing together people of all backgrounds, ages and cultures. The throwing of the coloured paints celebrates the end of winter with a lively kaleidoscopic display. The celebrations will culminate in a traditional bonfire.
The festival will also feature live music and dancing, and a selection of vegan food will be available for purchase. Visitors can also enjoy exploring the stalls where they can find something for everyone including clothing, books, and yoga items.
President of Krishna Eco Farm, George McMullan said: 'The annual Festival of Colours is a fantastic day out for everyone, kids and adults alike – people really get into the spirit and have lots fun throwing coloured powder at each other.
'Holi provides an amazing opportunity for people to come together, unite and transcend boundaries of race, creed, culture, age, nationality and gender. It promotes equality, social harmony and peace. Inevitably it gets messy so don't wear your best clothes!'
Participants are recommended to dress in casual, white clothes to fully capture the experience of Holi. Non-toxic, powder paint will be available to purchase at the event.
ISKCON Scotland's Krishna Eco Farm was officially opened in 2012 to promote a healthy, wholesome, balanced and holistic way of living. It aims to bring people together with the purpose of practising a simpler, more natural way of life as taught in the timeless yogic writings of India.
The co-organiser of the event – EICSP is an events-led Scottish charity that works with the world's spiritual traditions, both in Scotland and internationally. The EICSP advances education of the public in Scotland, and elsewhere, concerning spirituality, culture and peace.
The ISKCON community aspires to make the world better through the education and culture of bhakti yoga, offering opportunities for individual and social change through international programmes to distribute free plates of vegan food, spiritual music and meditation, and access to books on philosophy and self-empowerment.
The throwing of colours will start at 5pm. Admission: £10 for adults, £5 for unwaged, students and youth 13-17, free for children 12 and under.
Visit https://www.iskconscotland.org/ for more details.