A lunar landing in light and sound to be enjoyed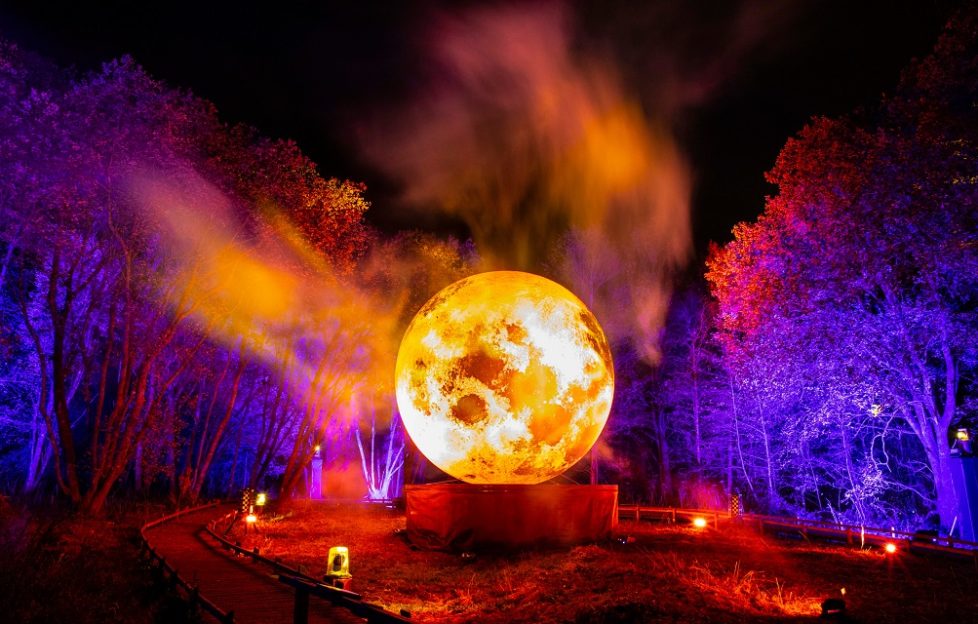 Illuminight with Lidl, the light and sound spectacular, returns to Kilmarnock's Dean Castle Country Park this week with a brand-new Space themed trail.
Inspired by the 50th anniversary of the Moon landing, the 2019 event, which last year attracted over 42,000 visitors, transforms the picturesque park into a galaxy filled with stunning lighting effects, spacemen, aliens and shooting stars leading audiences on an intergalactic adventure from the KASA Spaceport (Kilmarnock Aeronautics and Space Administration).
Unique Events, Scotland's leading events and festivals creation company, and East Ayrshire Leisure have engaged with Scotland's leading lighting designer Grant Anderson and production specialists Black Light to curate an all-new show for 2019 which includes interactive elements for adventurers young and old.
Using state of the art lighting and projection techniques, Illuminight with Lidl takes visitors to the Moon and back, around the Solar System and encourages them to take on some KASA Astronaut training before Touchdown brings them back to earth.
Among the many showstoppers is One Giant Leap – an incredible Spaceman created by Girvan artist David Powell. Standing 12 feet high, this intricate willow sculpture is an extraordinary sight and sure to be a popular Instagram moment.
Penny Dougherty, director of Unique Events, said: 'The Space themed Illuminight with Lidl has totally transformed Dean Castle Country Park. We take audiences on an exciting inter-stellar journey around the woodland trails with stunning lighting effects and interactive activities. It really is a wondering evening out for adventurers of all ages.'
Councillor Elena Whitham, chair of East Ayrshire Leisure, said: 'To see Dean Castle Country Park transform again this Autumn is very exciting and I can't wait to make my way through Hyperspace and into the Solar System. As in previous years, this promises to be a fantastic experience with truly magical moments for all of our visitors.'
Supermarket chain Lidl return as headline sponsors to support the event this year, with audiences enjoying delicious Lidl products from the Lidl Warming Zone, which in 2018 served over 7,000 cups of hot chocolate and 50,000 toasted marshmallows over the 23-night run.
Official accommodation partners The Park Hotel, Kilmarnock return with special event offers, with Afternoon Tea, Dinner and Accommodation packages available for both local audiences and visitors travelling from outwith East Ayrshire to the event.
Illuminight with Lidl in Dean Castle Country Park runs until Sunday 17 November 2019.
Tickets are available from www.illuminight.co.uk. While discounted tickets for KA postcode holders have now sold out, event partner Lidl are offering a 10% discount on full price and child weeknight tickets by quoting the code LIDL10 when booking through www.illumininght.co.uk or by calling the box office on 0844 573 8455. (Calls cost between 2p to 7p per minute plus your phone company's access charge. Mobile networks charges may be more expensive.)
Weekday (Tue – Thurs) tickets priced at £12.50 full price, £6.50 child, £35 for a family ticket and £11 for group ticket (10+ adults). Weekend (Fri–Sun) tickets priced at £14 full price, £7.50 child, £40 for a family ticket and £12.50 for group ticket (10+ adults).