There's nothing fishy about the quality of his work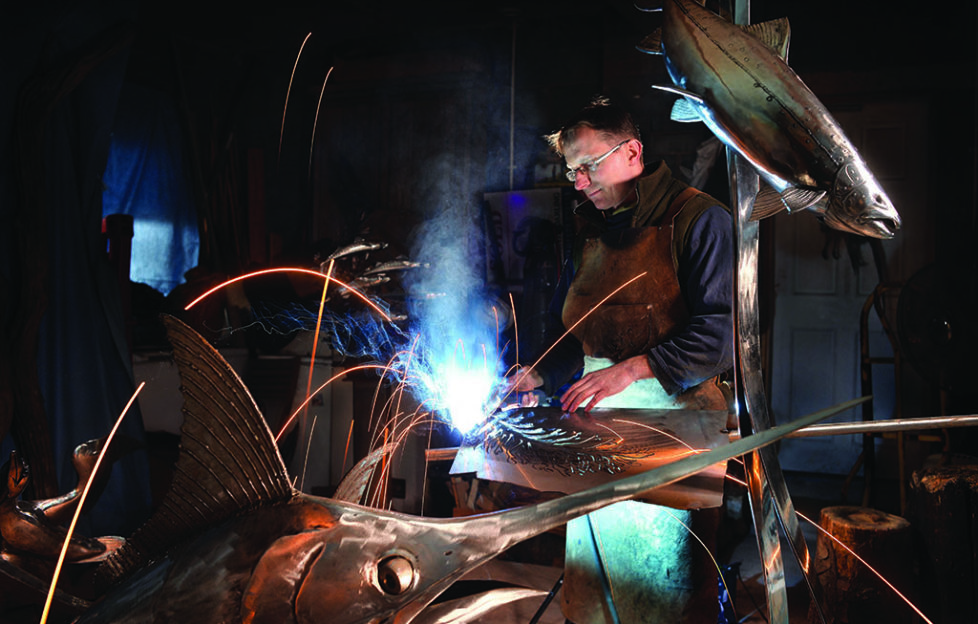 There can be no better place for a sculptor whose muse is all things piscatorial than Eyemouth.  
It's been almost 20 years since Jason Sweeney moved to the small Berwickshire fishing town from his home in the north of England. He found a place where he was able to begin his career in metal work, even if his talent for art was underappreciated.
Born from nature and forged in the white heat and sparks of a smithy, Jason's passion for metal sculpture is all encompassing
'I started off as a blacksmith,' he says. 'I loved art back then, but I grew up in a rough part of Manchester and at that time taking an interest in art would have led to being stabbed or at the very least ridiculed.'
Jason's break into creative work with metal came from making bespoke curtain finials and poles for interior shops. 'The footballers' wives
loved them and they became very fashionable,' he recalls.
Today Jason turns sheets of steel and bronze into beautiful wildlife art.
A keen fisherman and lover of the outdoors, Jason can be found fishing and underwater filming in Scotland's salmon rivers or snorkeling and diving in the marine reserve along the coast of Eyemouth and St Abbs. And when he's not in the water himself, Jason spends time watching the fishing boats come and go from Eyemouth's busy harbour.
'It's great watching boxes of fish coming off the boats,' he enthuses. 'Especially now that people are more adventurous with the fish that
they eat. It's not all haddock and cod any more, you get John Dory and gurnard and all sorts of wonderfully colourful fi sh.'
Metal is the perfect material to create fish; the shine, colour and patina all working together.
'I can create bronze bladderwrack with silvery fishes diving out from it and I just love it,' he says.
Breaking down his subjects anatomically allows Jason to build them in sections from welded metal plates. 'Fish and crustaceans lend themselves brilliantly to metalwork,' he says.
'For example, the gill covers and the jaw of a fish when taken apart mirror the sections of steel that I beat and grind into shape to create the fish, likewise with lobsters and langoustines.'
Much of Jason's work is commission-based and he has pieces in private collections across the UK and all over the world. These bespoke pieces start with a visit to the place where the sculpture will be sited, multiple sketches and talking to the client.
'That way I can see the piece in my head and know what I want to achieve,' explains Jason.
'Sketches will evolve and progress over time until they reflect how the finished piece will look.'
Jason has also created gannets, golden eagles and stags, and is currently working on some kingfishers for Fin and Game, a new tackle shop in Kelso.
His work is permanently on display and for sale at the House of Bruar. Shows in London are to be followed with an installation of work in Howie's restaurant on Waterloo Place in Edinburgh to create an art show with great food and wine thrown in for good measure.
This feature was originally published in 2016.