The murder clues are all in this picture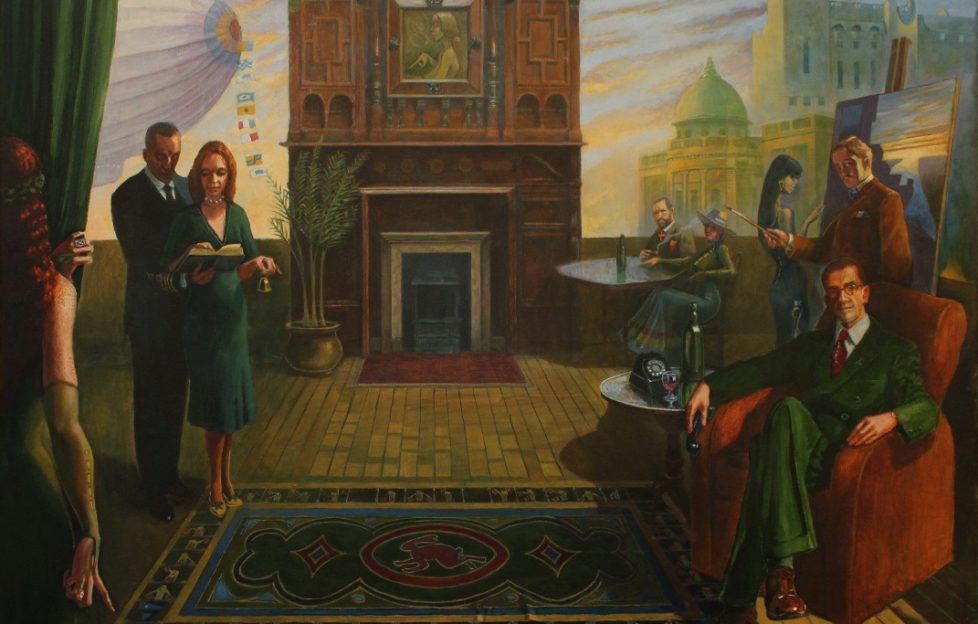 There's been a murder – and an artist is challenging the art viewers to find the culprit.
Artist Frank McNab has created a new work, Find the Guilty Party, which is currently on display at Glasgow Art Club.
The painting is based on the golden age of detective fiction of the twenties and thirties (Agatha Christie, Edmund Crispin, Chesterton, Sayers, etc), and shows the denouement scene where the detective reveals the guilty party and explains how this was discovered.
This picture contains all the clues necessary for the viewer to solve the mystery and identify who in the painting is the guilty party.
The crime itself is irrelevant, but to establish the identity of the guilty party the viewer must become the sleuth and refer to such code systems as Morse, semaphore, shipping flags, and plain observation and application of logic.
Frank said: 'All the clues are there. The application of straightforward detective skills and observation should give Inspector Japp as much chance of finding the guilty party as Hercule Poirot!
The artist has already contacted police and offered the use of his painting in the training of recruits, but the force has been reluctant to accept, stating that they have their own 'specialised unit who would train officers in this area.'
Frank smiled: 'I'd be very interested in seeing those paintings. Seriously, though, I understand the serious nature of the work our police force engages in, but I think this is an enjoyable opportunity for recruits and established officers to develop their creative thinking in relation to following a sequence of links and clues.'
The painting is currently on exhibition in the Glasgow Art Club, 185 Bath Street, G2 4HU. The huge ornate fireplace portrayed is actually in the room where the painting is being exhibited.
Visit the Art Club to view the painting in person or purchase a print from the artist's website, www.frankmcnab.com.
Glasgow Art Club  is located at 185 Bath Street, Glasgow.