The iconic work of famed Scots artist Eric Auld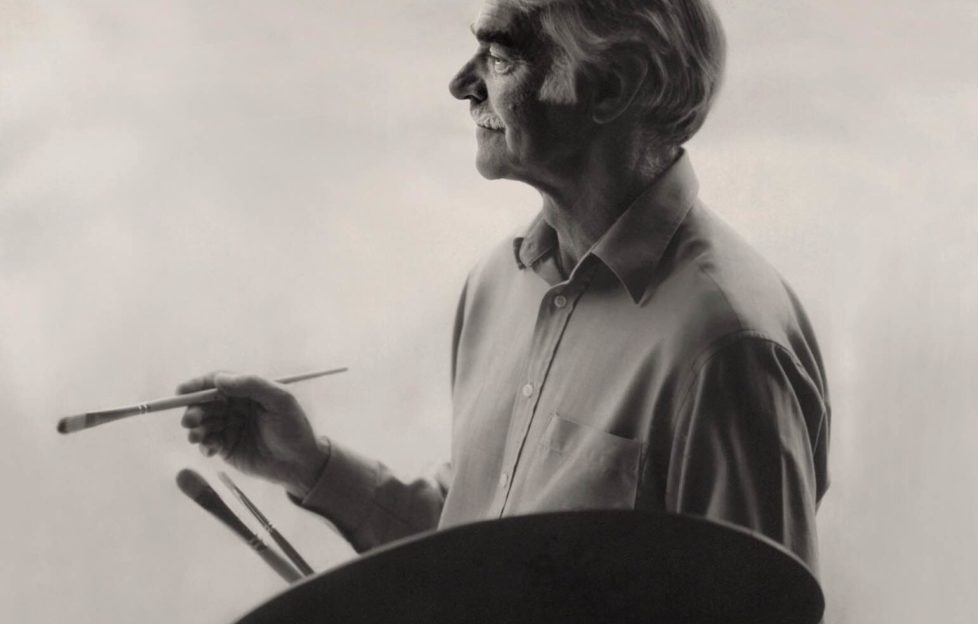 There are few artists whose works are instantly recognisable – iconic Aberdeen artist Eric Auld is one of them.
As I scrolled through this gentleman's exquisite collections of portraits, selfportraits, pen and inks, cityscapes and landscapes on my screen, a fellow colleague leaned over my shoulder in delight – 'Is that an Eric Auld? My mum has one on her wall!'
Affectionately known as 'Mr Aberdeen', it would be criminal to omit the late Eric Auld's artwork from our north eastern Art Trail. Born in 1931 in Boddam, Aberdeenshire, he was in many ways destined to become a master of the arts. Son of Alexander H. Auld, an antiques dealer, painter and decorator by trade, and Margaret R. Auld (née Swanson), a prolific floral painter and portraitist, he found himself at the heart of an intrinsically creative family.
He was, in fact, part of an evergrowing painting dynasty. His sister, Rozelle, was a successful portraitist and still-life painter; her husband, Valentino Morrocco, was an architect and brother of Scottish artist Alberto Morrocco; and Eric's two nephews Nicholas and Jack Morrocco became professional artists in their own right – one a highly proficient sculptor, the other a globally renowned painter.
Beautifully communicating subjects onto a blank canvas from the age of ten, Eric's commitment to drawing presented itself at an incredibly early stage. Deirdre Smith, the youngest of Eric's three daughters, explained: 'I've got sketchbooks from every year of his life since 1941. There is a pen and ink that he did aged 19, and on the back he's written in pencil, "A start of a career?" He left school soon after to go to Gray's School of Art.'
Eric's innate affinity for art was immediately noted by both his peers and his tutors, and was soon recognised as a blossoming talent, going on to win the Davidson Gold Medal at the Aberdeen art school. It was at Gray's he met fellow artistic colleagues William Baxter, Donald Buyers and William Ord, with whom he formed a highly influential art group, ABBO – an acronym of each of their surnames.
'They were like the Glasgow Boys of Aberdeen', said Deirdre. 'They all had a different style. In the 60s it was very abstract. We have paintings from his ABBO days and you'd often see paintings on both sides of the board. People buying them at Duane Mead's [The Rendezvous Gallery, Aberdeen] were getting two for one! In those days, it was down to rations – artist materials were hard to come by.'
Upon graduation in 1953, Eric was awarded the Robert Brough Travelling Scholarship, allowing him a year to explore different styles while visiting France, Spain, Italy and Holland. Here, he developed a series of international works inspired by his travels.
'It allowed me to study the masterpieces in the great galleries of the continent and create paintings as I went from place to place', wrote Eric in his artist's statement. 'It was a wonderful experience and also most productive.'
Following this and a two-year stint of National Service in Catterick – which he fulfilled, in spite of being denied 'any worthwhile painting time' – he returned to the north east of Scotland to marry the love of his life, Pat.
'In 1957 with National Service over, Pat and I were married and teaching began at Rosemount School. Daughters Catriona, Fiona and Deirdre completed our family', he wrote. With six grandchildren – Sam and Heather Tippin, Blair and Rory Leslie, and Stirling and Glen Smith – the creative Auld-Morrocco dynasty lives on.
As a young artist, Eric was frequently approached for commissions, and his work was greatly admired by one Frances Farquharson – an eccentric American fashion editor who worked with British Vogue and Harper's Bazaar. She was married to Captain Alwyne Farquharson MC, the 16th Laird of Invercauld. With a few castles to call home, including Braemar and Invercauld Castle, she asked the young Eric to paint the interiors of both castles, as well as portraits of her husband and daughter.
Striking up a long-lasting friendship, Pat and Eric often dined at the castles, or indeed invited them to visit their Aberdeen home.
A selection of the letters sent between Eric Auld and Mrs Farquharson have now been framed and hung in the newly refurbished Fife Arms Hotel in Braemar, along with an oil painting, 'Braemar – Games Field Under Snow', showcasing the site of the annual highland games.
Subsequently embarking upon a teaching career, Eric passed on a wealth of knowledge to his school pupils at Rosemount, then moved on to Aberdeen Academy and Kincorth Academy, where he was Principal Art Teacher. (One can only imagine the joys of having a local hero guiding you through watercolours, oils, portraits and sketches!).
'He would come home at lunchtime, paint for 20 minutes or so, then head back out again', said Deirdre. 'Dad is particularly known for oil paintings. I've noticed that out of the 300 paintings of a legacy he left, people tend to prefer the oil on canvas. Out of the 300 or so, maybe 60 are left. Of course, Duane Mead at The Rendezvous Gallery has been a great help. It was a  fabulous place to exhibit.'
As an avid hillwalker, Eric's love for the countryside shone through in many of his works, with Royal Deeside's spectacular scenery a recurring subject. However, his repertoire extended far beyond that. From oil pastels to pen and ink, jewellery making to sculpting, wood carvings to sketching, Eric Auld's artistry was limitless and he could turn his hand to just about anything.
When the Tall Ships visited Aberdeen in the early 90s, for instance, Eric was invited to attend a workshop, organised by the City in Duthie Park, to convert a tree trunk into a figurehead.
With this task confirming his interest in sculpture, he went to the Scottish Sculpture Workshop in Lumsden. Here, he set about recreating one of N. C. Wyeth's Treasure Island illustrations as a bronze sculpture – having grown up inspired by the works of Robert Louis Stevenson, his magnificent Long John Silver bronze was a fitting tribute.
Of course, when the grandchildren started arriving, he passed many hours doing woodwork, lovingly making toys for the new arrivals in the family.
'I promised Dad I would keep the prints going and have done. We've also added some originals to that. I think it's important because he was such a prolific painter. His style certainly changed from when he started in the 50s right up until 2013. It's lovely to keep interest out there.
There's so much work – it can't just be in rows facing the walls in his studio', said Deirdre.
Eric Auld depicted his home city in a way that only he could – his works are striking, unique, and truly capture the essence of this part of the world. No matter whether he undertook a still-life painting, a portrait, a sculpture, an intricate piece of woodwork or jewellery, his pieces were that of a true craftsman. While his art continues to hang on the walls of homes across the north east, Scotland and beyond, he has immortalised the beauty of his 'beloved Aberdeen' and Royal Deeside.
There is little doubt that his name will remain synonymous with Aberdeen for centuries to come.