Seven stories from Mackintosh's artistic journey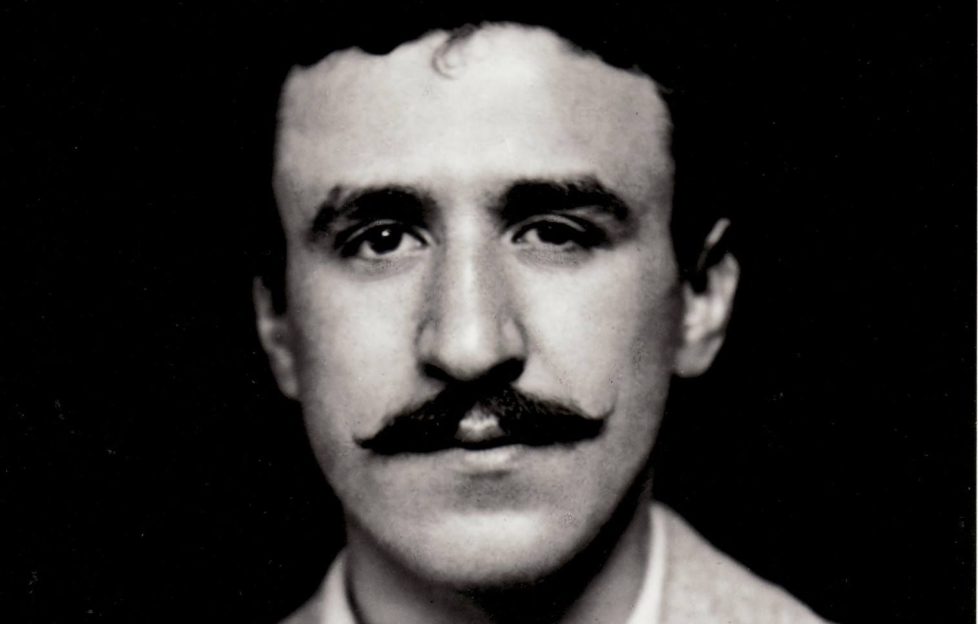 A new suite of paintings by the renowned playwright and artist John Cairney are due to go on display at the Glasgow Art Club next month.
The works, inspired by the life of Charles Rennie Mackintosh are to be Cairney's final works on canvas. At the age of 89 he has decided to hang up the paintbrushes after a short but highly successful career as a painter.
The exhibition will run at the The Glasgow Art Club, 185 Bath Street, Glasgow, from 6 April-6 May.
John Cairney presents a new suite of seven paintings inspired by the life of Charles Rennie Mackintosh. Each work tells the story of a specific period in Mackintosh's colourful life; from his time as a frail schoolboy in 1883, through his career as a draughtsman, architect and artist right up to his untimely death in 1930.
The Mackintosh Series begins in 1883 with a young Mackintosh 'in goals' for Allen Glen's School (Glasgow). The works then illustrate his working life as an architect, draughtsman and artist and as one of the 'Four'.
The fifth canvas tells an interesting tale; it depicts Mackintosh walking along the Suffolk shoreline in 1915. Cairney claims that Mackintosh was suspected of being a German Spy due to his 'odd behaviour'.
When soldiers arrived at his home, they were convinced Mackintosh was German after failing to understand an abundance of curses in his strong Glaswegian accent. Searching his home, soldiers came across letters written from a German artist friend and threw him in a Suffolk jail.
He would have undoubtedly faced a firing squad, had wife Margaret not convinced the magistrate of his innocence. Cairney reports that Mackintosh kept quiet from the moment of his arrest, only chuckling at the sheer absurdity of the situation he had found himself in.
In the final 'act' of this painted series, Cairney presents Mackintosh in 1930, looking back on his life and work from a garden in Hampstead shortly before his death from cancer of the tongue. We see a neglected Glasgow architect and designer as an artist, who had a clear vision of what art can offer. Deeming utility to be the primary function of art, he created the distinctive sense of line and tone that defines his unique, figurative style.
Cairney's association with Mackintosh began in 1974 when he was invited by R. W. Adams OBE, managing director of the A. H. McIntosh Furniture Company, Kirkcaldy, to prepare a Mackintosh Programme under their auspices.
They had decided to promote a line of furniture based on Mackintosh designs and thought that a theatrical presentation of his life and work might prove a valuable marketing assist to this project. As a result, in 1975, Cairney was able to provide a programme entitled, Mackintosh the Man, at a seminar for architects held at Kirkcaldy in December 1975 as part of the International Year of Architecture.
This presentation was further developed by Cairney over the following decade, with further performances at all the known Mackintosh sites in Scotland, at the Edinburgh Festival in 1978, at the Lyceum Studio Theatre in 1979 and culminating in a full-cast version for Scottish Television in 1980.
John Cairney is well known to and loved by audiences in Scotland and internationally through his one-man shows on Robert Burns, Robert Louise Stevenson, Robert Service, Charles Rennie Mackintosh and William McGonagall.
In more than 60 years as an artist, he has worked as an actor, recitalist, lecturer, director and theatre consultant. He is also a published author and an exhibited painter. Trained at the Royal Scottish Academy of Music and Drama, he was a notable Hamlet at the Citizens' Theatre and a successful Macbeth at the Edinburgh Festival. He was also This Man Craig on television and has appeared in many films like Jason and the Argonau', Cleopatra and A Night to Remember.
John Cairney made his stage debut at the Park Theatre, Glasgow, before enrolling at the RSAMD in Glasgow. After graduation, he joined the Wilson Barrett Company as Snake in The School for Scandal. A season at the Glasgow Citizens' Theatre followed before going on to the Bristol Old Vic where he appeared in the British premiere of Arthur Miller's The Crucible. He returned to the Citizens from time to time, most notably as Hamlet in 1960. He also appeared in the premiere of John Arden's Armstrong's Last Goodnight in 1964.
Other stage work until 1991 included King Humanitie in The Thrie Estaites for Tyrone Guthrie at the Edinburgh Festival, Archie Rice in The Entertainer at Dundee (1972), Cyrano de Bergerac at Newcastle (1974), Becket in Murder in the Cathedralat the Edinburgh Festival of 1986 and Macbeth in the same Festival in 1989. He also wrote and appeared in his own productions of An Edinburgh Salon, At Your Service, The Ivor Novello Story, A Mackintosh Experience and The Robert Burns Story.
Entry to the exhibition is free. Public access is 11am-5pm, Monday – Saturday.
Visit www.glasgowartclub.co.uk for more details.