Musical inspiration for Jill's first solo art exhibition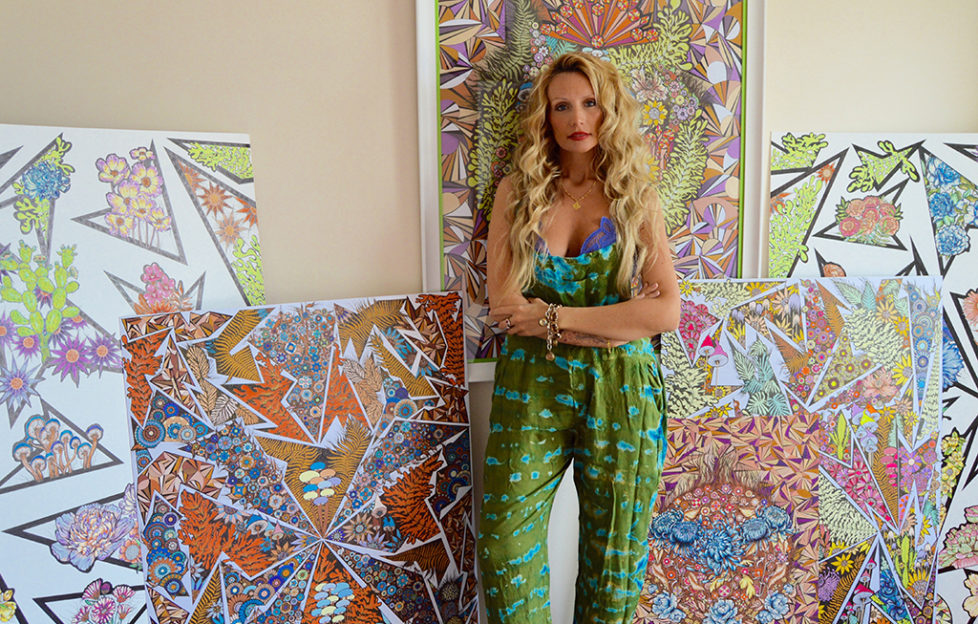 Jill Leighton's first standalone exhibition brings together over 40 hand drawn illustrations in a unique celebration of creative reawakening.
Combining a strong musical background with patterns drawn from diverse traditions, the large-scale images on show in Reawakening are bold in imagination and ambition and typically show strong angular frameworks barely supporting the soft but relentless pressure of the supple plants (ranging from seaweed and mushrooms to convolvulus and iris), whose growth seems to have been responsible for the background fragmentations.
The images dwindle down through identifiable forms such as the plants to tiny dots of colour and the finest of hairs twisting in an invisible breeze.
Jill's uncanny ability to orchestrate the unlikeliest colour combinations to form her images are reminiscent of music – crazy jazz, serene sonatas, sad laments, dissonant modernism, mesmerising minimalism – where the same twelve notes can be endlessly recombined, and remixed, just like colour combinations elaborated from a few primary (red, yellow, blue) and secondary (orange, green, purple) tints and shades. Finally, each of Jill's creations has what she calls an 'energy point' that triggers the explosions that adorn these walls.
Jill is not a 'visual artist' in any conventional understanding of the term; in fact, she is a professional musician. Originally from Gourock, Jill graduated from Goldsmiths University of London in 2005 with a honours degree in music, and began to develop her career as a singer songwriter.
After writing and performing worldwide for over a decade, Jill took a hiatus from music, and began to make art; her creative spirit found another channel.
The illustrative drawings in this exhibition are bursting with colour, energy and vibrancy and vary in scale and expression, heavily influenced by her years of extensive travel growing up in Papua new Guinea and throughout Asia.
The most exceptional result of this exhibition is the journey these drawings took Jill on. These are not just pictures, they are a symbol of healing for Jill and became an inner necessity to express herself.
The hard work of her image making, culminating in this remarkable exhibition has paradoxically led Jill back to her creative roots. The title refers to her sleepwalking through darkness, instinctively creating beauty and wonder en route to a reawakening in her natural domain, the world of music.
For more information, visit www.jillleighton.com
Reawakening runs from 8 June to July at the Beacon Arts Centre. The exhibition is free to visit with artworks on sale.
Beacon Arts Centre launched in 2013 out of the long-standing Greenock Arts Guild that was established in 1945. The Beacon is located in Greenock on the banks for the Clyde with spectacular views over the hills of Argyll and Bute and is Inverclyde's prime provider of arts and creative learning.