Marchmont Mural Cycle set to be unveiled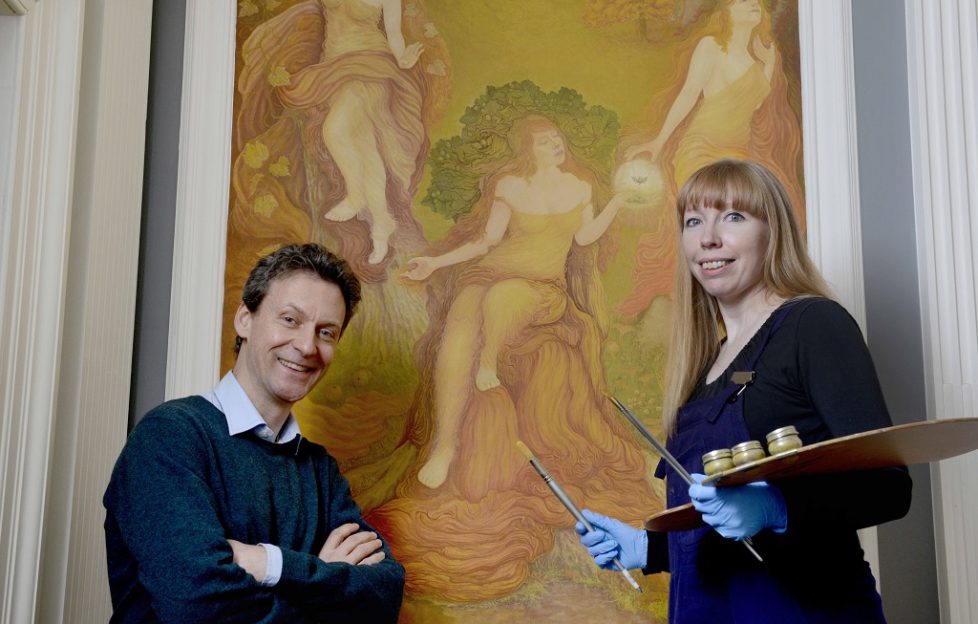 World-class speakers to explore the importance of Phoebe Anna Traquair, the Pre-Raphaelite Sisterhood and other 19th-century women.
Mural paintings of the Four Seasons will be unveiled in the Cupola Hall of one of Scotland's most beautiful stately homes during an event to celebrate and promote women artists.
Artist and art historian Julia Alexandra Mee has spent over two years planning and creating the elaborate Marchmont Mural Cycle which is inspired by the work of artists such as Phoebe Anna Traquair.
The series of wall paintings grace the walls of the Cupola Hall, designed by Traquair's friend and colleague Robert Lorimer, at the magnificent Marchmont House, near Greenlaw, in the Borders. The unveiling will be of the core panels, the Four Seasons, which draw on the wildlife and plants on Marchmont estate throughout the year and include mythological figures such as the Roman goddesses Flora and Fauna.
It will be a highlight of Inspiring Women Artists @ Marchmont – Legacies of Great Women Mural Painters and Artists of the Late 19th Century, a day-long event on 25 April, which will feature talks and panel discussions involving leading figures from the arts world.
There will be a special focus on Phoebe Anna Traquair, Mary Seton Watts, Louisa Waterford and the women artists of the Pre-Raphaelite "Sisterhood". The event sets out to retell their stories, help re-establish their reputations, consider their artistic legacies and ensure their works inspire future generations.
Julia, who is also co-chairing the event, said: 'As an artist dedicated to reviving traditional mural painting techniques, it is wonderful to have the opportunity to create and execute a work of the scale and significance of The Marchmont Mural Cycle. All the more so because the Cupola Hall at Marchmont House is such a remarkable setting, and located within a growing art collection which cannot cease to inspire, making this a truly incredible creative journey.
'The mural cycle embraces the influences of Pre-Raphaelite art and that of the Arts & Crafts movement represented within the collection, including artists such as Phoebe Anna Traquair, whose work lies just a few metres away from where I'm painting – and who I consider to be one of the leading mural painters of her time.
'To have the Four Seasons unveiled at an event which celebrates Traquair's legacy and that of other inspiring women artists of the late 19th century seems particularly fitting due to the influence these artists have had on my own work.'
Julia received the commission in 2017 and the work has been such a huge undertaking that she needed to leave her Edinburgh home and take up residence in a studio flat a few yards from the Cupola Hall in order to carry it out.
Hugo Burge, Marchmont's director, who commissioned the mural and is organising a series of events at the 1750 Palladian mansion to promote the arts, added: 'Our dream at Marchmont is to celebrate creativity and shine a light on inspiring stories – so this is a very special gathering for us, bringing together extra-ordinary stories which are close to my heart but also, often, on our doorstep.
'Phoebe Anna Traquair, Mary Seton Watts and Louisa Waterford should all be household names for their pioneering brilliance, so it will be a delight to celebrate them.
'That we are able to unveil work by Julia Alexandra Mee, directly inspired by these artists, is a very exciting and meaningful moment in our journey to make Marchmont a home to makers and creators. It is wonderful to be working with such outstanding speakers and partners make this event one to be proud of and I look forward to it enormously.'
A panel discussion will see Jane Adams (SACI Florence) talk about her former work for the Advancing Women Artists Foundation, Florence, an organisation devoted to searching archives for works by women artists, conserving them and placing them on public display.
Inspiring Women Artists is sponsored by Edinburgh fine art auctioneers Lyon & Turnbull and Arts & Crafts Tours.
Carly Shearer, Lyon & Turnbull paintings and sculpture specialist, said: "We are delighted to sponsor Inspiring Women Artists @ Marchmont and look forward to a fascinating day investigating these artists' work and influence as well as discussing how best we can re-establish their reputations and consolidate their importance in the story of 19th century art."
Elaine Hirschl Ellis, president of Arts & Crafts Tours added: "We are once again pleased to be sponsoring a program at Marchmont. We are delighted that the work of women in the Arts and Crafts Movement is beginning to get the attention it so rightly deserves.
'It has encouraged us to offer a tour in 2021 of much of the work of these, and other, women artists, designers and craftworkers and we look forward to a stimulating day of discussion and demonstration showing that the ideas of the movement continue to have resonance and appeal today."
The event is being organised in partnership with The Royal Scottish Academy (RSA), The Mansfield Traquair Trust and the Women's Fund for Scotland. Women's Fund for Scotland, who will be at the event, supports groups to build women's skills and confidence, improve health and well-being, build social networks and help them move on from violence.
Its executive director, Shona Blakeley, said: 'We are delighted to be able to raise awareness of our work at this event – anything that mentions 'Inspiring Women' is exciting for us.'
Dr Elizabeth Cumming, a trustee of the Mansfield Traquair Trust, and co-chair of the event, added: 'As the art of Phoebe Anna Traquair becomes ever better known, Mansfield Traquair Trust is delighted to support this unique study day devoted not only to her remarkable achievements but also the cultural context and the legacy of her work.'
One of the subjects being explored is the discovery of the identity of a talented 19th-century artist, until last year known only as 'Mrs Cumming'. The discovery arose during the residency artist Victoria Bernie is undertaking in the RSA collections, and her work in progress will be unveiled next to one of "Mrs Cumming's" paintings from the RSA's nationally significant collections.
Sandy Wood, Collections Curator at the RSA, said: 'The Royal Scottish Academy is excited to be involved with Inspiring Women artists @ Marchmont. Considering Phoebe Anna Traquair, one of our most important Honorary Academicians, while presenting the project of our current RSA Residencies for Scotland artist Victoria Bernie, gives a fantastic opportunity to reveal how artistic legacies and legacies of collecting inspire across time.'
Visit www.marchmonthouse.com for more information.