Jupiter Artland offers out of this world exhibitions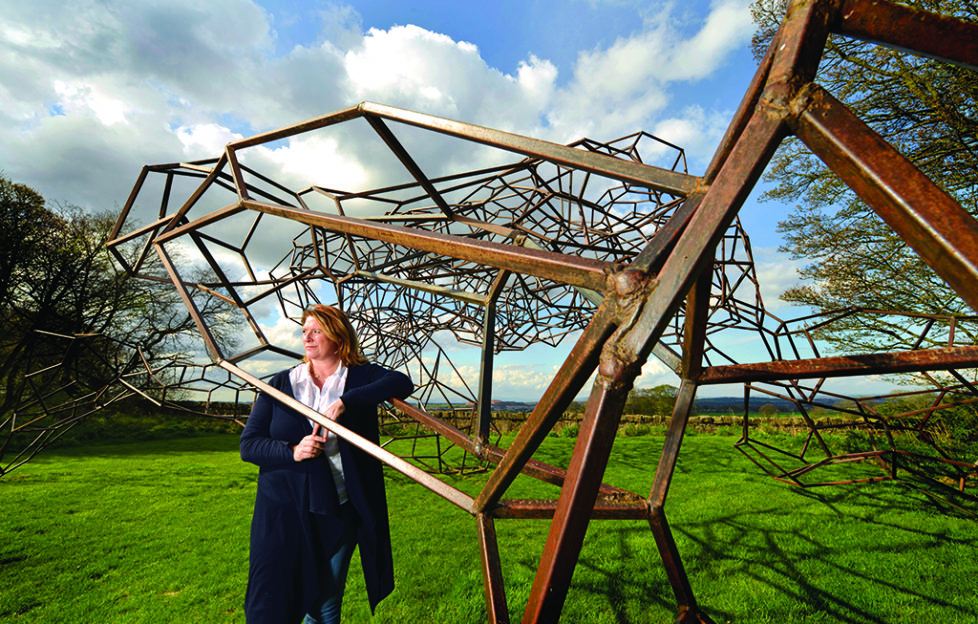 Nicky Wilson is excited about the year ahead for Jupiter Artland, the sculpture garden that she runs near Edinburgh with her husband, Robert.
The garden's 2019 programme includes a series of exhibitions and workshops.
Wilson bought Bonnington House in 1999 and opened Jupiter Artland in its 100-acre grounds in 2009.
Jupiter Artland Foundation has been named as a 5-Star Visitor Attraction by VisitScotland. One of the highest ratings awarded by the national tourism board, it reflects the exceptional visitor experience the arts organisation offers and is recognised internationally as a badge of quality.
The award comes as the sculpture garden prepares to open its doors on 18 May 2019 for its 11th season and announces a new partnership with award-winning Edinburgh restaurant, Fhior.
Nicky said: 'We are thrilled that the hard work and dedication of our loyal Jupiter Artland team has been recognised by VisitScotland and we are incredibly proud of our 5-star status. We pride ourselves on creating a memorable space where contemporary art and sculpture can be discovered beyond the gallery walls and we can't wait to welcome visitors for our 2019 season from 18 May.'
VisitScotland chairman Lord John Thurso said: 'Congratulations to Jupiter Artland on this fantastic achievement, a fitting start to what is sure to be a successful season for the attraction.
'Jupiter Artland is a truly unique and beautiful asset to the tourism offering in West Lothian and I am delighted that the hard work and commitment of the team is being recognised with this award.'
Jupiter Artland is home to five galleries and an expansive outdoor sculpture collection featuring 35 permanent site-specific commissioned artworks from some of the world's most significant artists including Antony Gormley, Charles Jencks, Anish Kapoor and Phyllida Barlow.
All set within the 100 acre grounds of Bonnington House, a 17th century Jacobean Manor House, visitors are encouraged to freely explore the Artland and discover the artworks at their own pace.
Committed to being accessible to all, the foundation has also launched 'Pay What You Want Tuesdays' for the months of May, June and September. Visitors are encouraged to pay what they wish upon entry and all donations help support Jupiter's charitable work and aim of engaging with every school child in Scotland.
Exhibitions this year include –
DANIEL LIE: THE NEGATIVE YEARS (18 May-14 July)
Daniel Lie will be using both indoor galleries and outdoor spaces at Jupiter Artland to create a series of immersive installations utilising raw materials sourced from the Jupiter Artland landscape including flora, wool, clay and wood.
From vast accumulations of live flowers gradually decaying to traditional ceramics slowly cultivating native fungi and spaces physically heated by bio-digestion heaps, Lie's visceral environments will play collaboratively with natural processes, foregrounding the agency of organisms and harnessing their energy.
Combining organic sculptural forms with sound within performative space, Daniel's installation will shift and transform throughout its lifespan creating what the artist describes as a 'geography of emotion' provoking the audience's senses in conflicting ways and showcasing the artist's interests in ecology, ritual and cycles of life and death.
TRISHA BROWN: TIME, SPACE, GRAVITY (27 July-29 September)
Jupiter Artland's summer exhibition is dedicated to the work of choreographer and artist Trisha Brown (1936 – 2017), whose enduring legacy continues to be a source of joy and fascination for the generation of artists who followed in her footsteps. Her 40-year plus career was characterized by sensuousness, analytical structure and a feeling akin to flying.
Combining physical virtuosity with the inquiring mind of a scientist, her early works did indeed defy gravity, with Brown inventing equipment allowing performances such as Man Walking Down the Side of a Building (1970) and Walking on the Wall (1971), which saw dancer's cantilevered against New York high-rise buildings and gallery walls. With these works, the city and landscape became Brown's laboratory as she engineered ideas that expanded the possibilities of movement for both dancers and audiences alike.
TRISHA BROWN: IN PLAIN SITE (Part of Edinburgh International Festival) 9-11 August, 5pm/8pm.
Accompanying Trisha Brown: Time, Space, Gravity, will be a special performance of a selection of Trisha Brown's site-specific pieces, In Plain Site as part of Edinburgh International Festival. For more information and booking visit www.eif.co.uk
Jupiter Artland is open from 18 May until late September.
Find out more at www.jupiterartland.org.