Glenmorangie commission is unveiled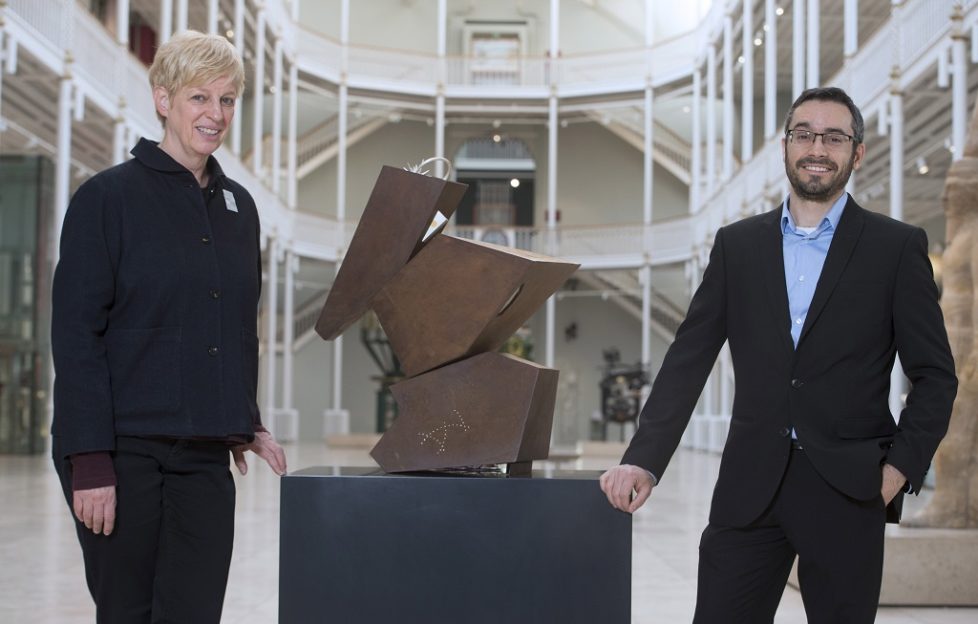 National Museums Scotland and the Glenmorangie Company have today unveiled a major piece of metalwork by the internationally renowned metalsmith, Simone ten Hompel.
Commissioned by National Museums Scotland and The Glenmorangie Company, the contemporary piece will go on permanent display in the Making and Creating gallery of the National Museum of Scotland from 6 March 2020.
Ten Hompel's finished artwork, Coordinate explores Scotland's journey through time, its changing landscape and the continual rediscovery of its past. It comprises silver, corten steel, guiding metal and stainless steel.
A metalsmith for over 45 years, German-born Simone ten Hompel is one of the foremost craft artists and educators working in Britain. She sees metal as her preferred medium, strongly believing that true understanding of any craft must come through the experience of making. Over an illustrious career she has earned a reputation as one of the most inventive metalsmiths of her generation.
Since 2001 Simone ten Hompel has been teaching at London Metropolitan University where she is Reader for Metal, Jewellery and Silversmithing. Her work has been exhibited widely internationally and is in many public collections including the V&A Museum, Crafts Council Collection, National Museum of Wales, Goldsmiths' Hall and Kolumba, Art museum of the Archdiocese, Cologne.
Simone ten Hompel said: 'This piece is about landscape. I wanted to give it a sense of location, to see Scotland in a 360 degree view. My research of the Museum's collections combined with my travel to the Highlands aroused my curiosity and I wanted to develop an understanding of how a land like Scotland works and to get under its skin.
'Time and time again whilst travelling, I saw the peaty, worn landscape with its rusty, whisky, earth tones and wanted to reflect that in the work.
'The silver, by contrast, is the silver lining beneath the cloud, and it is a democratic material as it reflects only what you put in front of it or do with it. If there is no interaction the silver just goes dull, almost as if it is bored.
'It has been a fun project to work on and now I am delighted that the finished artwork is on permanent display in the National Museum of Scotland for all to see.'
Hamish Torrie, corporate social responsibility director at the Glenmorangie Company, said: 'This is an exciting milestone in our long running research partnership with National Museums Scotland – and we are delighted to see that Simone's work will now become a permanent part of National Museums' collection. It's clear to see that she has achieved an exciting and modern take on both the collection and her experience of Scotland's landscape."
Simone was commissioned to create a new artwork inspired by National Museums Scotland's curatorial research and collection of metal artefacts from early medieval Scotland. Over the past year, Simone ten Hompel has worked with National Museums' archaeologists and curators, visiting the Museum and its collections, and travelling across Scotland to understand its history and unique landscapes.
Simone's research led her north to Orkney, where she visited the sites from which many of National Museums' Viking-age objects were excavated. Simone says her descent into Mine Howe – a 2000-year-old underground chamber and smith's workshop – was a particularly moving experience which brought her in touch with the rituals surrounding metalsmithing in the ancient past.
Simone was inspired by these experiences and discussions, to shape the way in which she, as an 'outsider' saw the development of Scotland during this period. Developing and creating a work of art that would evoke the colours, textures and decoration of this vibrant period of Scottish history.
The research phase of the Glenmorangie Commission has been invaluable for knowledge exchange and enabled National Museums' archaeologists to gain new information about their collections from a master metalsmith. Simone's expert knowledge of working with metal provided National Museums' conservation scientists with valuable insights into the making process.
The Glenmorangie Commission is part of Creating Scotland, the latest phase of the long running Glenmorangie Research Project which examines the archaeological evidence from the 9th to 12th centuries to tell the story of the formation of the medieval kingdom of Scotland.
Since 2008, the award-winning Glenmorangie Research Project on Early Medieval Scotland has been generating exciting new research on this important period of Scotland's past. The project was born when The Glenmorangie Company was inspired by the Hilton of Cadboll stone, on display in the National Museum's Early People gallery. The stone was found near the Glenmorangie distillery in Tain, Easter Ross and has been used as inspiration for the company's brand emblem.
For further details visit nms.ac.uk/glenmorangie