The Festival Fringe line-up that's Made in Scotland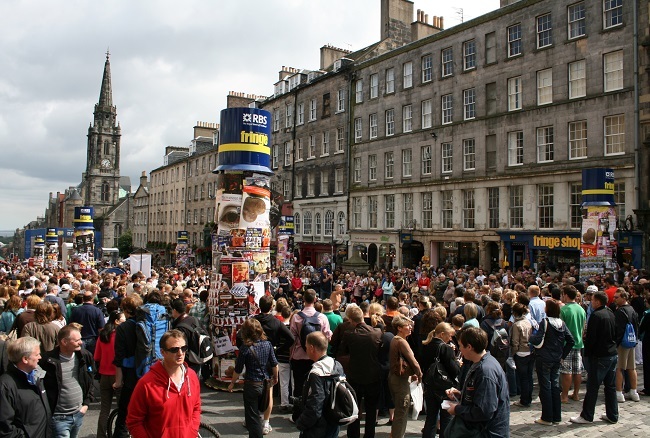 The line has been revealed for this year's Made in Scotland – a curated showcase of music, theatre and dance performed during the Edinburgh Festival Fringe.
Since its inception in 2009 and including this year, Made in Scotland has funded 146 companies, ensembles and artists to showcase over 200 shows.
The onward touring fund, which supports international performances after the festival, has enabled 89 productions to tour across six continents, visiting over 36 countries.
Fiona Hyslop, Cabinet Secretary for Culture, Tourism and External Affairs, has announced the companies and artists selected for the 10th year of Made in Scotland.
Celebrating a decade of showcasing world class performance, this year's showcase will support 23 shows at the 2018 Edinburgh Festival Fringe who have been chosen by a panel of experts from the Scottish and international performing arts community.
The programme represents a mix of established companies and vibrant emerging artists producing theatre, dance, children's shows and music in Scotland today.
From the true story of a survivor of military sexual trauma, to site specific dance and music performance at Edinburgh City Chambers, and the story of a starring role for a Scottish performer in Sex and The City, the 2018 Made in Scotland Showcase will build on the success of previous years by showcasing some of the very best theatre, dance and music Scotland has to offer. Playwrights' Studio Scotland also return with a programme of talks and workshops to support the showcase.
The wealth of talent working in Scotland's performing arts sector is reflected in a strong line-up of companies, ensembles and artists including: Scottish Ensemble, New Room Theatre, Blue Rose Code, Roberta Jean, Fire Exit, The Tron, National Theatre of Scotland, Indepen-Dance, Mary Jane Wells and Scene Change Productions, Ensemble Thing, Brian Molley Quartet with the Asin Langa Ensemble, Graeme Stephen, James Ley in association with Royal Lyceum Theatre Edinburgh, Greengold Projects and Authentic Artist Collective, Andy Manley, Starcatchers and Curious Seed, Birds of Paradise Theatre Company, Ian Cameron & Red Bridge Arts, Meursault, Ramesh Meyyappan and Raw Material, Glas(s) Performance and Platform, Al Seed Productions and Limosani ProjeKts, V/DA and MHz in association with Feral, 21 Common, Traverse Theatre Company and Regular Music.
Playwrights' Studio Scotland's TalkFest 2018 explores what stimulates the artists behind this year's Made in Scotland showcase and wider Edinburgh Festivals. The sessions are led and chaired by some of leading playwrights and theatre-makers including; Ramesh Meyyappan, Christine Devaney, Mark Jeary and Mariem Omari, Lynda Radley, Sarah Rose Graber, Alan McKendrick and Jenny Knotts.
Made in Scotland is a partnership between the Edinburgh Festival Fringe Society, Creative Scotland, the Federation of Scottish Theatre and the Scottish Music Centre.
The showcase is supported by the Scottish Government's Edinburgh Festivals' Expo Fund with part of the funding designed to enable Scottish companies, ensembles and artists to take up onward international touring opportunities from contacts made during the Festival Fringe.
Fiona Hyslop said: 'Made in Scotland provides an important platform for Scottish artists and companies to showcase their outstanding work at the Edinburgh Fringe, the largest performing arts festival in the world.
'Through our Festivals Expo Fund, the Scottish Government have contributed £560,000 towards the delivery of this year's edition of the festival. Since its launch ten years ago, we have provided just under £5.5 million to Made in Scotland, enabling Scottish theatre, dance and music acts to showcase their work across the world, reaching new and diverse audiences.'
Shona McCarthy, chief executive of the Edinburgh Festival Fringe Society, said: 'It's a special year for Made in Scotland as we celebrate 10 years of this fantastic showcase, presenting the finest work from Scotland to the world. The showcase provides a crucial platform for Scottish made work at the Fringe, but also supports artists to take their work to other parts of the world, raising awareness about Scotland's vibrant arts offering.'
Highlighting the quality and diversity of Scotland's composers, songwriters and musicians, the impressive line-up ranges across music genres. From vibrant contemporary classical to music theatre, from virtuoso jazz performances with international collaborators to indie multimedia presentations, from roots-based folk to Caledonian soul, Made In Scotland 2018 celebrates Scotland's wealth of music talent.'
See the full programme online HERE.