New exhibitions will highlight Scottish art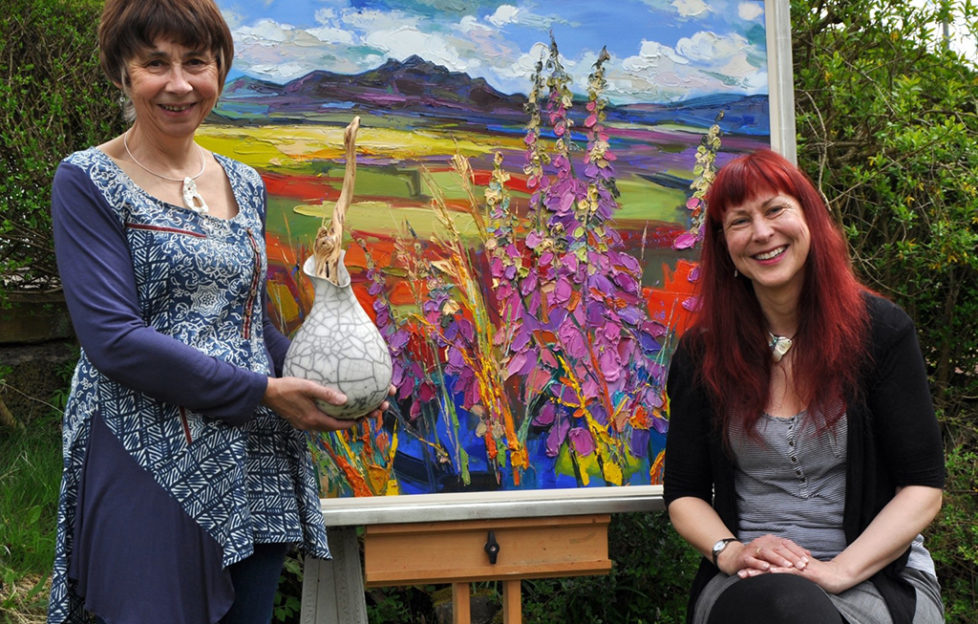 A pair of leading Scottish artists are exhibiting a new show of works in two of the country's top contemporary art galleries.
In June and July, Judith I Bridgland and Anne Morrison will have their work on display at Crieff's Strathearn Gallery in Crieff and the Annan Gallery in Glasgow.
Judith, a painter, and Anne, a ceramics artist, have created the exhibition, North Coast Gems, which brings together their work, with both artists taking their inspiration from the stunning coastal Highland route known as the North Coast 500.
Glasgow-based Judith enjoyed successful exhibitions in London and Harrogate earlier this year.
Judith said: 'I would describe my work as very Scottish. Scottish art is characteristically all about a love of bold, vibrant, joyously expressive colour, full of lots of energy.
'I mostly paint my landscapes in oils, and use the paint in a very bold way, with lots of juicy texture and mark-making. I use a wide range of ways of putting the paint on the canvas, from big, rhythmical strokes of impasto, to delicate brushstrokes, to drawing into the paint with the end of a brush. Oil paint is great for that!
'By having lots of contrasts in the tones and colours and using the paint in an almost sculptural way, I try and get across the sense of actually being in the Scottish landscape, with the distinctive mountain ranges and big skies, and that sense of openness and freedom that you get. I also love seascapes, as they are wonderfully organic, abstract and textural. The west coast has magnificently rugged coastlines and beautiful deserted sweeping sandy beaches.
'As well as trying to get a real sense of distance, I also love painting the hedgerows and plants. It's almost like a still life at the side of the road! The foreground plants and flowers give you a sense of scale, but also add texture as well as giving you a sense of the time of year.
'Whilst the work is very painterly, it also it also very important to me that it has a strong sense of place, that these are locations that you can go to and visit, as I did. The landscape is not just about the land, but it is also about the experience of being there. So as well as painting the scene in front of you, you are also very much painting something about yourself.'
Anne Morrison, who is also Glasgow based, is an award-winning ceramicist, known for her crackle-ware ceramics but will be using the exhibitions to showcase the full range of her work including figurative sculpture and new colourful ceramic forms.
She said: 'My ceramic work is inspired by the coasts of Scotland, the colours and textures that I experience during my walks along its shorelines. The driftwood, stones and other flotsam that I collect there are the starting point of my pots and sculptures.
'The "naked" Raku firing technique that I use provides the subtle natural surface simulating sea worn pebbles that I love.
'Ever since childhood I have been creative, particularly inspired by the natural world I see around me, and I feel very privileged to have made a career of it. Clay is such a tactile material and I am at my happiest creating objects with my hands.'
Both artists are delighted that their work brings others so much joy.
Judith explained: 'Being an artist is, by its nature, something very solitary. When I paint a picture, it first of all has to make me happy, and make me satisfied that it has the sense of what it was like to be at that place, and how it felt on that day. It has to be about the weather and the journey to get there, so it's something quite personal.
'I am very critical and disciplined about my painting in order to try and push myself to produce the very best work. However, the best work is often when I allow the painting to become itself, and am not over-prescriptive. Things happen on the canvas, and I like how it looks and go with it.
'Because I work in isolation, and spend so much time alone in the studio with the work, it's therefore always a real surprise when people tell me how much they like it, and what it means to them! It's funny to think of my paintings being out there and seen by so many people, and travelling to new places all over the world. It's actually very touching.
'People meet me at my shows or contact me through my website and are always kind and lovely, and so enthusiastic. They love the energy and the colours, and the paintings make them happy when they see them in their homes. The paintings often have a very special meaning for them, or they have whole collections of my work which they've built up over the years. It's lovely, and I'm delighted that I'm able to make something that people genuinely do find so uplifting.'
Anne agreed: 'It still surprises me that people appreciate my work because it is a joy just to create these things but perhaps it is the love that goes in to each piece which shows through.
'To have a dedicated exhibition like this is a privilege, particularly getting this kind of exposure as a 3D artist. Showing alongside an artist like Judith gives an extra dimension as her fabulous rich landscapes have inspired new colour and surfaces effects to sit in harmony with her paintings.'
Judith concluded: 'It's a really big thrill to see my work on display, especially in two such fantastic galleries. The Strathearn Gallery in Crieff is in the heart of rural Perthshire, which is a magnet for visitors to Scotland, whilst the Annan Gallery is right in the centre of my home town of Glasgow. So that's a huge audience of people who will be able to see the show and my paintings.
'I'm very lucky to have two such fantastic venues hosting the show, and to have Anne's inspirational ceramic work exhibited alongside my paintings.'
Owners of the Strathearn and Annan Galleries Scott and Susan Bennett said: 'It's fantastic to have two such talented and sought after artists working together, in different mediums but complementing each other so well.
'The North Coast 500 has brought the Scottish coastline and landscape to a whole new audience and we hope the works in the exhibitions inspires people to see more. The galleries are going from strength to strength and the demand for high quality Scottish art remains strong and it's down entirely to the wealth of extremely talented artists working today and the scenery we have to provide the inspiration.'
North Coast Gems opens on Saturday, 2 June, in the Strathearn Gallery, Crieff and runs until 27 June. It then opens in the Annan Gallery, Glasgow, with further new works, from 30 June to 22 July.