Singers raised their voices as music festival returned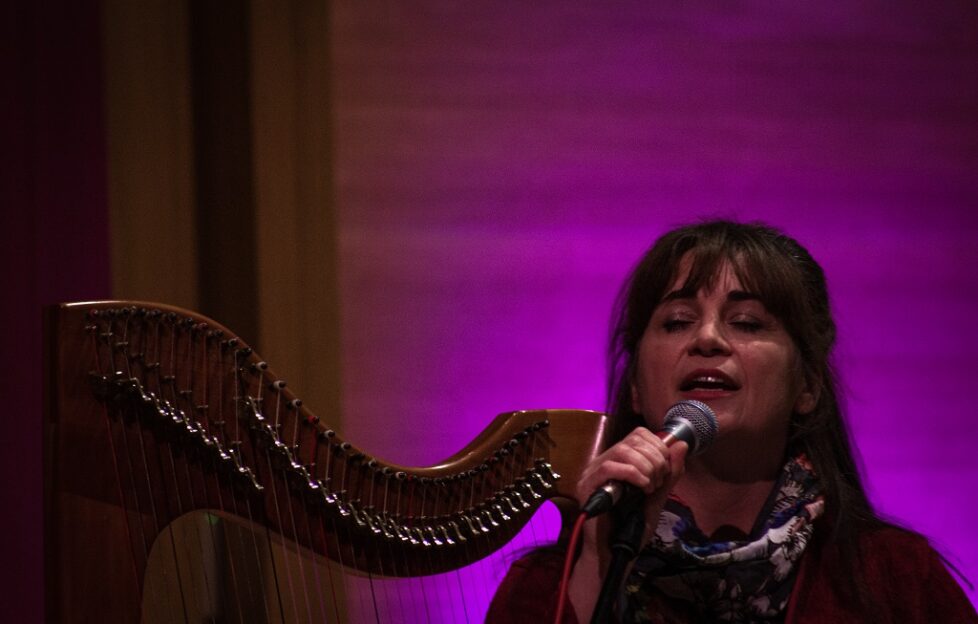 St Andrews Voices Festival celebrated a joyous return, with afive-day programme that welcomed singers from across the country, as well as internationally, to raise their voices together once again.
The 2021 edition of Scotland's singing festival closed on Sunday after a weekend of music highlights, including workshops, choral services and performances from world-class musicians and vocalists.
This year the Fife festival took a hybrid approach, offering a mixture of in-person and live-streamed events. Bustling audiences warmly welcomed the return of live music and were joined by people tuning in from across the globe, from Philadelphia, USA to Sydney, Australia.
Themes of pilgrimage and journey were at the heart of this year's festival, celebrating the process and voyage singers and musicians undertake to come together, explore and share music.
These themes were particularly relevant to renowned Gaelic singer Mary Ann Kennedy, whose performance on Saturday evening in St Salvator's Chapel was the culmination of an epic journey of musical discovery.
The project, entitled Triall (Gaelic for journey), saw Mary Ann follow in the footsteps of St Columba and complete a pilgrimage that has taken her across the breadth of the country in recent months, from Iona to St Andrews. Drawing on the inspiration garnered from choirs and singers she met along the way.
Performing as a trio Aon Teanga, Mary Ann was joined by Ruth Keggin and Eoghan Ó Ceannabháin, to present an evening of unparalleled storytelling and emotion which drew huge praise from audience members.
Elsewhere, the eclectic programme brought audiences vocal music from a variety of genres, including classical, jazz and world music including a sell-out French cabaret-inspired show from Glasgow vocalist Christine Bovill.
The students of the University of St Andrews were also at the heart of the programme with performances from St Salvator's Chapel Choir and a Student Song Concert.
Notable Scottish baritone Andrew McTaggart and esteemed pianist Timothy Dean put on a stunning recital, while world-leading Baroque ensemble Dunedin Consort explored music's relationship with nature to spectacular effect.
The festival also welcomed BBC Radio Scotland presenter and acclaimed jazz singer and musician Seonaid Aitken for A Night With Ella – an intimate show celebrating the Queen of Jazz, Ella Fitzgerald. Exciting world music collective Saanjh (Ankna Arockiam, Edward Cohen and Hardeep Deerhe) put on an unforgettable multi-sensory performance on Saturday.
Free community and student workshops were also central to the event, with the hosting of a Vocal Health Workshop for Singers led by Rachel Hynes, a Singing for Health and Wellbeing session and a student singing masterclass with opera singer Lucy Schaufer.
Amanda MacLeod, festival director at St Andrews Voices, said: 'After such a difficult time for music lovers and performers alike, the return of the festival has been such a joy for us all. It's been so special to stage a range of musical performances in the heart of Fife once again and would like to thank everyone for coming out to enjoy the marvellous sights and sounds of our 2021 programme.
'We were proud to deliver a festival that was international in outlook, and celebrated Scotland's singers and vocal traditions within a global context. Our focus now moves to working on next year's 10th anniversary celebrations, which will take place from 12th – 16th October. We look forward to returning to full force for 2022 and marking 10 years as Scotland's singing festival.'
To commemorate its 10th birthday next year, the festival will launch St Andrews Scottish Songbook – a collection of 24 newly commissioned original arrangements of traditional Scots songs. Spanning much-loved tunes across Gaelic, Doric, Scots, and English, the project will bring leading vocalists from across Scotland together in celebration of Scottish song.
The collection, which will be arranged for voice and piano, will be recorded and published in full in the run up to the event, before being performed in unforgettable style at St Andrews Voices 2022.
St Andrew's Voices is supported by the University of St Andrews Music Centre. It will return next year between October 12-16 2022.
For more information go to https://www.standrewsvoices.com