It's 40 years since Mull of Kintyre topped the charts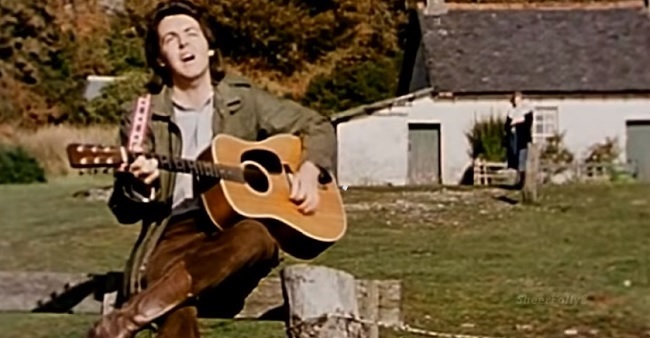 As the Christmas number one is set to be revealed, this year marks the 40th anniversary of a distinctly Scottish-sounding song.
Paul McCartney's Mull of Kintyre, co-written with Denny Laine and featuring the Campbeltown Pipe Band, topped the charts, and for a number of years was the biggest-selling single of all time – and also has the distinction of being the first UK single to sell more than two million copies.
Its chorus contains the famous lines: 'Mull of Kintyre, Oh mist rolling in from the sea, My desire is always to be here, Oh mull of Kintyre.'
April next year marks 20 years since the death of Lady Linda McCartney; photographer, musician, animal rights activist, entrepreneur and wife of singer-songwriter and member of The Beatles, Sir Paul McCartney.
It was to High Park Farm, near Campbeltown on the Kintyre peninsula, that the McCartneys would bring their children to escape the media spotlight.
Paul originally bought the 600 acre property in 1966 but it wasn't until after he married Linda three years later that they decided to renovate High Park.
'Linda said, "we could do this place up",' he says. 'And I'd never thought of that, Linda really turned me on to it.'
For Linda it was a place where the children could play, swim and ride their ponies and have some semblance of a normal life. She fell in love with Scotland. 'It was the most beautiful land you have ever seen; it was way at the end of nowhere,' she said.
'To me it was the first feeling I'd ever had of civilisation dropped away. I felt like it was in another era. It was so beautiful up there, clean, so different from all the hotels and limousines and the music business, so it was quite a relief, but it was very derelict.'
Beyond the cottage with its old wooden fence are several standing stones, where Linda would tether the horses, and a rock with the names 'Paul and Linda' carved into it.
Linda was a big horse rider, as were the family. 'At some point in the day we would have gone for a horse ride,' says Paul. 'I might have played with the kids, and they liked to go on horse rides too.'
Paul would often go out into the fields with his guitar, and it was while on the farm that he wrote The Lovely Linda.
He also immortalised the area in Mull of Kintyre. The hit for his band Wings brought overnight fame to Campbeltown Pipe Band and one of the pipers played the Farewell at Linda's memorial service in London. Some of her ashes are scattered at High Park.
Linda took her camera everywhere, capturing moments from everyday life on the farm and in Campbeltown where the McCartneys were well-kent figures. She was fascinated by the old cloth-capped men who stood in a gaggle putting the world to rights and would call them the 'old biddies', says Paul. 'They used to hang out in their macs and their Andy Capp caps and sit around and have a chat. We'd always see them when we went to town to get some groceries. Linda would take snaps and there are quite a lot of photos that are now quite historical.'
In a video on his website Paul recalled how he got the late Tony Wilson, the leader of Campbeltown Pipe Band, on board.
Paul said: 'I said: "Hey, I've written a song and I'd like you to help me record it with the pipe band." He said: "Aye, very good, very good".'
Mull of Kintyre spent nine weeks at number one over Christmas 1977.