Folk music CD was inspired by fruit pickers of the Clyde Valley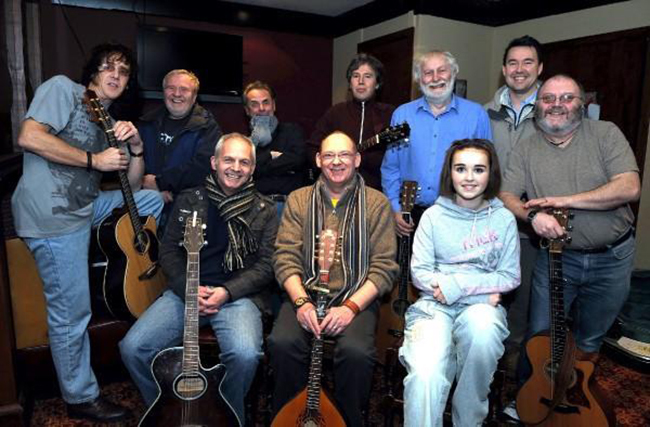 Fifty free copies of a social history in song are now available.
The Fruits of their Labours album by Lanarkshire Songwriters is available to members of the public from Clyde and Avon Valley Landscape Partnership (CAVLP).
The album was part of a wider project which included oral histories from families of former fruit growers and horticulturalists, and creation of an Apple Day album with local primary schools.
The project is funded by Heritage Lottery Fund and LEADER supported CAVLP, and Renewable Energy Fund as managed by South Lanarkshire Council.
Thirteen of the Lanarkshire Songwriters wrote and produced 16 folk songs using their own varied experience of the industry ranging from berry picking to jam making.
Lanarkshire Songwriter Bob Bradford based his song on Jeelie Jars and said: 'As soon as I settled in my own wee bit of the valley, I promised myself some old Clyde Valley apple and plum varieties in my garden as a connection with the past.
'Strawberries, rasps, currants and even rhubarb all find their way into my stack of jeelie jars. My jam always tends to be labour saving – it runs to the sides of the bread rather than needing spread – maybe one day I'll get it to set.'
The songs were inspired by oral histories collected by Lanarkshire Songwriters to share almost forgotten memories from the past. Lanarkshire Songwriters spoke to local sons and daughters of former fruit growers who shared their fond memories.
Tomato grower Mura Davidson said: 'I can remember the day I got married, my dad says, "There's four tomato houses needing watered – Mura, go and get them done!" Oh no, there's me out watering the tomatoes, he says, "You're not getting married to 2pm – you've got plenty of time!" '
Lanarkshire Songwriter member Billy Stewart is the son and grandson of a fruit grower and nurseryman. He led the Fruits of their Labours project.
He explained: 'Growing up I worked at home during the holidays. I seemed to get the jobs nobody else wanted to do. I never had the love of the land to make a career at it but looking back, it was a major part of my life and part of our history. That was what prompted me to establish the Fruits of their Labours Project and how this amazing album was born.'
Lorna Diplacito, CAVLP, Finance & Administration Officer said: 'After listening to the Lanarkshire Songwriters songs and oral histories and as a local girl I felt really nostalgic and recognised a lot of the local places mentioned especially the 'Palais' at Lanark where my parents and their friends would go dancing at the weekends.
'I have picked up a copy of the CD to listen to in my car and would highly recommend anyone with local connections does so too.'
To claim the CD, contact CAVLP with your address on 01555 663430 or email info@clydeandavonvalley.com.
Further copies will be available at the Clyde and Avon Valley Exhibition from Saturday 17 February to Sunday, 18 March, at Chatelherault Country Park, Hamilton.
Listen to oral histories and songs on the Clyde and Avon Valley virtual museum, by clicking 'Art, Literature & Song' HERE, as well as the Lanarkshire Songwriters website HERE.
The Clyde and Avon Valley Landscape Partnership is supported by Heritage Lottery Fund and South Lanarkshire LEADER, as part of the Scottish Rural Development Programme. LEADER is co-funded by the European Union and supports eligible projects in rural areas.
The aims of the organisation are to conserve, enhance and celebrate the unique landscape and cultural heritage of the Clyde and Avon valley.
The Partnership consists of ten key partners: Central Scotland Green Network Trust, Clydesdale Community Initiatives, New Lanark Trust, North Lanarkshire Council, Northlight Heritage, RSPB, Scottish Natural Heritage, Scottish Wildlife Trust, South Lanarkshire Council and Rural Development Trust.