Music, film, TV and more at this year's XpoNorth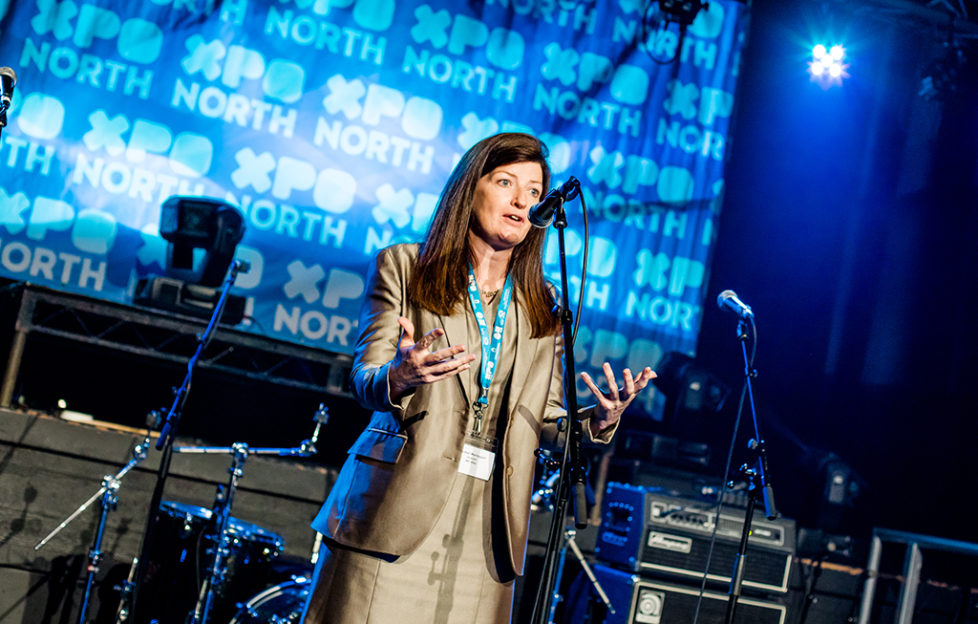 XpoNorth have announced the latest batch of speakers confirmed to participate in this year's edition.
Taking place at Eden Court Theatre & Cinema across 3-4 July, the event will again bring together a host of regional, national and international voices to discuss the hottest topics shaping and influencing the sector.
The festival is delighted to welcome Michela Magas – the founder of Music Tech Fest, a global community platform of over 5000 creative innovators and scientific researchers.
Michela is Innovation Advisor to the European Commission and the G7 leaders, the creator of the Industry Commons and in 2017 was the recipient of the European Woman Innovator of the Year. Her work has received the Art Meets Science NEM art award twice and has been included in the Future of British Innovation at The Science Museum during the London 2012 Olympics.
Magas has served as jury member of Prix Ars Electronica and is on the CAF Advisory Board of the European Commission's Horizon2020 programme.
Michela will deliver a keynote address on Innovation and the Industry Commons which will look at why some of the world's largest technology companies have creativity as part of their business. The combination of creativity and tech is a powerful one for innovators, early adopters and start-up communities – and it's been at the forefront of innovation in the cloud, data, IP, distributed technologies and AI.
Music and creativity are a phenomenal social glue that brings together diverse people from all backgrounds and perspectives, and it's also led the way for policy recommendations and new methods for all industries.
Epiphany Story Lab: Routes Into Documentary Screen will see the welcome return of Micheal Flaherty (Producer). Micheal co-founded Walden Media in 1999 which co-financed and produced nearly two dozen films grossing over $3 billion at the global box office – including The Chronicles of Narnia, Bridge to Terabithia and Charlotte's Web. He is joined in this session by his Epiphany Story Lab co-founder Valerie McGowan (Producer). Together they have worked on documentary film Step – which won Special Jury Award for Inspirational Filmmaking at Sundance and was purchased by Fox Searchlight – and the César-Award Winning animated film, The Little Prince. Micheal and Valerie will look at the access points for writers looking to transition their work into the Documentary arena.
The festival will also be looking at Film Tourism in a session called The Outlander Effect.
2017 saw a record number of tourists to Scotland with a 17% rise in visitors and 23% rise in spend. The phenomenal growth in visitors can be connected to the hit TV series and book, Outlander.
From Local Hero, Highlander, Harry Potter and Skyfall through to The Outlaw King, Scotland has a track record of successful screen tourism. This panel session will discuss the benefits and opportunities, and how to maximise the Outlander effect.  Among those set to participate in this seminar include, Jenni Steele (Film and Creative Industries Manager, VisitScotland), Audrey Jones (Head of New Business and Filming, Historic Environment Scotland) and Bonnie Edgecombe (Owner, Abbyshot).
There will also be a very special keynote with Mandar Thakur (COO, Times Music India) who will be in conversation with Domhnall Caimbeul (Chief Executive, MG Alba) to offer a broad overview of the music and media sector in India. The Times of India Group is the largest media conglomerate in the Indian Marketplace.
Mandar's career began in Hong Kong with The Entertainment Co group, working for their Asian concert promotion business. Following this he helped launch the 24-hour music television station Channel [V] in India and pioneered the digital music landscape in Asia as part of the founding team at Soundbuzz, then Asia/India's largest digital music distribution company, which was acquired in early 2008 by Motorola. Mandar also sits on the boards of copyright societies like PPL and IPRS as well as music industry organisation, IMI (Indian Music Industry).
A&R Worldwide and MUSEXPO Founder Sat Bisla will sit with iconic executive Dougie Bruce (A&R Consultant, Universal Music Publishing) as part of a not to be missed A&R Worldwide Global Keynote. Dougie started his music career in press at Slice PR in 1999 before working at Epic Records as an A&R scout. In 2004 he joined Universal Music Publishing where he went on to sign the likes of Adele, Lily Allen, MGMT and Kate Nash.
In 2008 Dougie started with the most successful manager of the decade Simon Fuller and his company, 19, who controlled, at that time, the most successful TV show in America – American Idol. At 19, Dougie worked on various projects including managing Aloe Blacc (I Need A Dollar) and co-wrote and featured on Avicci's No.1 record Wake Me Up. In 2018 Dougie re-joined Universal Publishing and has signed artists such as the hugely tipped Fenne Lily, Easy Life and more recently a resurgent Dido. Dougie has also set up a new label 'Sign Of The Times' through Universal's label services division, Caroline, to help launch new artists.
There will also be a dedicated seminar on Doing Business in Canada, where attendees will hear from a broad range of voices on how to access and do business in Canada. It will explore where the entry points are, current trends and discuss how to connect with networks in this important and vibrant creative territory. Providing key insights for this session are Neil Semple (Head of Creative industries, Department for International Trade) and Marcel McKeogh (Director, Heritage and Culture, Government of Nova Scotia) who will be on stage with Brian Hetherman (Founder, Curve Music and Cerberus Management and Consulting) – who has been a Radio Promotion and Marketing Rep for high profile acts including Peter Gabriel, Guns 'n Roses, Elton John and Aerosmith and a judge on the debut season of Popstars. He was also the youngest A&R Director in Canada when he began heading up MCA.
XpoNorth is delighted to be presenting a session on The Sound of Your Brand which will focus on the importance of music in advertising and trailers. Participants in this seminar include Mark Allen (Music Supervisor) who recently worked on projects including Sky's Tin Star as well as TV promos and trailers for companies including HBO, Nike and Audi. Joining Mark will be Rachel Menzies (Music Supervisor, Native Music Supervision and Production).
With over 10 years' experience Rachel has placed music in productions such as Game of Thrones, Top Gear, Doctor Who, X Factor and Family Guy, worked regularly with clients such as the BBC, Sky TV, Discovery Channel, Fox, Disney and MTV as well as brands such as Coca Cola, Heineken, Amazon, British Airways, Premier League and Starbucks.
Meet the Support Organisations will offer attendees the opportunity to hear from a range of regional and national agencies on how you can access support to bring your creative ideas to life, secure funding to develop your business and gain a valuable insight into current support programmes. Among those taking part include Clive Gilman (Director, Creative Industries, Creative Scotland), Isabel Davies (Director, Screen Scotland), Neil Semple (Head of Creative Industries, Department for International Trade) and Susan McColl (Creative Industries, Scottish Enterprise).