More events set for this year's Year of Young People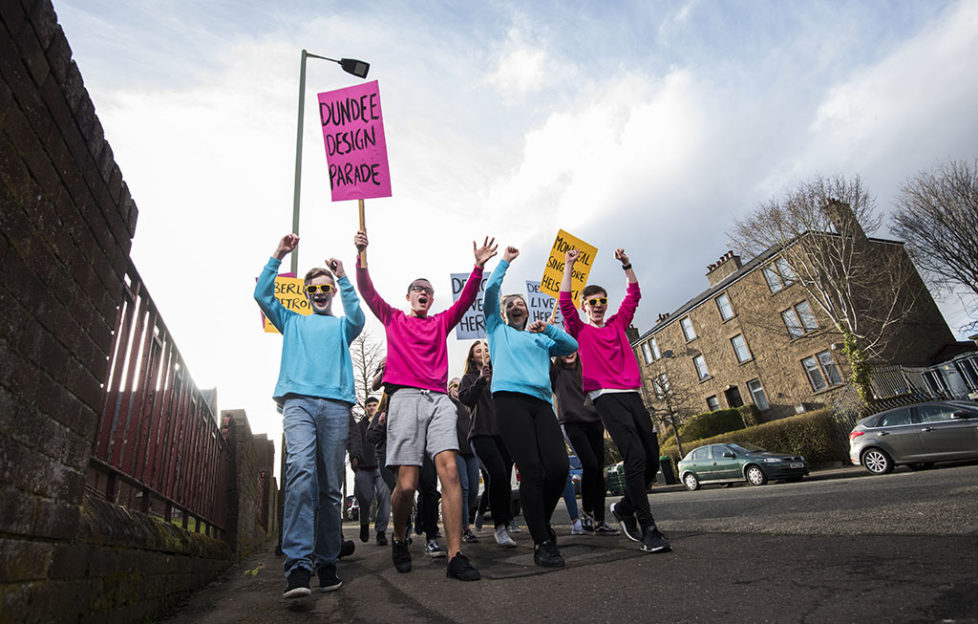 This month will see celebrations for the Year of Young People 2018 stepping up a gear.
From food fights in the name of science to interactive gaming and virtual reality and from breath-taking aero acrobatics to thought-provoking interactive performances, May has something on offer for all ages.
Working alongside event organisers across the country, the nation's young people have been hard at work to co-design a vibrant programme of events and festivals. Experience their creative ideas in action and see their vision come to life – be inspired by our amazing young talent.
Starting off the month and coinciding with Mental Health Awareness Week (14-20 May), Scottish Mental Health Arts Festival returns from until 27 May with a nation-wide programme of music, film, visual art, theatre, dance, and literature under the theme of 'Beginnings' and a special focus on young people's mental health.
A thought-provoking interactive performance developed by young people working with Vox Liminis who have personal experience of the imprisonment of a family member, a unique piece of film content created by young people working with Into Film Scotland, as well as a brand-new Youth Panel who have informed a series of youth-focused events are set to challenge preconceived notions about mental health.
At Dundee Design Festival (17-28 May), be dazzled by a riot of colour, music and design as Dundee's first ever Design Parade (26 May) presents young people's creations inspired by design objects and stories from UNESCO Cities of Design around the world. Or come along to the PechaKucha Night (23 May), an explosion of quick-fire presentations in a 20 seconds x 20 slides format.
All things Science, Technology, Engineering and Maths are on show at STEM at The Helix on 19 May, transforming the area around the magnificent Kelpies in Falkirk into a giant laboratory. Interactive workshops, mind-blowing experiments, virtual reality kits and a scientific food fight will make sure to get your grey cells working at the speed of light!
Generation Z, a free festival for all ages in Kilmarnock, kicks off on 19 May with immersive virtual reality experiences, an interactive gaming tournament and comic artist Tom Foster of Judge Dredd fame. The Dick Institute will also be running competitions to find the Young Artist of the Year in the categories of Art, Filmmaking and Writing – could this be your chance to gain immortal fame?
Freshly founded young promoters group STAGE iT will be taking over the Dumfries High Street on 26 May at Dumfries & Galloway Arts Festival (26 May-3 June) with an exciting array of activity including al-fresco performances headed-up by a daring spectacle of aero acrobatics by NoFit State Circus and Motionhouse. Keep your eyes peeled for more innovative dance, cutting-edge comedy, thought-provoking theatre and a music showcase coming your way later in the year.
The month is set to go out with a bang at a never-before-seen showcase of Scotland's young people's ideas, energy and innovative thinking at the first ever TEDxYouth @Glasgow on 31 May.
Come with an Open Mind to hear new ideas presented by inspiring speakers including Outlander and The Hobbit actor John Hunter Bell; Mollie Hughes, the youngest woman in the world to climb Mount Everest; entrepreneur Adam Purvis, co-founder of FutureX; Kelly Knox, fashion model and author working to dismiss society's preconceptions about disability; and The Food Medic, Hazel Wallace. The day will also include cool demo labs and exciting entertainment – come along and join a stand-out celebration of future generations designed by and for young people.
Sharon Padippurackal and Elah McCorkindale, 3rd Year pupils at Trinity High School and participants in the Scottish Mental Health Arts Festival Youth Panel, said: 'From being involved in the Year of Young People and the Scottish Mental Health Arts Festival Youth Panel we have gained newfound confidence in ourselves and have made lots of friends. We now have a deeper understanding of mental health issues affecting young people and understand how to support people through difficult times.
'We believe the Year of Young People gives young people like ourselves the opportunity to try new things and learn new skills, but also it is great that young people are getting the chance to shine a light on the positive work and projects they are involved in. We feel like the media often portrays young people in a negative way, so it is great that we are being celebrated.'
Paul Bush OBE, VisitScotland's Director of Events, said: "We are delighted to be supporting such a colourful, diverse programme of events in celebration of the Year of Young People 2018. Young people have been involved in their design every step of the way and I would encourage Scots and visitors alike to experience what's on offer. We can truly be proud of our young people's achievements and their valuable contributions towards making Scotland the perfect stage for events."
Other highlights across the Year of Young People events programme this month include the Gourock Highland Games (13 May) starting off the highland games season with their youngest chieftain ever, the Festival of Museums (18-20 May) during which museums up and down the country celebrate history, culture and art in over 100 events, a Pop-up Opera Roadshow (25 May-26 August) by Scottish Opera bringing three brilliant shows for all ages to your door-step and a Viking Invasion at Dunstaffnage Castle (26-27 May) staged by Historic Environment Scotland.
The Year of Young People events programme is running throughout the whole of 2018, for more information on events taking place beyond May click HERE.