His Majesty's Theatre is still in the limelight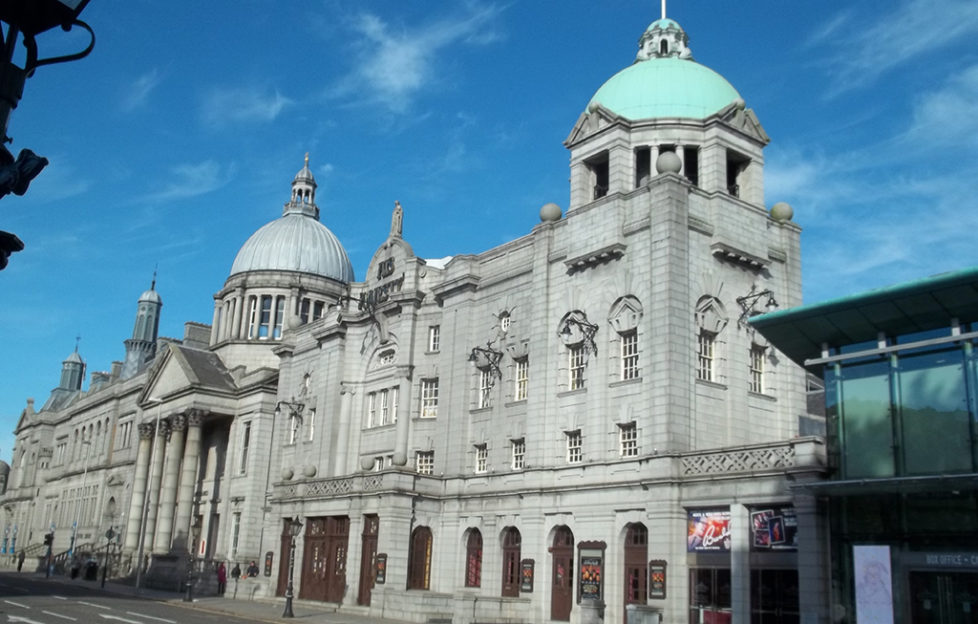 Despite the draw of modern technology, the enduring appeal of His Majesty's Theatre continues to capture the imaginations of Aberdonians young and old.
W e live in a constantly evolving digital age. With new movie releases, Netflix Originals and all your favourite TV series a click away on Amazon Prime, can traditional theatre really compete in such a busy market?
Though some may argue that younger generations are pulling away from the age-old art of live performance, it only takes one visit to Aberdeen's His Majesty's Theatre to realise that theatre is still very much alive and kicking. What's more, its shows appeal to every age – from little girls in tutus excitedly waiting to see Cinderella to grandparents laughing heartily at the ugly stepsisters' comedic sketches.
Aberdeen's eminent His Majesty's Theatre has been drawing in crowds of theatre lovers from far and wide for over 100 years.
An award-winning theatre that is steeped in history, it has even brought the best of Broadway and the West End to the Granite City, delighting thousands of guests that have walked through its doors. Much-loved pantomimes top the bill every year along
with operas, ballets and plays that travel the country – the producers always sure to make a stop at their beloved HMT.
The building's reputation as an emblem of Aberdeen's architecture has endured – it is grand but elegant, and seats over 1,400 guests across four stories.
With three curved balconies and proscenium boxes, not to mention the beautiful work that has gone into the ceiling, audience members are not only treated to a spectacular show on stage, but also to a stunning backdrop.
The stage area is swathed in red velvet and glimmers in gold, and is set beneath a beautiful chandelier. Where better for a princess to meet her knight in shining armour, or indeed for a lonely Cinders to be transformed into the belle of the ball?
Sitting in the auditorium awaiting the orchestra's signal that the show is about to begin, you are reminded of its history – of the 100 years of entertainment, tears and laughter that have been seen and heard within the theatre's four walls.
HMT is one of only two in the world to have that name, twinned with His Majesty's Theatre in Australia. Opening for the first time in 1906, the theatre was designed by English architect Frank Matcham who was responsible for the construction of over 90 theatres across the UK.
Costing £35,000 to build, Aberdeen's HMT was constructed with Kemnay White Granite and features an exquisite copper dome – all built by local tradesmen.
The opening night, with Little Red Riding Hood taking centre stage, was unsurprisingly a sell-out. The performance lasted an impressive four hours and met extended applause from the audience and three curtain calls.
Falling upon hard times in 1933, the theatre was bought by James F Donald, a successful Aberdonian businessman, who quickly brought His Majesty's up to date with the latest technology. With neon lighting, a cinema projector and a revolving stage installed (the only one in Scotland) these improvements kept the theatre firmly on the cultural map of Scotland, and perhaps more importantly saved it for the citizens of the Granite City.
James' son Peter was installed as manager of the grand north east theatre. With a keen eye for talent he encouraged some famous faces like Sir Harry Lauder and Gracie Fields onto the stage. HMT was kept in the family – within the great 'Donald dynasty' – until the theatre hit another financial wall, meeting stiff competition from television.
Trying to convince the council to invest and maintain the theatre, James threatened to turn his theatre palace into a city centre bingo hall which was enough to encourage the council to comply. (The thought of losing such an iconic building in the heart of the city is enough to send a chill up anyone's spine.)
Upon his death, Peter's sons took over his legacy until it was bought over by Aberdeen City Council in 1975.
With the aim of reviving the theatre for future generations to enjoy, Aberdeen City Council put £3.5m into the refurbishment of His Majesty's Theatre which took an arduous 23 months to complete. In 1982, Prince Charles reopened the theatre and 30 years later an £8m glass extension was built which was officially opened by Prince Edward.
Today, His Majesty's legacy lives on and its shows continue to bring smiles to people's faces on a weekly basis. This is arguably down to the theatre's continual ability to evolve with the times.
In recent years, the council even added in 3D effects to the theatre's repertoire – a feature that has made for an entirely new audience experience.
His Majesty's is up there with the best. Whether it be a quality drama or a family favourite, its enduring appeal is somehow incomparable to what you find on television screens. The soundtracks are sure to be stuck in your head and the live
performances are unbeatable.
HMT has a busy year ahead featuring touring plays, musicals, local productions and their annual pantomime. Upcoming shows include the Scottish Ballet's 50th anniversary production,  Spring!, Kinky Boots, Let it be and Shrek the Musical.
For more information or to book tickets visit: aberdeenperformingarts.com