Star Wars actor Denis Lawson talks life, the universe and everything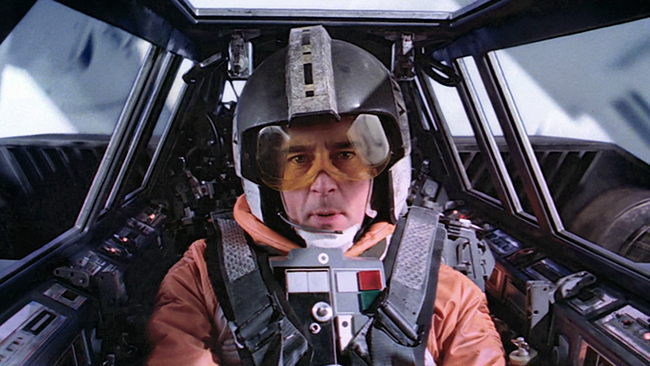 When Scots actor Denis Lawson was cast as ace rebel pilot Wedge Antilles in Star Wars, it was a role that would change his life.
The Crieff-raised actor went on to become known across the world, for his roles in Star Wars films A New Hope, The Empire Strikes Back and Return of the Jedi, as a close friend of the heroic Luke Skywalker.
But those are just three credits in an impressive CV, which also includes Local Hero, Bleak House, Victoria, Holby City, New Tricks, Marple and Pie in the Sky.
Here, Denis tells Scottish Field about his life and loves.
I was a fan of the show (Victoria) before I got involved, so I was really pleased to be a part of it.
Filming at Blair Castle was really great for me because I'm a Perthshire boy. It's my county and we were just 35 minutes from Crieff and it's really unusual for me to feel so at home somewhere that I'm filming. It's the most wonderful setting, it's just stunning. Jenna and I shot a scene up on one of the turrets one evening and it really was beautiful up there.
It was nice to play a bit of a toff. The Duke of Atholl is a very interesting character because he had his own army which was unusual in the Victorian period. Even today the current incumbent has the right to have his own army, although he lives in SA so I'm not really sure if he needs one.  But he was a very powerful figure and it's always interesting to play someone who has that much authority about them. Blair Castle is fabulous and when you shoot somewhere you can get into different bits of the location and different rooms. So it's great to see the interior in that way. You can be on your own and explore which is terrific.
I haven't lived in Scotland for a long time, but I love coming back. I'm very attached to Crieff and I'm up depending on work, three or four times a year. I love coming back and the countryside is lovely around there. I do still have family there, although my Mum died last year. My sister and my brother-in-law and I still have friends from school there.
My favourite part of Scotland is the west coast. It's just extraordinary over there. Opposite the isle of Skye, that landscape is amazing, those white beaches and the light in the evening is just incredible.
I was born in Glasgow, in Govan when it was very tough. So tough that my father got us out of there. We were in tenements in Govan and it was really hard and he started a business in Crieff, so I was brought up there from the age of three. We were very lucky, you know we suddenly had so much space to run around, it's just a great place to be brought up.
I have memories of living in Govan. I remember the back court, the middens, a red tricycle, a tartan football and a hole in the wall that boys used to run through and terrorise my sister. I remember the lavvy on the stair unfortunately. It was a hard period to be there for my parents. So my sister Carol and I got lucky to be brought up in Crieff.
I'm busy at the moment now that I've finished filming Victoria. I'm about to direct a new play in London at Hampstead theatre called The Firm. Written by a guy called Roy Williams. It's a terrific piece, very funny. It's a five hander and I've just finished casting that, so rehearsals start in October and it opens at the beginning of November.
In early 2018 I'm going to do a national tour of a play called Art. It's a very funny French play. It's a three hander that I'm doing with Nigel Havers and Steve Tompkinson. I just checked this morning and we will be playing Glasgow, which I'm so pleased about, from 9–14 April. I haven't been on stage in Scotland for far too long.
What I thrive on is variety in my work. So for me to do something like Victoria, then direct a play and then be in another play is what I enjoy. I've always been like that. I worked in the theatre a great deal in the first half of my career, but I've always enjoyed doing a wide variety of things. All the way from pure mime and avant-garde stuff to more conventional thrillers and musicals. I've always liked to move around a lot.
I've had a few favourite roles. On film, I discovered the west coast when I was doing Local Hero, which was shot up there. That was a revelation to me and I loved it, so that was one of my favourite roles. I loved Bleak House a few years ago. On stage my first musical in the west end, I played the lead in Pal Joey which was a 40s musical and then I did a 1930s musical called mister cinders which was a big success for me.
I've never really had a hankering to play a specific part. A lot of actors strive to play Hamlet or Petruchio but I'm not like that. I just see what comes up and how I respond to it.
I'm not on social media, but I gather that there are rumours out there that I was very dismissive of the new Star Wars films and didn't want to be involved. But that's complete nonsense. I just wasn't able to do the last one and the only thing I've ever said was that I get bored with journalists asking me about Star Wars and somehow that has been transposed over into me hating the films somehow. I didn't do it because I couldn't. It was a drag that I couldn't do it.
I did inspire my nephew, Euan McGregor to be an actor. When he was eight or nine, my sister said 'Euan has got something to say to you' and he said very seriously 'I want to be an actor'. He was very much inspired by me. I would come back to Crieff and was very different to everyone else he saw and I think he thought 'I want to be like that.' I'm glad to say we still have a very close relationship, which is something that I value very much.
About six weeks ago I got married to a lovely Scotswoman called Karen. Karen is a great horsewoman and we've got a cottage in Wiltshire, where she keeps her horses. So depending on my schedule, we'll spend long weekends there and the rest of the week in London. So that's where I relax. I haven't got on a horse yet, although I'm now very comfortable around them. When I was shooting Victoria we were shooting around a lot of horses and I would usually be a bit nervous, but I felt very at ease. So I have my dear wife to thank for that.
We got married on a beach in Italy at 8 o'clock on a Saturday night. It's very romantic to get married in Italian, although I've no idea what we agreed to! We had a great Italian friend of mine who runs the beach and translated for us. It was very lovely, we were married about two feet from the sea.
The people who inspired me as a child to want to do what I do were Gene Kelly, Danny Kay, Gerry Lewis, Donald O'Connor and Lucille Ball. Performers like that Also a Scottish comic called Danny Willis, who I saw in variety in Glasgow when I was eight or nine and he was incredible. So you can see that there's a great deal of variety there.
I've never come across a ghost, so I don't think I believe in them.
We have a cairn terrier called Lily who is very funny and sweet.
I haven't got on a horse yet, although I'm now very comfortable around them. When I was shooting Victoria we were shooting around a lot of horses and I would usually be a bit nervous, but I felt very at ease. So I have my dear wife to thank for that.
My pet hate is a bit generational I suppose, but I can't stand people who are constantly on their mobile, constantly staring at a screen. It's obsessive. I try not to let it bother me but I do think 'what are you doing'. I don't do social media at all. It's really quite easy.