Outlander star is signed up to help develop actors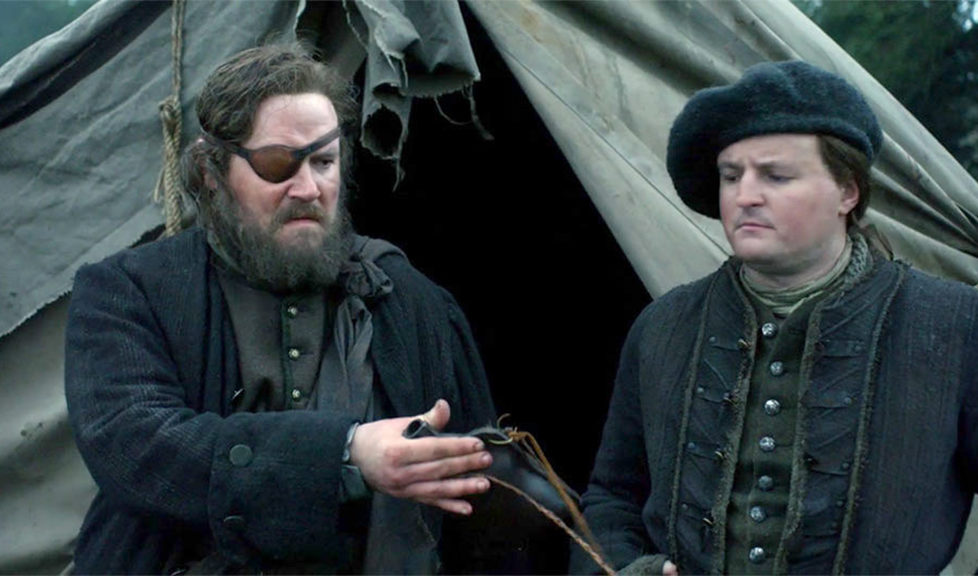 A Scottish acting school is being boosted by the imminent arrival of an Outlander guest star.
Edinburgh Acting School is revealed that actor Scott Kyle will be joining the EAS Family after the summer break.
Scott, from Rutherglen in South Lanarkshire, is best known for his role as Ross in six episode of the hit US television series Outlander. He also has a string of successful stage, film and television credits to his name.
A starring role on the big screen as Clancy in Ken Loach's The Angels' Share led to a role portraying real life soldier Corporal Stu Pearson in BAFTA nominated Kajaki (also known as Kilo Two Bravo). Scott's most recent filming project saw him join the new cast of BBC's highly successful TV series Trust Me for season two.
On stage Scott has performed in numerous countries and in various productions throughout the world. He also received the Stage Awards for Acting Excellence for his portrayal of Billy in the smash hit comedy Singin I'm No a Billy, He's a Tim.
Teaming up with award winning Jen McGregor, they will both lead the ATCL Speech & Drama Diploma 2019/2020. The wealth of experience, knowledge and passion makes for an invaluable and incredible experience for the student's at Edinburgh Acting School. From stage to screen the course is designed to develop and grow the talents of the budding actors attending.
Scott will also work closely with principle, Stephen James Martin, to bring a diverse programme of masterclasses and workshops to Edinburgh Acting School over the next 12 months.
Stephen said: 'We cannot wait for Scott to join the team. We had a great introduction meeting which brought out lots of new projects for us to collaborate on in the future. We have a great team at EAS, and Scott is going to enhance that.
'He has a great energy and passion, and experience across the board that is going to be exciting for him to share with our students. EAS has really advanced over the last 18 months, and bringing Scott on board, I know it is just going to bring it to the next level.'
A delighted Scott said: 'Jen McGregor and I first worked together 10 years ago, doing Romeo and Juliet in Milan, in a bilingual production, where she was the script consultant.
'A month ago, she spoke to Stephen, and CCd me into an email where they were talking about growing and developming the school, and she thought of me to help them.
'I've always done theatre workshops – it's like football training. The more work you do, the more you can hold your own. So when this chance came up, I leapt at it.
'I love to encourage young actors. The other night, someone messaged me on Facebook because their child was upset at the size of part they have in a play, as they wanted more. I called them through Facebook, and told them that if they're in a play, they've still got to give it their all. If you're a spear carrier, you make sure you're the best spear carrier there. Make sure everyone remembers you as the spear carrier.
'My mum always tells people that actors get picked up in cars, and get taken to the set under an umbrella. They get given their breakfast, and they wait in their trailer, playing video game. They then come in and do your make up, and take you to set, where you shoot your scenes and go back to your trailer.
'From my point of view, they send a car as you're too poor as an actor to get yourself there, and feed you because you're hungry. They keep you in the trailer so they don't lose you, and do your make up because you can't do it yourself. You're taken to the set and do your scenes, as you're a talking prop!
'Yes, I am joking about it, but it's two different perspectives on the same job!'
Edinburgh Acting School was founded in 1982 by Anna Tinline, and later succeeded by Kirsty O'Sullivan (nee Halliday) from 2011-2017. Stephen James Martin took over as Principle in 2017.
The school provides an extensive programme of part-time courses in acting and related performance skills. It gives its students the opportunity to learn and train in and professional and supportive environment. The school operates with small class sizes to offer individual and tailored training to its classes, it prides itself on knowing all its students and their needs and being able to offer support to everyone.
To keep up to date on the weekly classes, auditions, workshops and masterclasses visit the website www.edinburghactingschool.com