New TV show looks at life in the Galloway Forest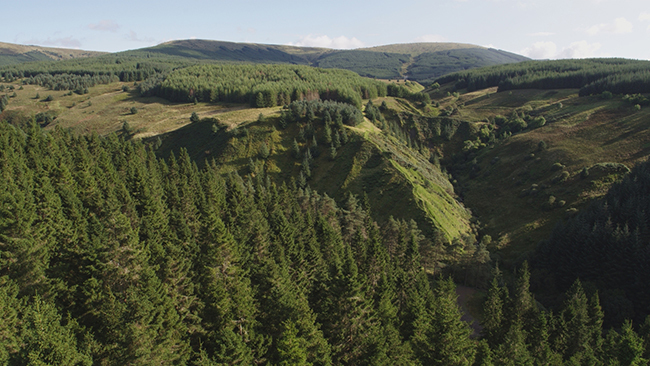 A new television series looking at Scotland's Galloway Forest is coming to our TV screens tonight.
The Forest is a six-part series which follows the lives of the men and women who live and work in the vast Galloway Forest.
With 400 square miles of dramatic woodland, magnificent scenery and abundant wildlife, it is often referred to as the 'highlands of the lowlands', celebrated for its wild beauty and dark skies.
Managed by the Forestry Commission for the public to enjoy the area attracts over 800,000 visitors each year.
But Galloway Forest Park is also the major player in Scotland's billion-pound timber industry. Established in 1947 to meet the demands for timber in post war Britain, today it is still the UK's largest afforested area producing 600,000 tonnes of timber a year.
Filmed over the course of six months this spectacular series – narrated by Scots actor Mark Bonnar – follows the extraordinary men and women who live and work in the Galloway Forest; from highly skilled chainsaw operators harvesting trees from the forest's most dangerous terrain to the Wildlife Rangers protecting rare and endangered species…
From the tree planters who've planted a million trees to the sawmill workers who power through 20,000 logs a day. And from astronomers to rally drivers, the series gives unique and surprising insight to the world of Galloway forest, viewed by some as a park and by others as a factory that just keeps growing.
It has been made for BBC Scotland by Tern TV, whose previous series have included The River, following people who live and work along the Tweed in the Borders, The Mountain which focussed on people in the area of Aviemore.
In the first episode of this new series, the Forestry Commission's recreation team led by Archie McNeillie is asked by the local community council from the remote village of Barr to rebuild steps on a well-worn pathway at Fairy Knowe.
Trouble is the steps are up a 330 foot hill. Getting hunks of granite rock to the remote hill is one problem, and digging them in by hand is another – for labourer John 'Cool' Coughtrie at least.
And on a remote peatbog the size of 32 football pitches, Graeme Little has built his own customized mulching machine to chew up spruce trees and spit them back out again on the land, in a conservation project to restore the natural habitat.
The Forest is on BBC One Scotland from 7.30-8pm.