Gogglebox's Giles and Mary to discuss their book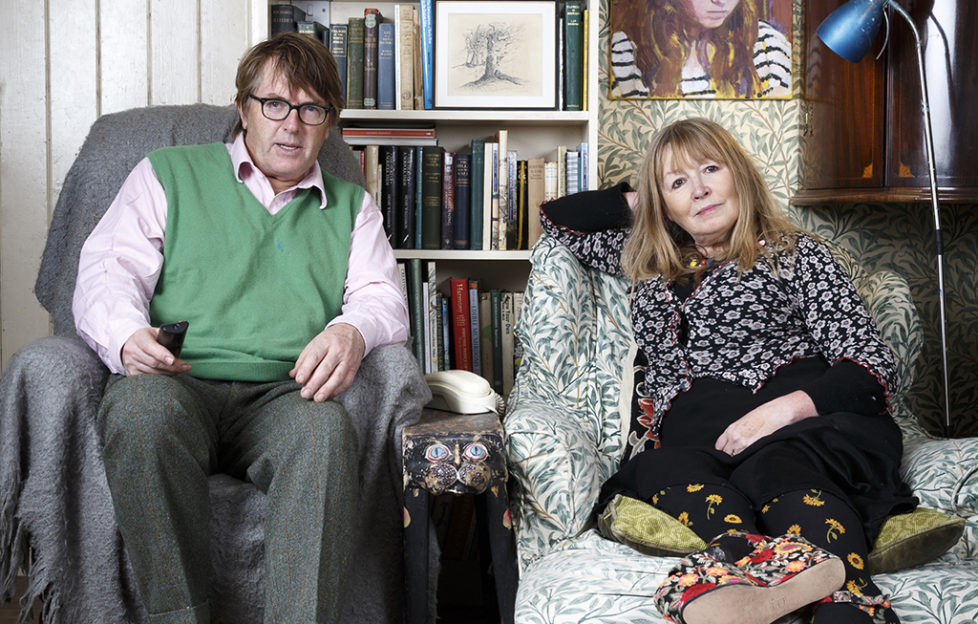 Two of the stars from Channel 4's Gogglebox are to speak at this weekend's Boswell Book Festival.
Giles Wood and Mary Killen have written a book about their lives, ironically entitled The Diary Of Two Nobodies, which they will discuss at the annual festival of biography, being held in Dumfries House near Cumnock, in Ayrshire.
Off screen, Mary is the renowned Spectator agony aunt and well-known journalist who loves parties, while husband Giles is a talented artist who is happiest pottering about in his garden.
The couple, from Wiltshire, have have been on Gogglebox since the fifth series in 2015.
Speaking to Scottish Field, Mary said: 'A friend of mine has been to James Boswell's former home in Auchinleck, and I've read his biography of Dr Samuel Johnson, but I hadn't really taken in the fact that Dumfries House has become the home of such an amazing festival. It's such a good idea.
'The Gogglebox showrunner told us that other people on the show had written books, Scarlett Moffatt, and Stephen and Christopher, and asked if we wanted to do one. Giles and I are both writers, so said we could do one if we wanted to.
'She made an announcement and various publishers made bids for it, and we could choose who. To our amazement, the last person who came in was Lorna Russell, who we had known years ago when she was a teenager, and is now running Virgin Books.
'Lorna had the idea of doing a diary and that started us off. I keep a diary as it is, so that was a great starting point. Giles can be very disorganised about things, but if he has a deadline, he is surprisingly good and will do it.
'I said to Lorna that she should give us fake deadlines, to makes sure we would meet them, and she made us deliver once a month, which was how it all came together.
'She was a perfect editor. She told us not to be self-conscious just write what was in our heads, and she would wade through it. She did a wonderful job.
'Giles and I are capable of editing our own material, but Lorna had an Olympian task, to work with 54,000 words and pick our which is the best material and what would work best.
'It's like Tanya Alexander, who created Gogglebox – she has so much material, but she is able to go through it and make something incredibly interesting out of what she has.'
On screen, the pair, who affectionately call each other 'Nutty,' amuse the watching millions, especially as Giles has flights of fancy and moments of boyish charm, while Mary is quick to bat him down.
Mary smiled: 'Giles has never grown up.'
As a journalist, Mary appreciated the written word, especially biographies.
She explained: 'I do say, you can't beat the Life of Dr Johnson – it's hilarious and I don't think it has ever been bettered.
'I'm currently reading Selina Hastings' The Secret Lives of Somerset Magham, and as she continues, she has developed a crush on him, which really brings it to life.
'I also enjoyed the biography of Jeremy Thorpe. It's so vivid, as the chapters really capture the thinking and the atmosphere of the era, and you feel like you've stepped into a time capsule. The only objection I have to it at John Preston's imaginary conversations.'
As well as The Diary of Two Nobodies, Mary will also be talking about her other recently-published work.
She explained: 'I'm going to be discussing my other book as well, How The Queen Can Make You Happy. I've actually had better reviews for it, but it's been released by a very small publisher, but they didn't have the muscle to get it into as many shops.
'The shops that did stock it tended to put it in the wrong section, such as under etiquette. If anything, I'd put it under self-help – just look at how the Queen carries on and her recipe for life is a cracking success – she's fit and health, never let anyone down, and she cheers up hundreds of people of every day. It should be self help or humour!'
The Diary of Two Nobodies is a compelling account of a year in their lives charting their exasperations and their ways of surmounting them, and how watching television together saved their marriage. They will be in conversation with Pauline McLean, BBC Scotland's arts correspondent.
Giles and Mary will be speaking at 5pm on Sunday, with tickets £9 each, with £7 concessions.
Mary joked: 'Giles will be making a very rare appearance outside his cottage!'
To book tickets, contact the Box Office Hotline on 01563 554 900 or click HERE.