Children's TV series inspires a new generation to want to visit Scotland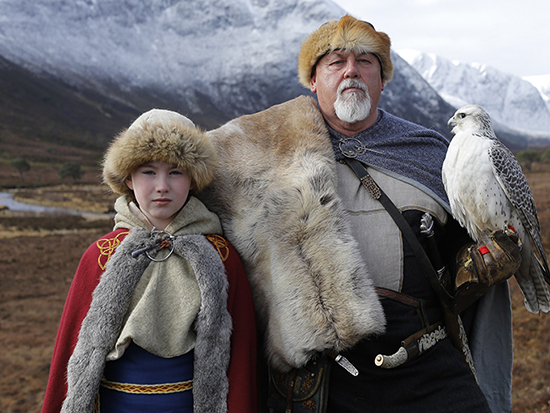 Children all over Britain are getting a look at the natural beauty of Scotland thanks to a new TV series.
Would-be princesses and princes can follow in the footsteps of Gudrun, the Viking Princess' footsteps, with a visit to Scotland with their families this half term and Easter.
The CBeebies series, made by Glasgow-based indie Maramedia, is narrated by Paisley's David Tennant and was completely filmed in Scotland.
She may be a small Viking princess, but she has many big adventures: from making friends with reindeer, to learning to fly a Gyrfalcon, to keeping an eye on mischievous red squirrels – it's all in a day's work for Gudrun. The series aims to inspire young people to engage with and explore the wild through a magical story.
The five-minute episodes take young viewers on a journey, using a new innovative format combining live-action drama and factual entertainment, as Gudrun and her father, the kindly King Sigurd, encounter the different seasons in Scotland and many animals to befriend along the way.
And now visitors can check out the Scottish filming locations for a magical trip – with a nod to the Viking princess herself.
Reindeer are not just for Christmas! In one episode, Gudrun meets and befriends a lost reindeer. Visitors can travel to the Cairngorm Visitor Centre, which features in the series, to rub noses with Britain's only free-ranging herd of reindeer found in the Cairngorm Mountains. These tame and friendly animals are a joy to all who come and see them. There is a daily guided Hill Trip to see the reindeer, from mid-February, with additional trips during the summer months.
For more information, go to www.cairngormreindeer.co.uk
Red squirrels are a speciality of Scotland. Take inspiration from Gudrun with a trip to the Rothiemurcus Centre at the Rothiemurcus Estate in Aviemore. Not only is there a camping and caravan park, surrounded by indigenous Caledonian woodland for an exciting adventure, but there are also lots of outdoor activities on offer, such as quad-biking, fishing and pony trekking; little ones might like to try deer feeding or the hairy coo safari.
For more information, see http://rothiemurchus.net
For a wild, exciting coastal journey, a trip to Isle of Arran is a must. Accessible by ferry from Ardrossan to Brodick, it is here that Gudrun meets otters, seal and crabs. Machrie beach on Arran is a perfect picnic-spot, with beautiful views to Kintyre. Adventure-loving familes can try water sports, rock climbing or a mountain cycle on the coast road from Machrie to the north of the island all the way to Lochranza.
Also, when back on the mainland be sure to visit Culzean Castle on the Ayrshire Coast, which also features in the programme. For opening times check www.nts.org.uk.
For more information on exciting Scotland locations to explore, click HERE.