A Scottish celebration of silent film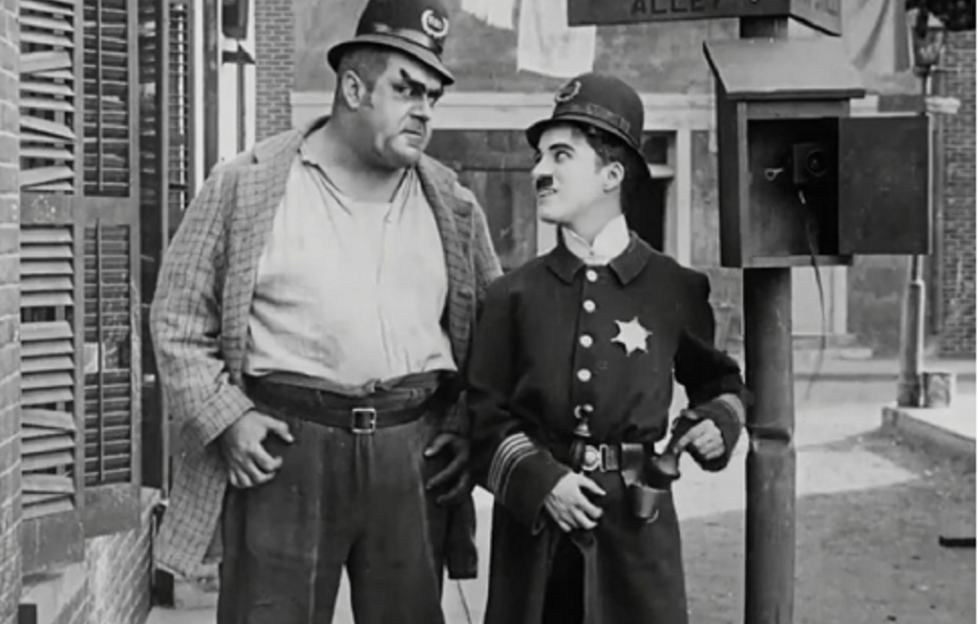 Scotland's festival of silent film is returning this month.
Being held in Bo'ness, the Hippodrome Silent Film Festival's Taste of Silents season begins on Saturday 11 September with a double bill of silent-comedy, Easy Street (1917) and Wrong Again (1929), accompanied by musician, broadcaster and HippFest favourite Neil Brand.
The event quickly sold out when tickets first went on sale, but more tickets have since been released following the Scottish Government announcement on 9 August.
The evening opens with 1917's Easy Street starring and directed by Charlie Chaplin. A laugh-a-minute action-comedy, which sees the penniless Chaplin inspired to become a police constable, only to be assigned to rough and tumble Easy Street to deal with Eric the Tough – a huge thug who dominates the lives of everyone there; starring Eric Campbell as Eric the Tough, the familiar nemesis to Chaplin's Little Tramp character.
Followed by Laurel and Hardy classic Wrong Again (1929), where the comedy duo are given jobs as stable-hands and are put in charge of a thoroughbred horse named 'Blue Boy' – confusion and hilarity ensue when the two mistake the horse for a missing painting of the same name, and go in pursuit of the $5000 reward.
The evening's piano accompaniment will be provided by long-time friend of the Silent Film Festival Neil Brand. A world-renowned silent film accompanist, Neil is also a composer, writer and broadcaster; his recent touring work includes 'Neil Brand presents Buster Keaton' and 'Neil Brand presents Laurel and Hardy'.
Neil has received wide acclaim for his radio and TV work including for his recent series 'The Sound of Movie Musicals with Neil Brand' on BBC 4.
This year Neil was made an Honorary Member of the Royal Academy of Music, he is a Fellow of Aberystwyth University, was awarded the British Academy of Songwriters, Composers, and Authors (BASCA) Gold Badge in 2016 and is considered one of the finest improvising piano accompanists in the world.
Neil said: 'This is a chance to see three great silent comics at the absolute top of their game. Chaplin is mining his own experience of poverty and deprivation with Easy Street and getting the best laughs out of them, and Stan and Ollie's relationship is fully formed before their sound pictures, as they try to work as delivery men – you won't believe the result!
'I am so thrilled to be coming back to the Hippodrome, one of the most welcoming and enthusiastic venues I perform in, with two classic comedies after a year and a half of not being able to play there live. I know it will be a glorious night.'
Alison Strauss, Festival Director (Falkirk Community Trust) added: 'This side-splitting double-bill kicks off a short season at the Hippodrome when we make a noise about all that is great about silent cinema.
'The films are all presented with live music that carries you in to the heart of the action, and each one represents the funniest, most entertaining and breath-taking films from this period of cinema history, to give a flavour of silent films' riches.'
The Hippodrome Silent Film Festival's Taste of Silents season will run selected dates, September 11 – October 31 . Tickets for each screening start at £8 for concessions. The Hippodrome's new Young Audiences scheme will also be valid with tickets for 16-25 year olds just £4.50.
HippFest will return to the Hippodrome for its full festival programme from March 16-20 2022.
The Hippodrome Silent Film Festival was launched at the Hippodrome in Bo'ness in 2011 and has since become a key annual event in the cultural calendar, drawing audiences from across the UK. The event is organised by Falkirk Community Trust with key funding from Creative Scotland and Falkirk Council.
For more details visit www.hippodromecinema.co.uk or www.hippfest.co.uk.