Exhibition celebrates the Little Black Dress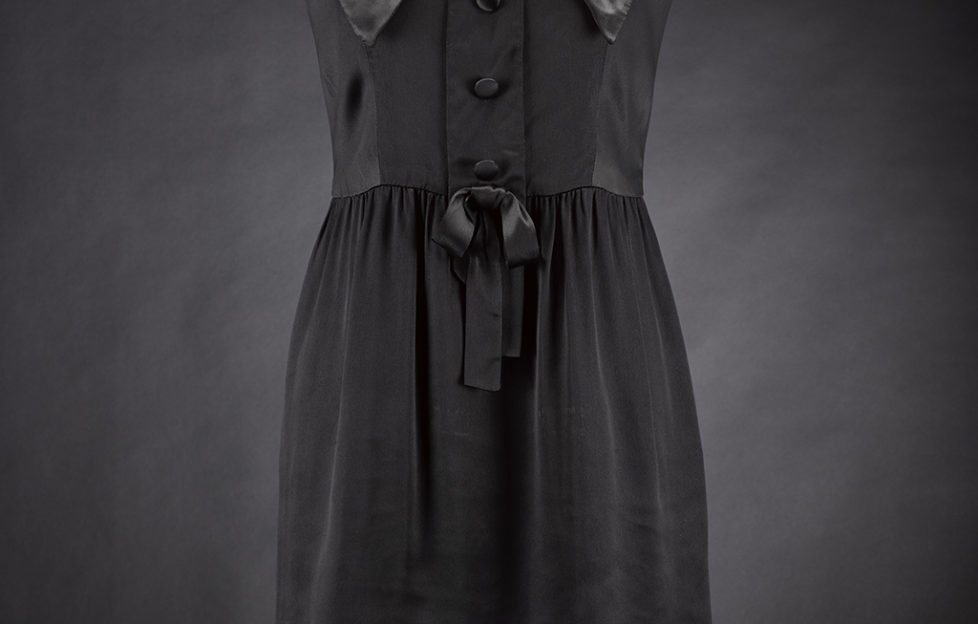 Little Black Dress is a major new exhibition at the National Museum of Scotland which will examine the history of this iconic garment in high fashion.
It will consider the role it has played in society and look at how technology is enabling designers to challenge entrenched notions of classical dress and upgrade the little black dress for the future.
In 1926 Coco Chanel designed a simple, short black dress described by US Vogue as 'the frock that all the world will wear.' Nearly a century later, the 'little black dress' has become a wardrobe staple, a symbol of femininity and a byword for chic.
At its inception, the little black dress was radically modern, disregarding convention entirely in both its stark design and its sombre shade, traditionally associated with mourning. It subsequently became something of a social institution, with each new silhouette capturing the spirit of its time. In 21st century high fashion, radical interpretations of it are addressing modern issues surrounding ideas of femininity, proving its infinite capacity for reinvention.
Juxtaposing classic pieces with cutting-edge examples, the exhibition will explore themes ranging from fetishism and rebellion to piety and witchcraft, and will ask what the future holds for the little black dress On display will be 60 striking looks drawn from National Museums Scotland's fashion collection, international museum collections and private lenders. These will include vintage pieces by fashion houses such as Chanel and Dior alongside recent work by contemporary designers like Gareth Pugh, Christopher Kane, and Comme des Garçons.
Georgina Ripley, senior curator of Modern and Contemporary Fashion and Textiles at National Museums Scotland said: 'Few garments are as iconic as the little black dress, which has often been held up by the fashion industry as the one piece every woman should have in her wardrobe. It has evolved dramatically in the century since its creation.
'From a simple shift dress which helped democratise women's fashion to a bold political statement, it has moved through various iterations which reflect changing ideals of beauty and body image. Displaying classic early pieces, sumptuous couture and examples of cutting-edge technology, this exhibition will explore its enduring success, and ask why, in the fickle and fast-paced fashion world, the little black dress has achieved that rare status of being truly above the fray.'
 National Museums Scotland's internationally significant fashion and textiles collection comprises around 50,000 objects and is one of the largest in the UK. The collection includes textiles dating back to the 14th century and clothing and accessories dating from the 16th century to the present day. Little Black Dress follows the acclaimed exhibition Body Beautiful: Diversity on the Catwalk, and is the latest in a series of fashion-focused activities at the National Museum of Scotland.
 Little Black Dress is sponsored by Baillie Gifford Investment Managers. It will be supported by a publication and programme of public events.
Admission: £10 adults, £8.50 concession, £7.50 students, unemployed and Young Scot 16+. Entry is free to National Museums Scotland Members and children under 16.
Click HERE for more details.