Wigtown Book Festival launches £25,000 fundraiser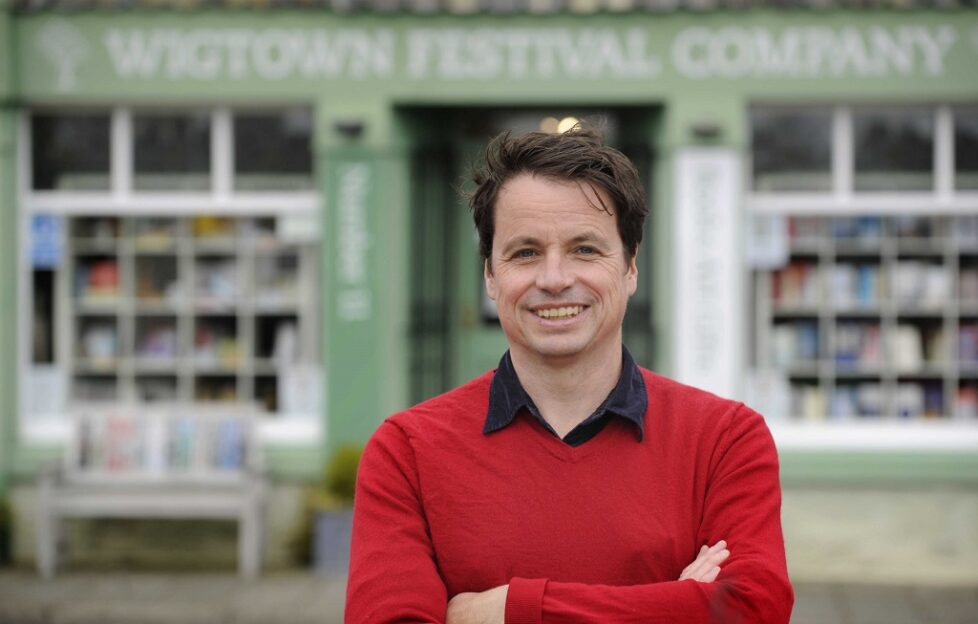 Wigtown Book Festival has launched a £25,000 Book It and Spread the Word fundraising appeal to help secure the future of the literary event.
The initiative has been announced as Scotland's National Book Town prepares to welcome audiences back after last year's entirely digital event.
This year's festival will be one of the biggest of its kind in the country during 2021, even though it has been scaled back and will take place over 12 days rather than the usual 10, as part of its extensive COVID security measures.
Adrian Turpin, the festival's artistic director, said: 'The prospect of hosting events in Wigtown again is hugely exciting. A lot of effort has gone into ensuring we can deliver a festival that has the same spirit as ever but in a COVID-safe environment.
'At the same time, it is hard to overestimate how financially challenging this year is – even more so than last year. COVID restrictions mean that our opportunities for box office income in 2021 are severely limited, yet many of our running costs remain fixed.
'The income we would usually earn from tickets sales supports not just the festival but our charitable activities throughout the year, such as our work with young people.
'So despite committed support from Dumfries and Galloway Council, Holywood Trust and other funders, balancing the books will be extremely difficult without additional public support.'
The public can support the event in a number of ways:
Book a ticket or two. If you value having the Book Festival on your doorstep, show your support by attending in person. Take a chance on something new in the programme.
Spread the word. Telling friends and family about the event is one most useful things anyone can do to help us. Word of mouth has always been the best kind of promotion.
Buy a book (why not treat yourself to two?). Our online bookshop has not only festival titles but can order anything – every penny goes back into the charity.
Make a donation. If you are in a position to do so, consider donating to the fundraising campaign. A lot of this year's events will also be streamed live online as they want to reach the widest audience and organisers particularly welcome donations from online viewers.
This year's festival (from 22 September to 4 October) will be rich with fun, wit, wisdom, history and science – plus red squirrels. It will feature a multitude of authors including well-known figures.
Guests include: Janey Godley – Frank Get the Door; Alexander McCall Smith – The Joy and Light Bus Company; Val McDermid – 1979; Ruth Jones – Us Three; Gavin Hastings – Legacy of The Lions; Salena Godden – Mrs Death Misses Death; Robin Ince – The Importance of Being Interested: Adventures in Scientific Curiosity;
Fatima Manji – Hidden Heritage; Rory Cellan-Jones – Always On; Emma Soames – Mary Churchill's War; AC Grayling – The Frontiers of Knowledge; Laura Bates – The Trial; Kathleen Hart – Devorgilla Days; and Sarfraz Manzoor – They.
Former Scottish Field wildlife writer, author and wildlife rehabilitator Polly Pullar will be talking about her new book A Scurry of Squirrels and leading red squirrel walks in the countryside near Wigtown. She has had a love of the animals since childhood and has reared many orphaned youngsters by hand.
There will also be activities including fireworks and a pipe band, the Bookshop Band's World Tour (with guests from the world of books), pop-up performances from Scottish Opera, guided walks of the Solway's saltmarshes with Saltire Award-winning author Stephen Rutt and drama at the Swallow Theatre (Scotland's smallest theatre).
At the town's heart will be a new, free outdoor venue, The Gardens, with a large screen and informal seating which aims to be Wigtown's answer to Wimbledon's Murray Mound. Selected live audience events will also be streamed from Wigtown to audiences around the world.
The festival will also feature the awards ceremony for the Wigtown Poetry Prize – which celebrates and nurtures poetry in Scotland's three indigenous languages, English, Scottish Gaelic and Scots.
There will be the annual Magnusson Lecture (celebrating the life and interests of the broadcaster, academic and polymath Magnus Magnusson) in which Rosemary Goring will discuss 'the Afterlife of Mary Queen of Scots'.
And new for 2021 will be the announcement of the winner of the Anne Brown Essay Prize for Scotland. As ever there will be a strong programme for children and young people.
Extensive COVID safety measures are being put in place across the festival, including longer gaps between events and reduced venue capacities.
For further information see www.wigtownbookfestival.com.