Children's author produces second edition of novel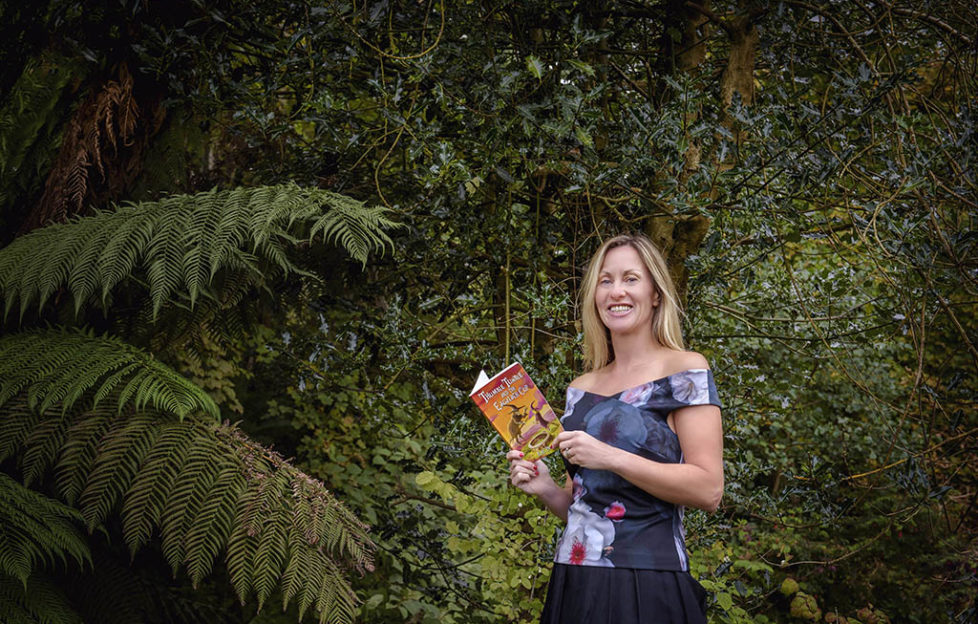 An acclaimed Scottish children's author has had to produce a second edition of her popular adventure story.
It comes after releasing what is believed to be the first novel study pack specially tailored to Scotland's current Curriculum for Excellence.
Launched earlier in the year, the magical pack has already been officially adopted and endorsed by education departments covering hundreds of schools across Scotland.
AH Proctor, author of the enchanting Thumble Tumble adventure series set on the Isle of Arran, created the engaging pack in partnership with leading educational experts to help improve literacy and ensure that the pack meets all the requirements for the Curriculum for Excellence. It covers a number of experiences and outcomes that are used by schools to plan learning and assess progress.
The first edition of her book Thumble Tumble and the Ollphiest, completely sold out within weeks of her launching the Novel Study, but she has urged her fans not to worry as her publisher has commissioned a second edition with fresh new illustrations.
Dennis Hopkins, head teacher at St Bridget's Primary School in North Ayrshire said: 'AH Proctor's self-produced teaching pack, to accompany her very popular Thumble Tumble series, promises to be one of the most effective reading resources we've ever used. Unlike many other commercially produced reading resources, Angela has sought the views of our Professional Learning Academy and has tied her pack in so well to satisfy our appetite for higher order reading skills.
'We were also absolutely delighted when she visited our school recently to talk about her journey as an author. She has inspired many of our pupils to follow in her very successful footsteps and to visit the magical island of Arran that features in her books!.'
AH Proctor has personally visited over 180 schools across Scotland, and the children have been truly enchanted. Many teachers and parents have reported about how engaged pupils have become with the Thumble Tumble stories, with some encouraging their parents to visit the magical Isle of Arran, and others being inspired to write their own books. One school has even organised a school trip to the island on the back of AH Proctor's visit, while a Mum told of how her children wanted to feed the Ollphiest (a friendly sea dragon) seaweed on a recently visit to Lochranza Castle.
AH Proctor said: 'The imagination and creativity that inspires the future generations of authors, playwrights, poets and songwriters, is born from the inspiration and education we discover in our childhood. Indeed, my successful Thumble Tumble adventure series would never have been possible without the magical experiences I had at school as a child.
'To help make sure that Scotland continues to be a world leader in creativity, I decided to create a new novel study that will give schools the magical key to unlock the most creative minds.'
Five local authorities are already using the pack for use in their local schools, this includes Glasgow, North Ayrshire, East Ayrshire, Stirling and the Scottish Borders. The pack will be launching in the other 27 Scottish local authorities next term.
As the first local authority to adopt the pack, Glasgow City Council's Councillor Chris Cunningham, City Convener for Education, Skills and Early Years said: 'We're delighted to be working in partnership with AH Proctor and Thumble Tumble. Together we can nurture and foster creative talent in the children's minds and show them that there is nothing to stop them being a successful author one day! With support like this and the fantastic work of our schools and teaching staff, we can't wait to see what this growing partnership holds.'
Through the Novel Study Packs children will discover the magical world of Thumble Tumble – an extraordinary little witch on her many adventures on the Isle of Arran. Aimed at Primary 4-6, the fun and engaging activities within the pack explore tools for reading, words and phrases, characterisation, listening activities, creating texts and more.
The Thumble Tumble books have been highly praised by children, teachers, librarians and leading bookstores through Scotland, the UK and beyond. They feature on Scotland's new National Storybook Trail, published by VisitScotland, alongside such literary greats as Peter Pan and Wind in the Willows.
In addition to commissioning the teaching pack, Angela is donating 100% of all author profits back to any schools wishing to purchase books to use with the teaching pack. This special 'Education Discount' reduces the cost of the books by 55% from £5.99 per book down to £2.70.
For more information visit: www.thumbletumble.co.uk