Celebrating the volunteers at book festival's heart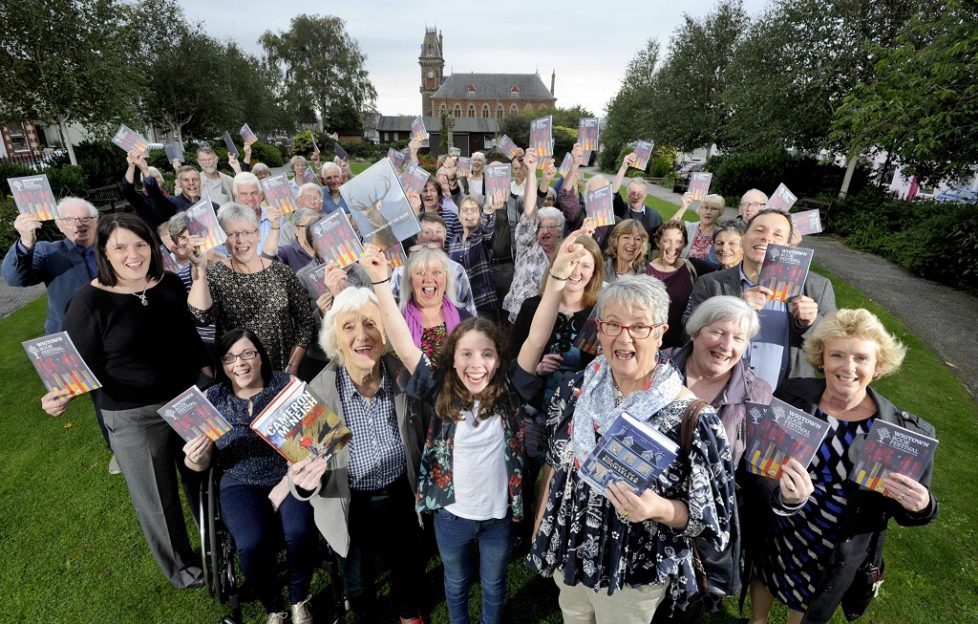 A special event has been held to thank the army of volunteers who make the Wigtown Book Festival possible.
Ahead of the 20th annual event, around 150 adults and children, aged from under 10 to over 80, give time throughout the year carrying out an enormous range of tasks.
Most are from Dumfries and Galloway, some are from the Central Belt and in past years they have even come from America.
A special event was held at The Print Room in Wigtown earlier this week, attended by Dumfries and Galloway Council leader Councillor Elaine Murray, Derek Crichton director of communities (who was part of the council's support team when the town won its status) and festival operational director Anne Barclay, and around 80 volunteers.
Anne said: 'From its earliest days to this year's 20th event, the story of the festival has been all about the willingness and enthusiasm of the volunteers who were determined to make the festival a success and to help revive the economy of Wigtown.
'Over the years it has built from a small weekend event into a 10-day extravaganza that attracts authors and audiences from all across the UK and the rest of the world.
'The volunteers do everything from delivering leaflets to stewarding events and even driving speakers backwards and forwards to railway stations and airports. They are the public face of the event – they are also its body and soul. It would be impossible without them.'
Many people love being a volunteer for the buzz of being at the heart of a community-based cultural event.
Among them is Nanette Craig, who will be 85 on the second day of the festival, and has been helping out for more than a decade.
She said: 'I love being part of the festival, it's great fun and it keeps you young.'
Nanette moved to the area 60 years ago when she married a local farmer and they retired to a house in the town in 2002.
She said: 'I love it here, there's such a strong sense of community. But the town had become so run down with empty shops and houses. It really needed a boost and that's what the festival has done.'
Her volunteering duties tend to be out on the streets as 'a smiling face', chatting to visitors and providing directions and information.
Among the guests she recommends this year are Clare Balding and Susan Calman and past favourites include Joanna Lumley.
One of the younger volunteers is Helena Cochrane, aged 13, whose family run the Old Bank Bookshop and who eagerly looks forward to the festival each year. Her roles extend from delivering leaflets to introducing speakers at events that are part of the children's festival.
This time she is looking forward to catching up with the likes of Cathy Cassidy, Ross Mackenzie, Chae Strathie and Vivian French.
Helena said: 'I really enjoy being part of the festival, it's always been part of my life. And it's great to have the chance to meet so many authors and illustrators.'
Morag Donnan, who was the head of the primary school in the nearby village of Sorbie for 20 years, provides accommodation for each year for a festival sponsor and also provides transport for visiting authors.
She began volunteering about a decade ago acting as a steward, she then began working in the box office and nowadays does an afternoon a week in the Wigtown Festival Company book shop.
She said: 'I have always worked with people and I love books, so this is something I very much enjoy. And I also think it's a wonderful thing that here, in the back of beyond, we have an event that is so successful and has become well known around the world.'
Morag also enjoys meeting authors and is particularly looking forward to Sally Magnusson's appearance.
For full details of the Wigtown Book Festival, from 21-30 September, go to wigtownbookfestival.com.