Book review – Making For Home: A Tale of the Scottish Borders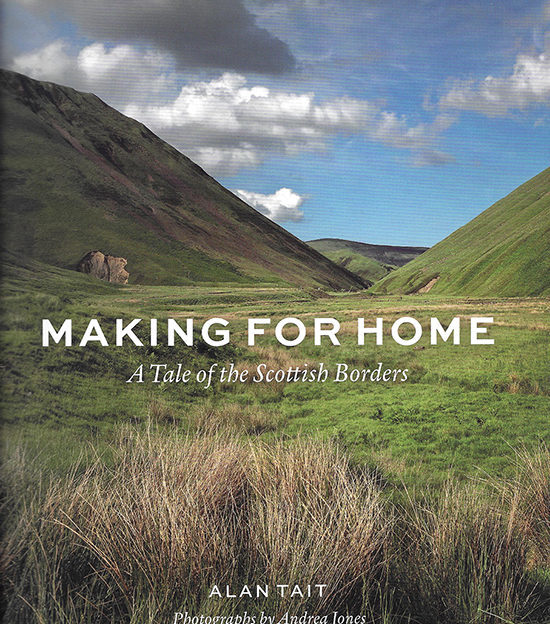 A former art historian, farmer and writer, Alan Tait has lived in the Moffat Water Valley for over 40 years.
He describes his third book as a memoir, a meditation on the nature of buildings in the area and a history of the valley.
Tait skillfully weaves together the history and tales of the landscape as he tells of his journey to the area and the subsequent restoration and renewal of the now impressive Polmoodie farmhouse in the Moffat Water Valley.
Beginning with a brief recollection of his childhood, some of which was spent in a coastal village in the Solway Firth where his family sought safety during the Second World War, he tells of a Barnardo's money box, a papier mâché thatched cottage which came into his possession during this time.
To him, this quaint and simple farmhouse promised the bright and safe home which he would one day own.
This begins his musings on the idea of 'home' and the connection between buildings and the landscape that surrounds them as well as meanings of ownership, guardianship and responsibility.
Tait tells of his first home, a two-bedroom flat in the West end of Glasgow which he purchased in 1968. He paints a vivid picture of the city and the traditional tenement building. As well as the built environment that surrounded him, he also divulges details of the cast of characters that made up his tenement community.
The lack of love he describes for the tenements at that time pushed him to find the more or less derelict Polmoodie farmhouse – and so began a restoration project that has consumed a large portion of his adult life.
Tait describes the restoration of the farmhouse, both inside and out, as well as reflecting on the way in which this process has left his mark on the valley, which has seen centuries pass, often with little change.
Tait's work is poetic as he writes of the hills around his home, drawing inspiration from historic Border's poet James Hogg, the man known locally as simply 'the Ettrick Shepherd'.
His lament for the lost shepherds of the area is largely due to the Forestry Commission, with the valley's number of shepherds dwindling from fourteen to just one. A life amongst the flora and fauna is a romantic ideal long held by Tait, but this farmer lives in the real world and is not blinded by ideology.
Throughout the book he is keenly aware of the unforgiving nature of the valley and the determination of the people who have made their lives there. Leading garden and landscape photographer Andrea Jones provides photography of the Moffat Water Valley alongside a carefully curated selection of historical documents.
Be prepared to be sucked into Tait's world and come out the otherside brimming with inspiration.
Making For Home: A Tale of the Scottish Borders. by Alan Tait, Pimpernel Press, £30
Scottish Field rating: *****