Artist Helen is the Iron Lady of Aberdeenshire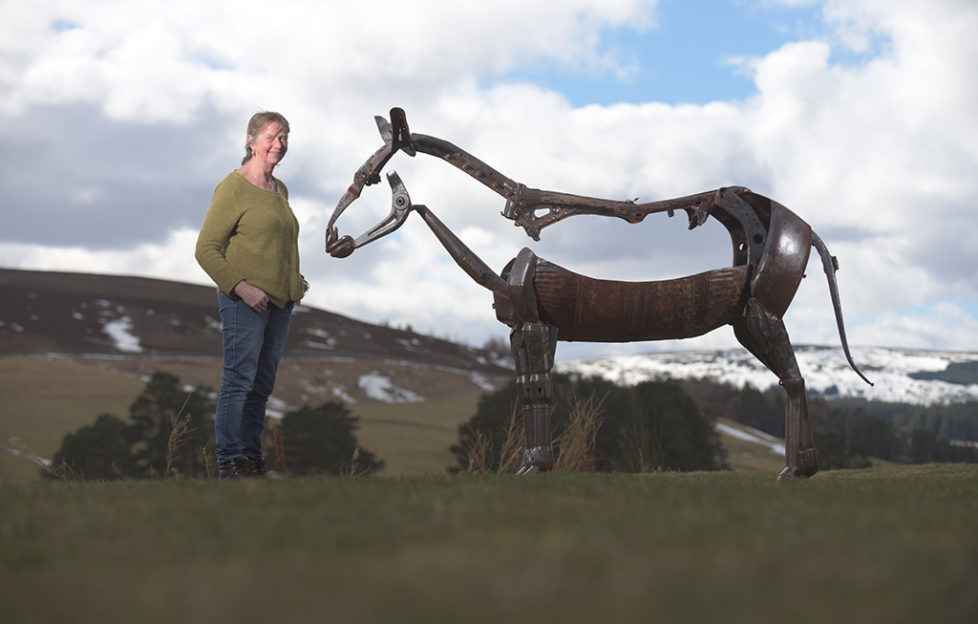 Driving down an old dirt road in rural Aberdeenshire, the last thing you expect to be greeted by is a giant metal iguana.
But that's exactly what you see as you approach Clashnettie, the remote home studio of sculptor Helen Denerley, located 20 miles south of Ballater.
The impressive sculpture is now retired, Helen says, and is part of a metal menagerie dotted around the property, which also includes a stag, a donkey and a rather fierce-looking crocodile.
Helen's backyard is a mess of metal parts from old machinery, motorbikes, or whatever else she can source locally, and she uses this to carefully sculpt the beautiful works of art she has become known for, the most famous being Dreaming Spires, a huge pair of giraffes at the top of Leith Walk in Edinburgh, which were unveiled in 2005.
She likes to create what she calls 'positive space' in her work. 'I call it positive space because I put a lot of value on that space,' she says. 'I like to think that I only need to put in the pieces that are necessary.'
Helen uses standard metalwork techniques such as welding and grinding – the same used in ordinary metal workshops, alongside in-depth study of the movements and nature of the animal world.
Due to the time spent bringing her creations to life, Helen admits she often ends up feeling a closeness with them.
'I was very fond of the ape that I made just last year,' she says. 'It was so full of life, I would speak to it. You form a relationship with them.'
At present, Helen is working on pieces for Across the Equinox, a new exhibition at the RhueArt gallery in Ullapool. The show is a collaboration with Irish poet Michael Longley for which she is crafting sculptures, such as swallows, squirrels and hares, in response to his observations of the natural world.
This marks a departure from working alone on large-scale projects and Helen is enjoying the change. 'It's a true collaboration,' she says. 'I'm doing a lot of smaller pieces and more considered pieces.'
Another recent project was a private commission of a six-metre tall giraffe, requested by a client in Hong Kong after he had seen Helen's Leith Walk sculpture on a trip to Scotland.
The commission, built at the back of her studio, took Helen well over a year to complete and required plenty of outside help since it had to be made in three parts to be shipped.
Looking forward, she hopes to create an artist's residency in the adjoining studio, which is currently being used as holiday accommodation. She will invite artists of all disciplines to enjoy the stunning surroundings of Clashnettie.
This will hopefully build a creative hub and arts scene on her doorstep, and she also hopes in the future to be able to self-fund one artist a year to stay at the residency.
'You can have artists of all different disciplines making that creative energy,' she says.
'I think it's a very good place to just have space. It's all about space – space in the sculptures but also space to breathe here.'
Across the Equinox will take place at the RhueArt gallery, Ullapool from 7 July – 29 August.
Find out more about Helen's work by clicking HERE.