Cask and Still magazine issue 8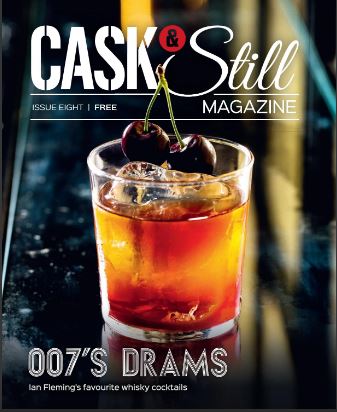 James Bond's drams are in focus as we take a look at Ian Fleming's favourite whisky cocktails.
We feature six – not 007 – of the best drinks from Shaken: Drinking with James Bond and Ian Fleming, the official cocktail book in collaboration with Ian Fleming Publications and The Ian Fleming Estate and Bar Swift.
We had to a discreet retro hideaway at The Spirit in Milan in our look at whisky bars around the whole, while ex-Scotland and British Lions rugby captain Finlay Calder joins us for a dram in Me and My Dram.
We see Viva Las Vegas we we travel to the Nth in Las Vegas, the ultimate playground for the world's, the ultimate whisky experience brings the high rollers of the drink together.
Online whisky influencers come under fire from the big guns as Blair Bowman asks they they are receiving legal writs aimed at shutting down independent voices.
We meet the trailblazing ladies who are changing the face of whisky, and discover how South Africa is making waves in the whisky world.
This issue's bluffer's guide takes a look at coopering, and Raymond Davidson shares the story of the Glencairn glass.
We learn how tonic became gin's best friend, and Dr Brooke Magnanti explores the revival of Absinthe.
Digital drams sees us find plenty of sources of inspiration for your next whisky by taking a look at the best vloggers and bloggers on the whisky scene.
And we stay in Scotland as we learn how the north east is at the forefront of Scotland's craft beer industry.
Our globetrotting issue concludes with Italian whisky writer Davide Terziotti, on his love of Scotland's national drink.
This issue was originally published in November 2018.
Read issue eight of Cask & Still HERE.