THE BOSS
Sarah Troughton, the chair of the Scottish Country Sports Tourism Group, explains the SCTG's mission and her own role
Scottish Field: What is the Scottish Country Sports Tourism Group, and when and why was it set up?
Sarah Troughton: The organisation was set up in 2003. There was a meeting between Richard Pinn of VisitScotland and Richard Cooke, who was at that point the secretary of the Association of Deer Management Groups. They believed that there really should be more of a co-ordinated effort to market Scotland's country sports, so they also brought in the Association of Salmon Fishery Boards to represent fishing interests and BASC [British Association for Shooting and Conservation] for the shooting side. Originally the Countryside Alliance's education trust was involved. From the public sector, Scottish Enterprise were brought in while Highlands and Islands Enterprise were informed but never really connected with it much – although they occasionally come to meetings, they have not been a funder. Recently Scottish Natural Heritage have been involved. The idea was that Scottish country sports are among the best in the world and have an incredibly well-known reputation, but they are not really marketed in a co-ordinated way, particularly abroad. A lot of country sports rely on repeat business, which is a very good thing and exactly what all tourist industries want, but there is always new business to be had, especially in areas such as roe deer shooting, loch fishing or rabbit shooting. We needed to have a body that could market this idea comprehensively rather than just through estates or through an agent. Agents are good but tend to just deal with the fairly high end, such as the best salmon fishing or top-notch shooting. There are a lot of customers out there who are not in the high-income bracket and there is a lot of sport out there which they would find affordable. It needs to be more easily accessible, which is why we are trying to make it much more open and available to anyone who is interested. We set up a training course for ghillies and stalkers called customer care: they all know their craft incredibly well and they are all trained, but the customer care element tends to be left out of that training. We now have a course which has been developed with Highland College in Thurso and Lantra. Qualified people can now brush up their skills, which is now accepted as part of our training. It particularly gives young keepers a bit of confidence as they are the people dealing with guests and visitors.
SF: Are there courses for beginners?
ST: That was the other thing identified. We started off by having some research done, which was funded by Scottish Enterprise and VisitScotland. They identified that is was quite a difficult entry point for people who have not done country sports before or do not necessarily know somebody. Most people learn through family connections or friends. This way anybody can pick up a leaflet, relatively inexpensively, and say 'let's have a go for half a day'. If they like it then they can discuss it with their trainer and see whether they want more lessons or talk about the next step.
SF: What stage is the course at?
ST: It is in the development stage; we got funding from Perth and Kinross Council so we have started off doing it in the Perth and Fife area. We are trying to refine it as it has to be fun for people to take and not just like training. The sort of people taking it will be paying money or they might be on holiday, so it has to be a fun experience for them. We are trying to refine it in the original region, which is Perth and Tayside, and then when we are confident that we have the product exactly right, try in other areas. Cairngorms National Park have shown a lot of interest in wanting to doing something similar, so that will probably be the next area. There is also somebody in Argyll who is doing something very similar but more expensively so we might look at that model. We will advertise it extensively on our website because the website is aimed at being how everybody can get in touch with everybody else.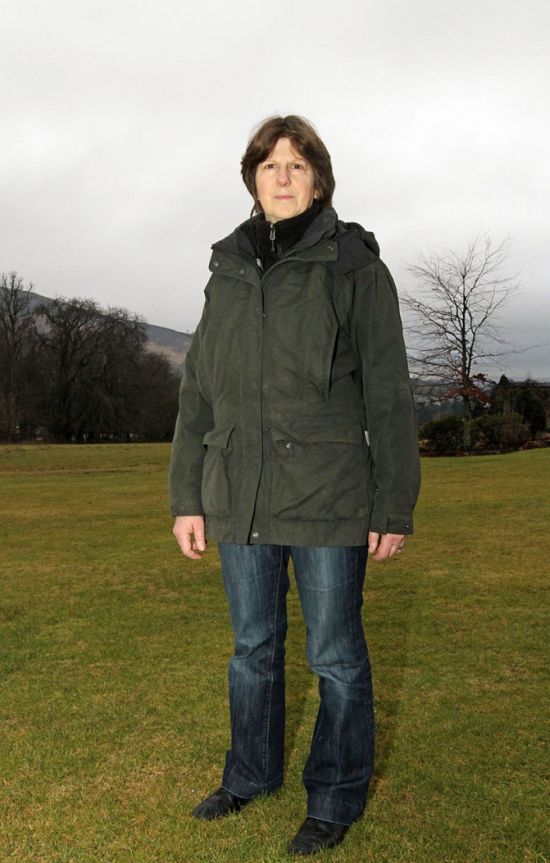 Sarah Troughton.
SF: Are you a non-profit organisation?
ST: Yes, completely. Up until now, (March 31st) we have been quite significantly funded from Scottish Enterprise. Originally we had funding from VisitScotland but at the end of March we will be at the end of our six years of public funding. They always said we had three years but because we were doing good stuff, we got the next three years too; they have been very fair with us. It has been very good to work with Scottish Enterprise, who have been extremely helpful. Their representative, who sits on our board, will continue to sit on our board and continue to be there as an advisory capacity. However, we are not likely to get any more direct core funding.
SF: How will you be funded from March 31st?
ST: Representatives of the organisations I mentioned before fund us as they can afford. The other big funders are SRPBA (Scottish Rural Property and Business Association) and SEBG (Scottish Estates Business Group). Money will be very tight after March but we will continue to employ [project co-ordinator] Victoria [Brooks]. When it comes to the website, the providers have to pay a small fee which also helps towards our ultimate aim of it being self-funding. We are absolutely non-profit but we obviously want to cover our costs.
SF: I assume there will be advertising as well?
ST: Yes, we have one or two advertisers on the website, and we are looking for more.
SF: I think it's a good website.
ST: I think it's a very good website and it is getting more and more hits since we are on Facebook. This has increased its popularity, certainly with the younger people. Facebook is a hugely powerful weapon and even I am more than aware of that.
SF: A day's work on Facebook is like a week's worth of calls.
ST: I have noticed quite a few people showing their shooting photographs on our Facebook, and this fun and networking is all to be encouraged. It is country sports, which is something you do because you like it and it is enjoyable. This is where we are trying to increase traffic to the website. It is a very easy way to choose the sport you want to do, in which county and then you can go to the provider or the agent.
SF: There are so many sports on the website that I didn't even realise…
ST: Yes, the special offers are good and a very cheap way of advertising for the providers. They have paid their subscription to be on the site so they can advertise any special offers or repeat business. There is so much repeat business with sport, occasionally people pull out because a family wedding comes up and they say 'but I want it next year'. You can then advertise that one slot at the last minute very easily.
SF: What is your role?
ST: When the Scottish Country Sports Tourism Group was first funded, with various members, they decided they wanted an independent chairman. They did not want one from the public sector representing the private sector so they called upon me and said would I do it. My role is Chair and my role is independent of any particular side. My background is obviously in the private sector, rather than the public, but I have worked quite a lot with the public sector in one way and another. That experience is where they thought I could be more neutral.
SF: What are your day-to-day duties?
ST: My main duties are being the director and main trustee of Atholl Estate. I oversee Atholl Estate, I would not say I run it. I have also been very involved in the Historic Houses Association which is where I have come across working with public bodies.
SF: So I take it you have an interest in country sports?
ST: I have an interest in country sports and I have a big interest in tourism. Atholl Estate has a big interest in country sports too which links in with its tourism. People who come on holiday here often think that they want a day of fishing or they want a day of shooting. However, half the group may not want to do a certain activity so instead they can then do something else to suit their needs, there is great variety. I therefore have quite a lot of experience in the tourism world, not just in the country sports.
SF: Do you partake?
ST: My partaking personally is in red deer stalking.
SF: Are you a good shot?
ST: It is not too difficult to be a good shot if you have a good rifle and a good stalker by your side.
SF: Are you quite an outdoor person?
ST: Yes, I am.
SF: What do you enjoy most about working for the Scottish Country Sports Tourism Group?
ST: Meeting new people is always enjoyable to me. I enjoy learning a lot about the different sports as they are hugely varied and I have still got a huge amount to learn. Those two are the most enjoyable bits.
SF: Do you have much time to relax?
ST: Yes, I'm sure I do.
SF: What do you do in your spare time?
ST: I'm a very keen walker and gardener.
SF: How do you think Scotland compares to other countries in terms of country sports?
ST: I think for its variety, beauty of the countryside, the wildness and good sport, it's second to none. I think red deer, grouse and varied fishing are absolutely second to none. You know there are other places in the world who might claim to be as good, but it is not for me to say that. I think we are lucky as a country as we have great shooting, stalking and fishing which provide all sorts of variety. From the very top, right down to the more modest end of the scale there is a plentiful amount of variety. I would say Scotland is the best place to go. You can go to somewhere like Russia or some of these Eastern European countries where they are opening up to variety in sports much more. However, it is still not as well developed as us and still does not have as much variety.
SF: Scotland is also within a small geographical space, it is a lot easier to access?
ST: Yes, you can fly into the country very easily. Just two hours from Inverness airport or Edinburgh airport and you are somewhere very good for sport.