Giles uses his expertise in wine for tremendous fundraising idea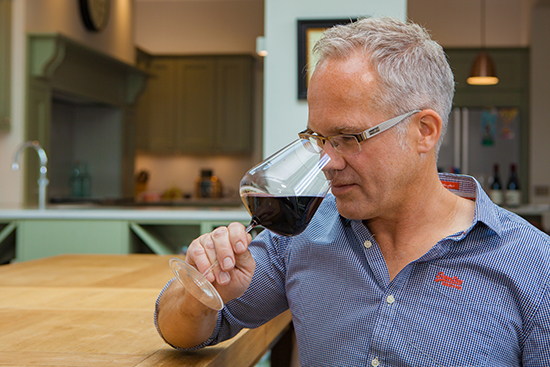 An inspiring Scottish winemaker who has previously raised more than £4500 for good causes through sales of his artisan red wine has launched a new vintage from 2016.
Edinburgh local Giles Cooke is the man behind Our Fathers Wine, where since 2014 he has used his winemaking expertise to create a distinctive Shiraz using fruit from Australia's Barossa Valley.
All profits go to charities close to his heart, and Giles hopes that the new vintage, of which there is just 1000 bottles, could add a further £4000 to the £4500 raised to date.
Previous donations have been made to charities including St Columba's Hospice who provided his father with care – and Scottish Association for Mental Health (SAMH) in respect to his mother who lived with mental illness during her later years.
As one of only 369 people around the world to hold the coveted 'Masters of Wine' title, Giles is also a director with Ayrshire headquartered Alliance Wine.
He said: 'I'm very excited by our 2016 vintage, as following a near perfect growing season we have potentially the finest Our Fathers wine to date.
'My hope is that based on our success last year, we could raise a truly meaningful amount from the number of bottles we can make with the 2016 vintage – again for the likes of St Columba's and SAMH who continue their awe-inspiring work.
'I'm hoping to be in a position to make another donation very soon but I have to balance the need to produce the next vintage – harvest is only two months away!'
Spending two weeks in Australia each November, Giles assesses the vintage for bottling in January, also using the time to visit growers and to check on the health of the vines, eventually returning for the harvest in March and April.
Giles added: 'The grapes were all picked by hand in the middle of March and we took the usual low intervention approach with a slow, wild yeast fermentation followed by 18 months in barrel before bottling with no fining or filtration.
'This time we have a more robust and structured wine than either the 2014 or 2015 vintages, however it still displays the attractive, glossy black fruit character with hints of liquorice and spice.
'I've dedicated my life to making wine so producing Our Fathers is something that has meant a lot on a number of levels.'
Ahead of the formal launch, early reception for the wine has been exceptional. One of Australia's most influential wine writers recently awarded Our Fathers 2016 with the highest score to date.
Campbell Mattinson, the creator of www.winefront.com.au and also a contributor on the most influential Aussie wine guide, the Halliday Wine Companion, said in his review: 'Dark in colour. Broody and rich to taste. Sweet plum, blackberry, coal and cedarwood. A rake of assertive, dry, fruit-soaked tannin. Barossa shiraz as a mothership of flavour. Structure to match. Made in a sweet, power-packed style but a fantastic wine at that.'
Our Fathers' grapes are grown in the Barossa Valley, near Adelaide in South Australia, a region synonymous with world-class red wine for more than 150 years.
Giles, the founder of Our Fathers, is a Master of Wine and a wine development Director. He was raised in Edinburgh and returned to live in the capital in 1994.
Masters of Wine uphold the highest standards within the wine industry and seek to promote the knowledge, understanding and appreciation of wine.
To find out more about Our Fathers and for details on where to find it click HERE.
https://www.ourfatherswines.co.uk/