A Burns banquet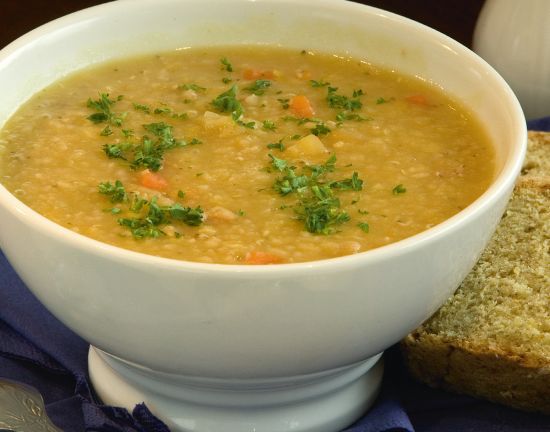 In honour of our national bard, who penned a poem in the hotel's bar, the chef at Kenmore has honoured Rabbie with a special Burns feast
In 1787 Rabbie Burns was visiting Perthshire and was so impressed with the area around Kenmore that he composed a poem sitting on the ancient bridge over the River Tay. He then wrote the poem in pencil on the breast of the fireplace in what is known as the Poet's Bar in the Kenmore Hotel – and it is still there to this day.
Scotland's oldest inn, the privately owned Kenmore Hotel is renowned as a place to stay for golfers who play at next door Taymouth Castle where the course was designed by James Braid. Walkers and climbers who feel energetic enough to tackle the challenging Munros in the area find Kenmore a perfect spot after a day on the hills, while fishermen and women come to to pit their wits with a spot of salmon fishing on the banks of the mighty River Tay.
'Being situated in such a rich part of the country it is no surprise that the cuisine at Kenmore enjoys a reputation for excellence.'
Being situated in such a rich part of the country it is no surprise that the cuisine at Kenmore enjoys a reputation for excellence and for the use of local produce from the surrounding river, lochs and hills. Alfresco dining on the Taymouth Restaurant's Terrace or the Boar's Head Veranda both offer great views of the river and the surrounding hills. Making sure that the dining experience is of the very highest standard is award winning executive chef Duncan Shearer, who has been at Kenmore since 1998 and who has been awarded accreditations for cuisine including an AA Rosette.
Classically trained by French masters in Glasgow, Duncan has worked in various hotels in Scotland, including the Newton Hotel in Nairn, where he was head chef. When he can escape the heat of the kitchen his favourite pastimes are trout and salmon fishing and game shooting – so expect only the best from the Kenmore kitchen. In support of Green Tourism, Duncan Shearer sources local and seasonal produce, thus helping support local business and cutting down the hotel's carbon footprint.
'The Tay meandering sweet in infant pride

The Palace rising on his verdant side

The lawns wood-fringed in Nature's native taste,

The hillocks dropt in Nature's careless haste

The arches striding o'er the new-born stream

The village glittering in the moon-tide beam'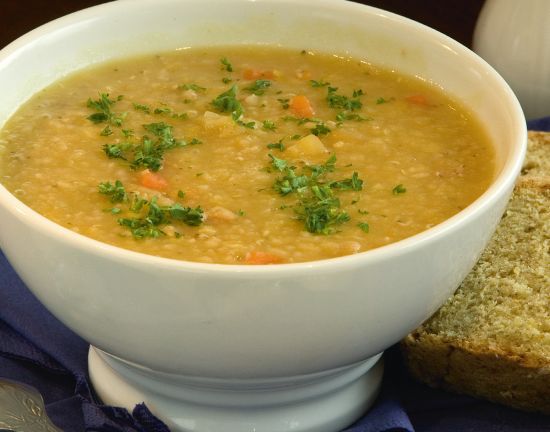 Bochan Budie
8 portions
2 litres good ham stock
175g diced swede
175g diced carrots
100g chopped leeks
50g pinhead oatmeal
25g chopped parsley
300g lentils
15g butter
Method: Wash and drain lentils Fry off carrots, swede and leek in butter without colouring. Add stock and lentils, bring to the boil then simmer for 25-30 mins approx. Season to taste. Sprinkle in oatmeal, stir and cook for a further 15 mins. Serve topped with chopped parsley.
Haggis, neeps 'n' tatties with collops of beef fillet, Aberfeldy whisky cream sauce
8 portions
400g fillet beef
400g haggis
1/2 kg carrots
1.5kg rooster potatoes
50g butter
1 medium finely chopped onion
1 medium swede Sauce
75ml Aberfeldy malt whisky
500ml double cream
25g chopped parsley
Method Simmer haggis in water for 45 minutes. Cut fillets into 8 x 50g pieces. Turn carrots into barrel shapes and cook Boil and cream potatoes, add butter and season well. Cook and mash swede, season.
Sear beef collops in hot pan and remove to rest Add chopped onion to cook, deglaze pan with whisky, add double cream and reduce to lightly thicken. Check seasoning and add parsley.
Using stacking ring assemble haggis and beef. Pour sauce around the plate, complete with potatoes, swede and carrot.
Holyrood tart with Caledonian cream
8 portions
Sweet pastry
225g plain flour
100g butter
25g caster sugar
Lattice pastry
100g butter
225g plain flour
75g icing sugar
Filling
50g currants
25g glace cherries (chopped)
50g walnuts
1 tbsp pineapple jam
1 tbsp golden syrup
Pinch nutmeg
Pinch mixed spice
Caledonian cream
100ml double cream
15ml brandy
100g cream cheese
1 tbsp marmalade
'Serve tartlets warm with quenelles of cream.'
Method: Rub flour, butter and caster sugar to form the sweet pastry. Roll out and fill tartlet cases, pierce all over then chill for 20 mins. Bake blind for 15 mins in oven at 160oC
To fill – Mix all filling ingredients and warm gently, then fill tartlets.
To make lattice pastry – Rub all ingredients to form a paste. Roll out and cut into strips to make the lattice on tartlets. Bake in oven at 150oC for a further 10mins. To make Caledonian cream: Lightly whip cream then add other ingredients. Serve tartlets warm with quenelles of cream.
fieldfacts
Kenmore Hotel, The Square, Kenmore, PH15 2NU
Tel: 01887 830 205
www.kenmorehotel.com
Every month Scottish Field features delicious recipes from some of Scotland's finest chefs – don't miss an issue subscribe now to the magazine – click here to find our latest subscription offers.