Exploring the delights of beautiful Bali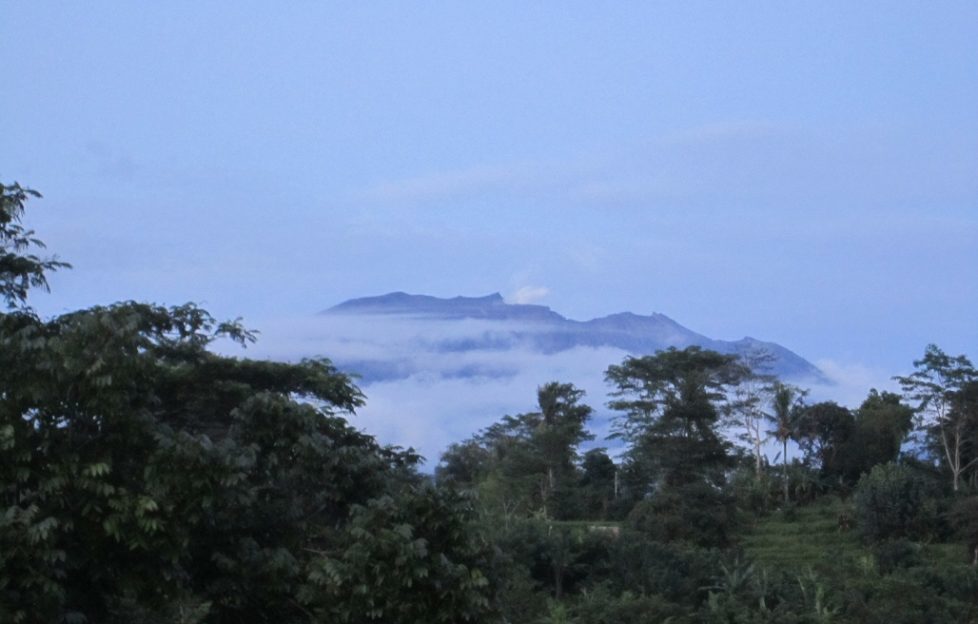 It was with a little trepidation that we flew from Borneo to Bali, the media reporting of the erupting Mount Agung, especially as we are staying at a village on the foothills of the mountain. 
Met at the airport by our guide the drive through Denpasar was uninspiring however after an hour and then turned off to slowly wind our way through rice fields, picturesque villages to enjoy the rural lush landscape.
Our Hotel Surya Shanti is a mix of luxury apartments all with huge suits and stunning views over the surrounding fields and with the Hindu music gently wafting through the trees from a nearby temple.
On arrival we were greeted with lemongrass tea and a foot massage as the manager told us all we needed to know about this small resort of …. apartments …private pools. Our apartment was directly above a pool and very handy for a morning dip.
We spent a delightful three nights as the only guests!
The volcano was clearly visible from our terrace and we could see puffs of smoke but very little other activity. Sadly most tourists had cancelled their visit to this area and the effect on the local economy was already was being felt.
The following day was wet so we took a drive through the roads around the mountain with our guide and excellent driver. The Indonesian Government has put in place a comprehensive evacuation plan. There is a nighttime exclusion zone and villagers within 10 km of the mountain evacuate to stay in village halls managed with food supplies and resources provided by the Red Cross an Government. This all looked extremely well run and villagers welcome our presence.
For tourists there is a separate contingency for evacuation in the event of the ash cloud closing the airport. Flights by the nation carrier Garuda would be diverted to nearby islands and guests transferred there by ferry with some costs funded by the Government.
Indonesia is an archipelago of islands linked by ferries and this appears to have been unreported in the media and our hosts were keen for us to know that evacuation would be well handled if necessary.
We then went on to a water palace and the former Balinese kings palace both beautifully maintained in colourful gardens then up to another traditional village where ladies who marry outside the village have to leave.
Returning to a glorious massage in a sanctuary open to the sounds of nature we spent a relaxing time before dinner on the terrace
A wonderful retreat deep in the heart of rural Bali.
Our bespoke three and a half week tour was arranged by the London office of Jon Baines Tours under the guidance of Jon himself, who is based in Australia and has specialist knowledge of Indonesia. Our tour included all airport transfers and pick ups which were managed perfectly. Jon Baines Tours can organise specialist tours and cruises throughout Indonesia from £1500 to £4000 HERE.