Discover the hidden beaches of the Outer Hebrides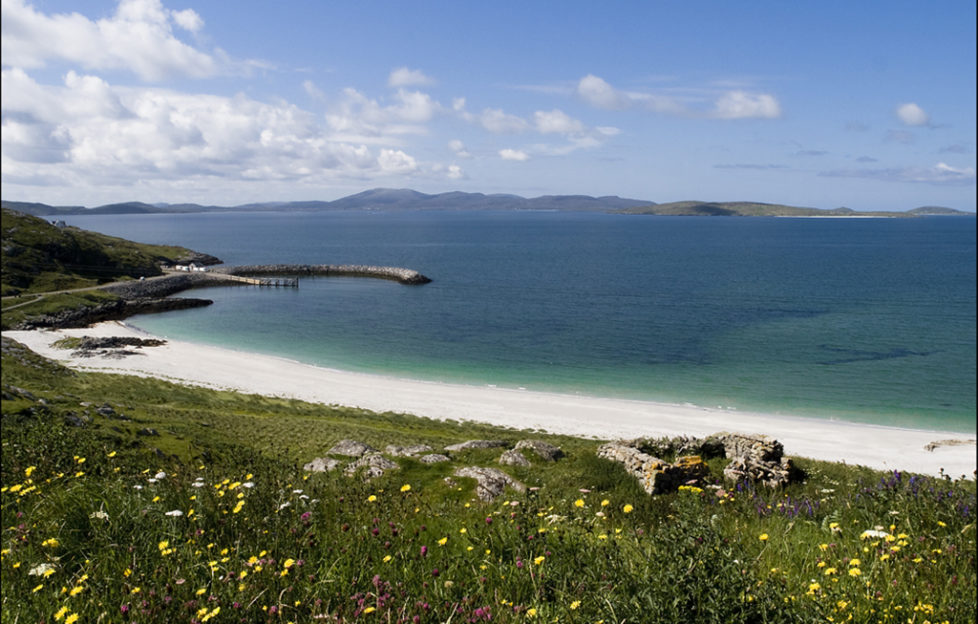 A journey through the Atlantic islands will take you to some of the most stunning beaches in the British Isles.
From hauntingly beautiful hidden coves to stretches of strand that go on for miles, the white-sand and clear turquoise waters are truly a feast for the eyes
Stroll along a deserted beach with the only noise being that of nature itself. Feel the bracing sea breeze on your face as you spot the abundant wildlife. Inhale the invigorating sea air for a sense of pure relaxation as the waves roll in.
Many of our beaches are fringed by machair – a fertile coastal grassland, which in the summer becomes a multi-coloured carpet of wildflowers including harebells, clover and often rare and delicate orchids.
Just strolling to the beach through the machair, becomes a treat in itself, with glimpses of rare bumblebees and butterflies.  Your paces
slow as you enjoy the scent of the wild flowers and tune into a different frequency.
Luskentyre and Uig Sands may grab the headlines but, rather than follow the crowds, seek out seek out some of the 40 or more equally absorbing beaches throughout the Outer Hebrides:
1. Vatersay Bay.
Vatersay, linked by causeway to Barra, has a beautiful half mile long sandy bay and a wide expanse of dunes
2. Coilleag a'Phrionnsa – Eriskay.
Bonnie Prince Charlie, on his way to battle for control of the British crown in 1745, landed on this stunning beach.
3. West Coast Beach – South Uist.
Breath-taking 20 mile long white beach along the Atlantic coast. Fringed with machair.
4. East Beach – Berneray.
Picturesque sandy beach found at the north end of the island, with views over the sound
of Harris
5. Crabhadail – Harris.
Crabhadail in North Harris, is off the beaten track, at the end of a 10 mile single-track road but oh, is it worth the journey!
6. Traigh Mhor, Tolsta – Lewis.
This magnificent long stretch of beach looks out to the Minch and on a clear day, you can see the hills of Sutherland on the mainland.
7. Bosta, Great Bernera – Lewis.
At the far end of Great Bernera not only is there the scenic beach, but also a reconstructed Iron Age House