Scots golf academy is five star and above par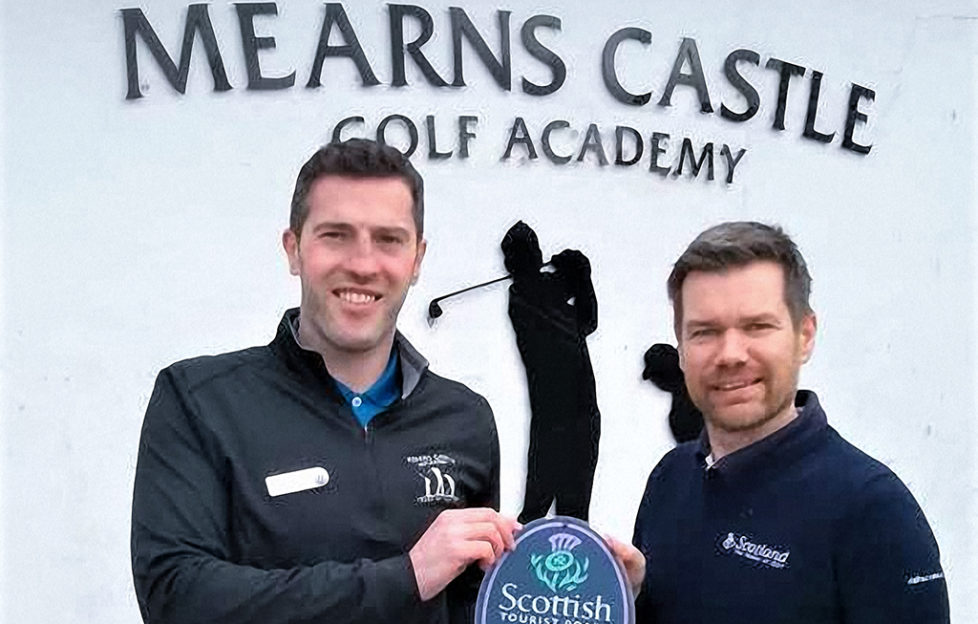 One of Scotland's premier golf facilities has become East Renfrewshire's first ever Five Star business following a grading from VisitScotland.
Mearns Castle Golf Academy, just south of Glasgow, received five stars from the national tourism organisation's Quality Assurance (QA) Scheme in recognition of its exceptional standards. The QA Scheme is a benchmark for quality across the tourism industry and operates across accommodation, visitor attractions and food sectors.
The unrivalled facilities at Mearns Castle offer golfers of all ages and abilities the opportunity to develop and improve their game through practice, tuition and play.
Visitors to the centre can enjoy a range of services including a nine-hole golf course, a 50 bay driving range and a PGA Coaching Academy, where they can learn from experienced coaches like Alastair Forsyth, who was twice a winner on the European Tour.
In the last five years the business has taken steps to improve its visitor experience and in 2018 invested in a new gaming system called Toptracer for the driving range. This state-of-the-art technology offers a unique and modern approach to the range experience.
The team at Mearns Castle believe that golf should be accessible to all, and played in a fun, friendly and relaxed atmosphere. A family-friendly golf membership has been introduced, which has helped the centre become a community golf hub.
Scotland is widely recognised as one of the premier golf destinations in the world and Golf Tourism is worth £286m to Scotland's economy. 2019 is another big year for the sport in the country with Gleneagles hosting the Solheim Cup, one of the world's biggest golf events, in September.
Russell Gary, operations manager at Mearns Castle Golf Academy, said: 'Five years ago, we had a vision, to create Scotland's premier golf facility. We wanted to provide a facility that went away from the traditions of golf and moved towards a family-based community hub. We ensure all customers get the best customer service possible by investing our time on staff training, and hiring experienced and qualified PGA professionals.
'We are thrilled and delighted that this work has been acknowledged with a Five Star VisitScotland award.'
Gordon Smith, VisitScotland regional director, said: 'Well done to the team at Mearns Castle Golf Academy. To achieve a Five Star grading is an exceptional achievement and a testament to the hard work put in by everyone here to offer a quality visitor experience. The award is particularly fitting as we celebrate a massive year for Scottish Golf with Gleneagles hosting the Solheim Cup.
'Our Quality Assurance Scheme is world-leading and provides a trusted, independent and impartial source of information for visitors. It is about much more than just a star rating – it is about the entire visitor experience and investing in the business to make it as economically sustainable, and profitable, as it can be.'
For more information about Mearns Castle Golf Academy, go to www.mcgolfacademy.co.uk
For more information about VisitScotland's Quality Assurance Scheme, go to www.visitscotland.org/supporting-your-business/quality-customer-experience/quality-assurance-ratings
For more information about Golf Tourism, go to https://www.visitscotland.org/research-insights/about-our-visitors/interests-activities/golf