Comfort and class at the Macdonald Cardrona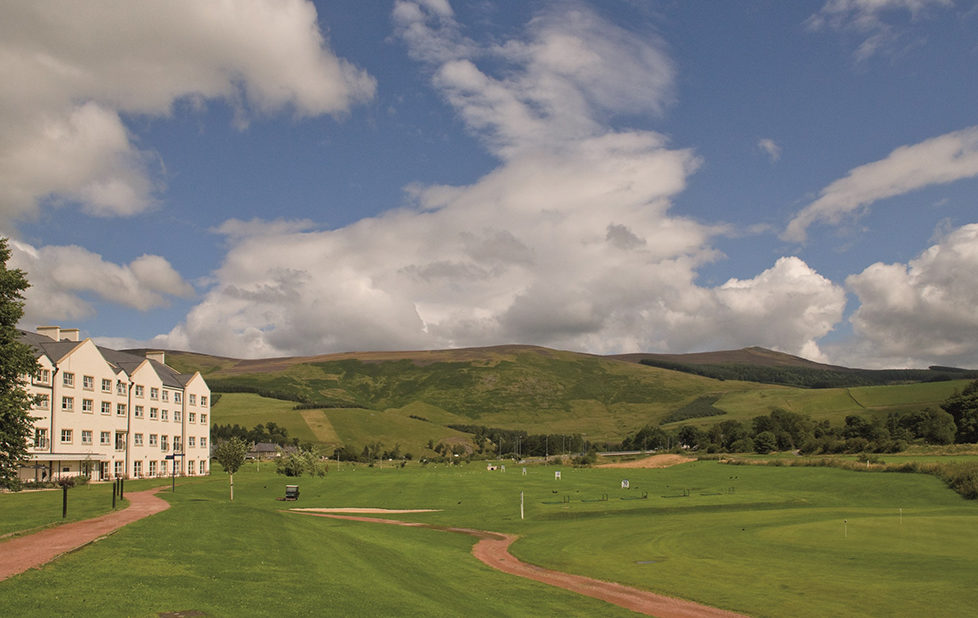 On a chilly but sunny morning, my friend and I headed from Edinburgh down to the borders to Peebles for a much needed ladies weekend.
Our exact destination was the Macdonald Cardrona Hotel, Golf & Spa and as well as the lovely welcome we received from the young woman on the reception desk, we enjoyed a couple of pieces of yummy shortbread on arrival that were equally as warm.
We had arrived before the check in time but were able to leave our bags at the desk which were then placed in our room for us, while we headed to the lounge to have some lunch. While a table was prepared for us in the restaurant, my friend and I enjoyed a raspberry mojito and a refreshing G & T while we waited. It was a Saturday after all!
Our table had a lovely view of the golf course and our waiter was very helpful and friendly. We were given the bar menu which was a relaxed affair featuring sandwiches, soups and a small selection of larger main meals. I opted for the smoked haddock frittata while my companion, also feeling fishy, chose the fish and chips served with mushy peas.
I didn't enjoy the frittata a great deal as on the third bite I was met with a mouthful of bones although with a fish dish, it's always a possibility. My friend did enjoy her own meal, particularly the chunky chips which she compared to long versions of roast potatoes. And who doesn't love a roast tattie?
After lunch we were then able to check into our room which was a twin feature room overlooking the golf course. The room was big and bright and we both appreciated the decor, especially the two purple chairs right by the window. The bathroom was a good size complete with a very roomy shower and Elemis toiletries. As with any girls trip involving a spa, I immediately searched for the white robes and matching slippers, ready to initiate my 48 hour state of relaxation. However, I was disappointed to see a brown mark, presumably makeup, on the sleeve of my chosen robe.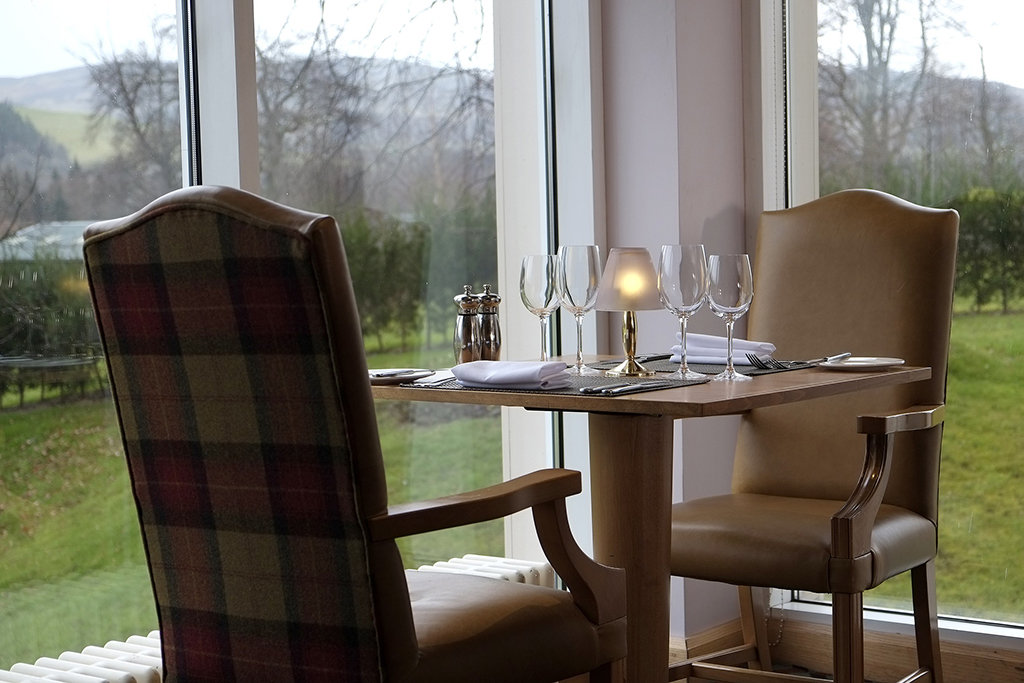 Only a little discouraged, my friend and I headed to the spa to enjoy a bit of R & R and were given warm towels by the friendly spa receptionist before we entered.
We passed a very well equipped gym along the way and had we not felt like indulging in complete laziness that weekend, it would definitely have provided a great workout. We did hope the facilities would include a Jacuzzi but were happy enough with the sauna and steam room with intermittent cooling dips in the main pool.
It seemed my friend and I were visiting on a particularly busy weekend as there were lots of energetic kids in the pool performing canon balls and some of my other favourite water acrobatics. While it was great to see a load of young people being active with their families, it wasn't necessarily conducive to the ultimate Zen state we were after.
After we'd both reached a state of pruning, we made our way back to our room and decided to lounge in the fab purple chairs over a cup of tea before dinner. Rather naively, I hadn't made a reservation for the hotel's Renwick Restaurant so when I did eventually call there wasn't space for us until 9pm.
However, this suited us nicely as we got ready at a rather leisurely pace. It was during the beauty prep that my friend and I realised we had both forgotten toothpaste and after yet another wee call to the front desk, someone from house keeping ran along very promptly to kindly rescue us from our dental dilemma.
The restaurant was still busy when we arrived but we were seated promptly. I had the ham hock terrine to start and my companion selected the chicken liver parfait. We were both a little confused by the thin bright white slices of bread that accompanied each of our starters as the texture felt rather stale although both the terrine and parfait themselves were tasty.
The meal was launched to a whole new level by our main courses of venison steak and Gressingham duck leg. Both dishes were beautifully seasoned and my steak in particular was tender and juicy. I'm a bit of a gravy groupie and the volume on my plate was perfect without drowning either the venison or my yummy dauphinoise potatoes.
Dinner was followed by a relaxing drink in the adjoining lounge before bed. The beds were incredibly comfortable and I haven't slept as soundly in a long time.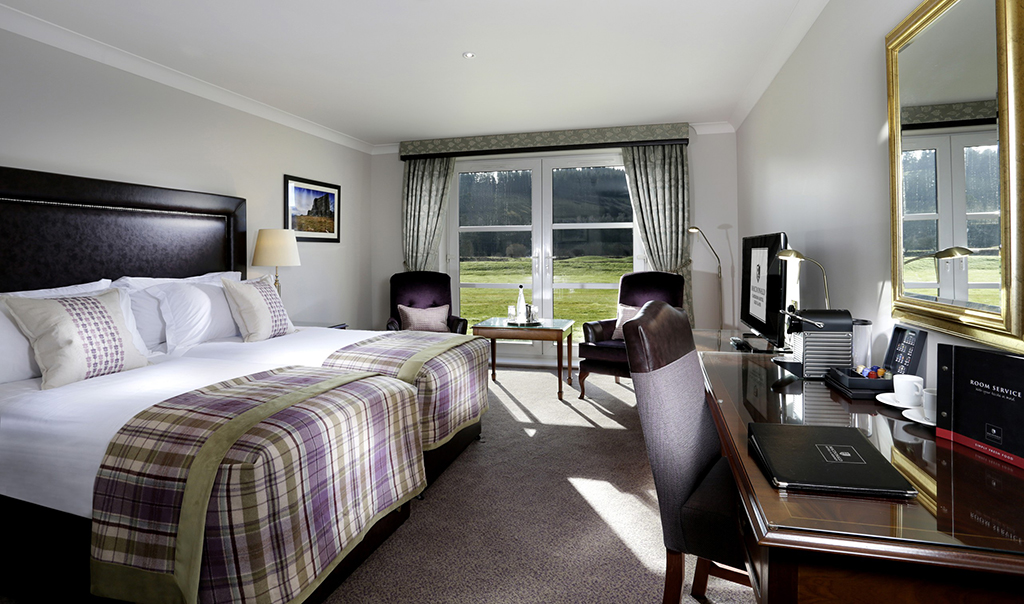 In the morning, my friend and I decided it was best to conquer breakfast before doing anything else and were met with two vast counters, one with continental options and the other with a mouth watering collection of cooked breakfast favourites.
This was all served with a selection of fresh fruit juices, smoothies, tea, coffee and toast. I opted for a plate of the hot stuff and was thoroughly satisfied with the bacon, sausages, eggs, mushrooms, baked beans and scrambled eggs I piled on my plate.
Both feeling comfortably full and cosy, we returned to the room to pack before officially checking out. We popped our bags in the car and took a very mini stroll around the hotel before making our way to the spa for our treatments. The chap on the desk was extremely friendly and helpful and took us to a lovely waiting room where we were given water as we waited for our therapists.
I received a one hour facial and completely loved it. The spa uses Elemis products and each lotion, cream, wash and mask smelled and felt amazing on my skin. At points I felt like I was just melting into the bed as I became increasingly relaxed. My friend had a one hour full body massage and as someone who has a bit of trouble with her back and has therefore had a lot of massages, she said it was excellent. Both of our therapists were friendly and really seemed to listen to any requests we had.
It was then time to hit the road after a very lovely weekend away. I would recommend the Macdonald Cardrona particularly to anyone who is keen on golf as this appears to be the main focus of the resort. However, the Spa facilities and quality of treatments are up there with some of the best I've ever had so if you're looking for a girly pamper weekend away, this is a contender. While there were a couple of misses with the food, the majority of what we had was delicious and the service was very good.
Click HERE for more details.