Hotel's proud railway heritage is restored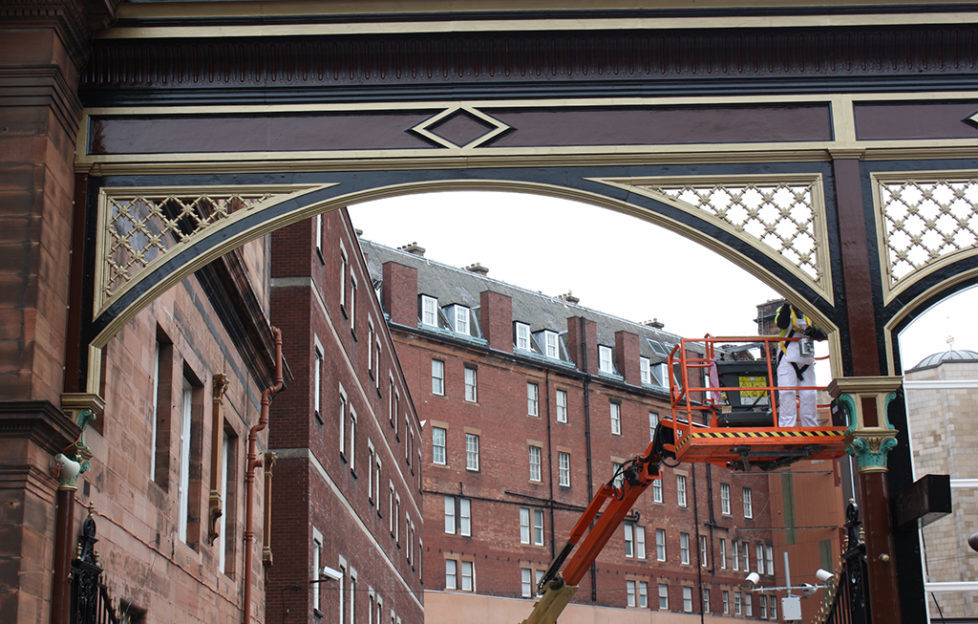 A Scottish hotel has restored a link to its proud railway past.
Waldorf Astoria Edinburgh – The Caledonian has recently carried out work on the historic Princes Street Station gates, to bring them back to their former glory.
Once the site of the Royal Family's preferred railway station in the capital, the gates now act as the entrance to the hotel's car park at the back of the property.
The gates were custom built in the 1890s and provided the original trade entrance to the Princes Street Station platforms. They still stand tall and grand in the 21st century and offer a reminder of its historical past, despite the station closing in 1965.
An extensive restoration project was carried out to redecorate the gates and bring them back to their original splendour.
Two specialist decorators were required to initially prime the surface of the structure, removing the remnants of any old and flaking paint using a mobile elevated platform to access the full height (30 feet) of the gates. The entire process took four weeks to complete.
Barry Johnston, facilities manager at the Waldorf Astoria Edinburgh – The Caledonian said: 'The gates are a Category A Listed Structure, so a considerable amount of time and care went into their refurbishment. It was important that the refurbishment honoured the exact specification they had originally.'
To ensure the gates were carefully restored and returned to their former colour and condition the hotel worked closely with specialist railway consultant, Len Staley who approached York Railway Museum to gain relevant historical knowledge to accurately determine the correct colours.
Insights from the research ensured that the original Caledonian Railway company colours for framing and metalwork, purple brown or burnt umber were correctly reinstated during the renovation work carried out by Bell Group.
Dale MacPhee, general manager at the Waldorf Astoria Edinburgh – The Caledonian said: 'We have great pride in our heritage and the hotel's original role as Princes Street Station. We try to do everything we can to maintain as much of our heritage as possible, so that future guests and members of the public can continue to experience and enjoy some of Edinburgh's past.'
Earlier this year, the hotel staged an event marking its proud past.