Bid to build a broch in the north of Scotland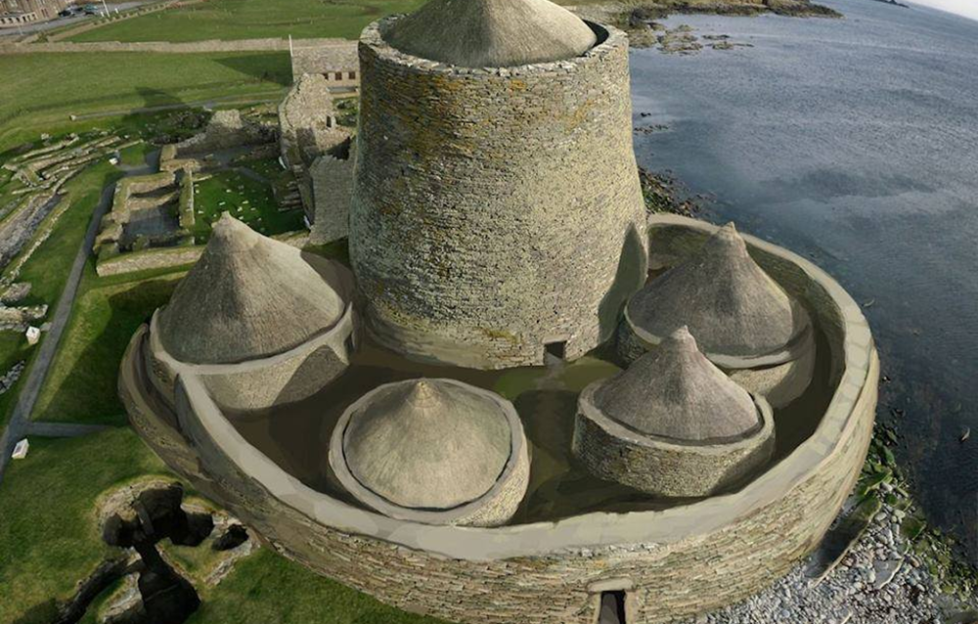 Scottish tourism has so many bold and varied tourist attractions.
Some are based in brand new buildings, capitalising on modern technology, while others are steeped in the traditions of the country.
Many are large and iconic, like Edinburgh Castle, Stirling Castle and the Wallace Monument, while others are smaller in scale, but still full of history and the blood of the land.
Creating all-new tourist attractions isn't an easy thing to do,  using Scotland's rich past, but that's exactly what a group is planning to do in the most northern past of the Scottish mainland.
The Caithness Broch Project is an archaeological charity, aiming to promote Caithness as tourist destination. They feel that Caithness's rich, vibrant archaeological heritage is a valuable resource which has been vastly under-exploited for too long, and now the CBP hopes to change this situation.
For the uninitiated, a broch is circular drystone structure, built in the Iron Age, and typically has hollow walls.
The project's key aims are:
· To build a visitor attraction based on the creation of an authentic and historically accurate replica Iron Age broch.
· To develop a fully comprehensive formal education and lifelong learning programme that will bring to life the unique archaeological heritage of
Caithness in the Iron Age and the traditional skills used to build brochs for a wide audience.
· To work with other heritage organisations, tourism providers and academic partners to promote and interpret the archaeological heritage of Caithness for local people and visitors alike.
· To build capacity in the tourism sector through destination marketing activities in order to raise the profile of Caithness as an archaeological heritage tourism destination.
Kenneth McElroy, who helps run the Caithness Broch Project, said: 'My colleague Iain Maclean came up with the idea, initially, having started the Facebook page.
'He had been thinking that Dounreay is the main employer in Caithness, and it's going to be decommissioned, so we know that a lot of jobs will be lost – about 10 per cent of the workforce here – and that's a very sorry thought.
'We need to consider what we can do to maintain the lifestyle of the people here, to make the area economically viable, and be a good place to live and work. We don't want to see a large diaspora of people leaving the place.
'Caithness is just across the water from Orkney, and we're aware of how well Orkney promotes itself with heritage tourism.
'We've actually got more archaeological sites and brochs than anywhere else in the world in Caithness, and we want to promote them. This is something we really want to focus on.'
The CBP believe that inspiration for them can be found just across the sea on Orkney, which has a strong tradition of promoting its history and ancient sites as tourist attractions.
Ken concedes: 'Orkney do it so well. I lived there for a year, working in the Orkney Museum. It absolutely deserves all the tourists it gets.  Maeshowe is outstanding, a masterpiece of design, and it's worth going to see, along with Skara Brae.
'It's hard to compete with that – not that we are trying to compete with them – but that sets the benchmark and we have to give people a reason to come here, to spend an extra night.
'What we need to do is provide something for Caithness, that will be a tourist attraction in its own right, not just for this area, but for the whole of Scotland.'
The CBP has already built up a huge amount of interest, with over 9000 likes on its Facebook page.
The volunteers have been promoting the project by attending events such as various Highland Games and Orkney Science Festival, and have provided talks for a huge range of groups, from Latheron Women's Institute to Edinburgh University's Society of Archaeology.
They have also been successful in obtaining funding for a 'broch trail' in Caithness, featuring three interpretive panels and accompanying leaflet. The final interpretive panel will be installed at Thing's Va Broch soon.
They are also appealing to a younger generation, having recently secured money towards a Lego broch and outreach education programme alongside Caithness Horizons and 'Brick to the Past', who built a fantastic Lego Broch for their 'Land of the Broch' exhibition, which attracted over 4000 visitors between July and September 2017.
Ken continued: 'We're working to try and secure a site in John o'Groats, as we want to build a broch there.
'We've got a business plan prepared, funded by Big Lottery Scotland and the Highland Council, and it just needs a little bit of fine tuning, and then we can present that to potential funders, but we need to finish the design of the broch.
'We had a symposium with archaeologists, academics, dry stone dykers and many others, about our design, and the good thing it there isn't too much to change. We know it's archaeologically correct, and we need to make it structurally sound. Even though it's a 2000 year old design, it's still classed as a new build!
"We have lots of other considerations to make – such as installing disabled access to make sure it's accessible to all.
'There's still some questions that we will never fully know the answers to, like how the roofs looked – were they thatched, wooden, or conical? But, by building the broch, we may help to understand what techniques work best!'
The CBP are working with a number of archaeological, engineering and consulting bodies and groups, including Dr Dimitris Theodossopolous at Edinburgh University. He, along with his students, will build 1/15th scale exact model of the broch, which will help them to understand the robustness and integrity of their broch. The group recently acquired £12,000 towards a feasibility study for the project, which was completed by Alan Jones Associates of Inverness.
Ken said: 'We have our business plan, so people know we are serious and this is something worth investing in.
'Now, we just have to make it happen and we haven't put a time frame on it – it will take as long as it takes, but at the very least, it will be two years before we can start.
'We've a good location in mind, as John O'Groats already has a lot of tourists coming through, but we need to give them something extra that's really worth visiting .
'We've seen how something similar was created before in Aberdeenshire in Archaeolink, which was an amazing project, but its big problem was that it didn't have the tourism to keep it going, but John o'Groats already has a tourism industry.
'What we want is for people to come to John o'Groats, and think, "What's that 40 foot tall dry stone structure with a thatched roof over there?" and go to see it.
'That's something a project like this needs to have – a sustainable location.'
The CBP are also working alongside Archaeology Scotland and Historic Environment Scotland to help conserve and consolidate one of Caithness' finest brochs, Ousdale. This has sadly fallen into a state of disrepair and they are looking at ways to save it, before it is too late, and perhaps even turn it into a tourist attraction.
All of these projects are geared towards giving Caithness a stronger archaeological identity and promote the area as a heritage tourism destination.
However, the ultimate aim is to build a replica broch, which, during the construction phase, would serve as both a major archaeological project and traditional skills workshop, before becoming a world class visitor attraction and vivid learning experience.
Ken explained that the volunteers have been doing their best to get people of all ages interested in the project on their own doorstep: 'We've been going around to get interest in the project and are working with local community groups. So far, we've gone around over 100 groups and spoken with them.
'Last year, I did school visits and met over 750 school pupils, and they were really interested when we built a broch on the game Minecraft, which was something they could relate to, and were interested in seeing one built for real.
'What we want to do is make archaeology open and interesting. We want people to come here, look around and be inspired, and give them a good introduction to Caithness.
'We believe the CBP has the potential to really make a difference: boosting the county's – and country's – heritage tourism trade; creating a variety of jobs and teaching skills; becoming a valuable academic study; and providing a very special and inspiring icon for Caithness.'