Agriculture and rural employers receive honours at awards night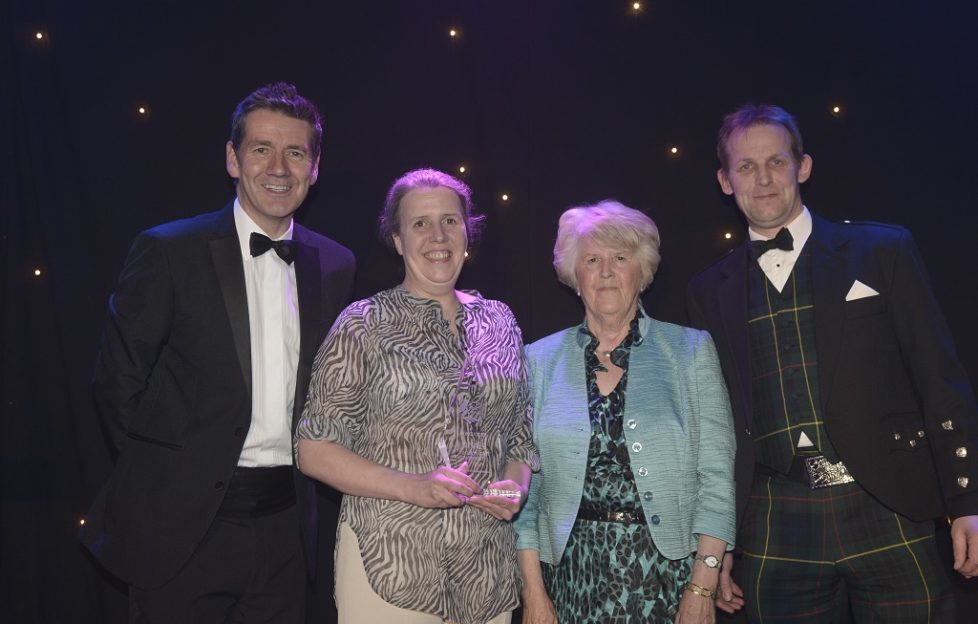 The Scottish Rural Awards lives up to its name with awards in the agriculture and rural employment categories.
Clackmannanshire farmers A & R Muirhead fought off strong competition to win the Agriculture category at last night's Scottish Rural Awards (Thursday, 22 March).
Based in Menstrie, A & R Muirhead are a farming family that have been growing crops on the cold, wet, soils of the Carse of Stirling since the end of the 1800's. They produce gluten free oats, grass and the only commercially available Landrace crop in the UK, Scots Timothy. Their exemplary knowledge of the grass seed market and attitude to Landrace was a hit with the judges.
Scots Timothy grows exceptionally well in the wet clay soils of the Carse of Stirling and produces the very best quality hay in the UK, a forage grass that all herbivores choose to eat. A & R Muirhead hope to continue making our world a greener place, balancing what grows best in their soils without destroying the natural environment.
The category runners-up were CH & AK Walker, an organic beef and sheep farming enterprise based at Barnside Farm near Duns. The 625 acre upland farm is home to 700 wool shedding ewes and 90 Welsh Black cows.
These are run on a low input, grass fed, organic farming system that is successfully integrated with a commitment to rural stewardship.
Highly commended was Charlesfield Farms Ltd, based in the Scottish Borders.
Charlesfield work in the renewable energy field, and have been cooperating with others and sharing resources for many years, strengthening their local economy – this forward thinking approach appealed to the judges. 2017 was a big year for highly commended Duns Castle Estate who fought off competition from hundreds of castles across Europe to win a massive contract with HomeAway – the world's leading holiday-rentals company, which offers exclusive tailor-made bookings to clients.
The Rural Employer title went to a firm that is known across Scotland. Mackie's of Scotland, based in Rothienorman, Aberdeenshire, won the category, with judges praising the food manufacturer's family atmosphere and dedication to social responsibility in the workplace.
Gordon Castle Scotland, based in Fochabers, landed the runner-up spot, with the judging panel praising their diversification efforts and supportive attitude towards staff. Impressively, Gordon Castle Scotland was also a finalist in three other categories: Artisan Drink, Rural Hospitality and Rural Tourism
Loch Duart Salmon, a Scourie-based salmon farming enterprise, received a highly commended award. Loch Duart started in 1999 with a team of just 31 and the company has grown as demand for their salmon has increased over the last two decades. Loch Duart now employs 115 people in the  Hebrides and Sutherland and produces around 5,200 tonnes of exceptionally high quality salmon per year. With a reputation for being progressive and independent, they attract and retain the best talent.
Last night's event, held at Dynamic Earth in Edinburgh, is the culmination of a fourth year of partnership between Scottish Field and the Scottish Countryside Alliance to host the awards, in association with the Royal Highland and Agricultural Society of Scotland (RHASS). The awards are backed by category sponsors including Barclays, Chiene + Tait and HW Energy.
Nominations for the 2018 Scottish Rural Awards officially launched in September 2017, with over 200 entries received before the closing date in October 2017. Businesses were able to self-nominate, or be nominated by someone else – a friend, family member, customer or member of the public.
Finalists in each of the open categories, which encompass every aspect of rural life, from agriculture and food production, to conservation, education and tourism, were announced in December 2017.