Scotland's first direct flights to China announced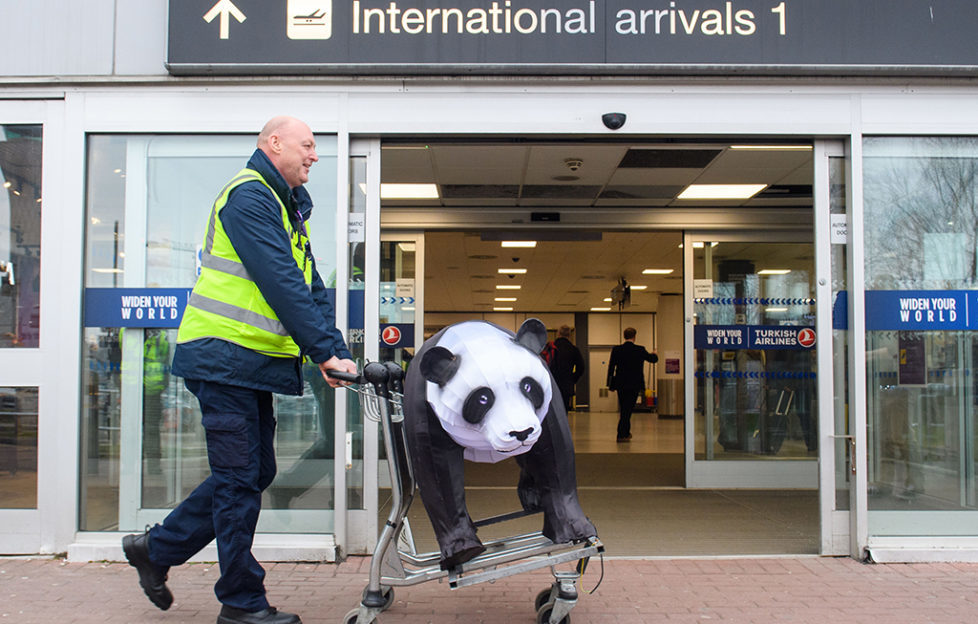 Scotland's first direct flights to China will start in June.
The route from Edinburgh China will begin in June following an announcement in China this morning.
The ground-breaking announcement will see Hainan Airlines flights to Beijing beginning from 12 June, flying four times each week on an Airbus A330-300.
It's part of an innovative flight model which links in three capital cities – Beijing, Edinburgh and Dublin. The route will fly from Beijing to Dublin and then onto Edinburgh and then back to Beijing on Thursdays and Sundays, flying to Edinburgh and then Dublin and then back to Beijing on Tuesdays and Saturdays.
It marks the successful culmination of Edinburgh Airport's partnership working with colleagues in China to attract these routes to Scotland in a move which will benefit the country's economy, culture and tourism.
Chief executive of Edinburgh Airport, Gordon Dewar said: 'This is a fantastic day for Edinburgh Airport and for Scotland as we connect Scotland and China for the first time. We are two countries steeped in history and rich in culture, offering new destinations for people from both countries to visit and explore.
'Edinburgh is second only to London as the most popular UK destination for Chinese tourists, and we have worked incredibly hard with partners across the city and country to get to this point.'
The culmination of more than three years of work, Gordon added that relationship building and working with partners in both countries has been crucial to the announcement: 'A number of organisations shared our vision in attracting this route to Scotland, and it's testament to our working together with both UK and Scottish governments and bodies such as Scottish Enterprise, Visit Scotland and Edinburgh Hoteliers Association among others that we've finally achieved it.
'Edinburgh Tourism Action Group's China Ready programme has also prepared the city for this growing market, so we are in good shape.
'Of course, we've also built close relationships with firms in China who have been instrumental in this development and we thank them for their assistance. Hainan Airlines have been a huge help and they must be congratulated for this innovative approach to tie the Celtic capitals of Edinburgh and Dublin into the route and open up these cities to the Chinese market.
'This is an incredibly exciting day for the airport, for the city and for the country. Tourism is one of our biggest economic drivers and still has masses of potential to unleash – let's use this opportunity to drive it forward.'
Bao Qifas, chairman of Hainan Airlines, said: 'As a five-star Airline and an outstanding representative of Chinese national enterprises, Hainan Airlines actively participates in the "One Belt One Road Initiative", and is committed to become the forerunner and practitioner of achieving China's civil aviation power.
'By continuously expanding and improving our international network, Hainan Airlines dedicates to bringing more convenience to people's life. This opening of the first nonstop service from Beijing to Dublin and Edinburgh will provide new facilities to stimulate the development of Sino-Irish and Sino-British relations.'
Cabinet Secretary for Economy, Jobs and Fair Work Keith Brown said: 'This new air link between Scotland and China is excellent news, helping to strengthen relations between our two countries and build on the cultural and economic links that we already share.
'China is a major importer of Scottish goods and services – food and drink in particular – and this flight will give Scottish businesses a direct link into this important market. It will also make it even easier for Chinese visitors to experience our fantastic tourism offering and get a taste of our world-renowned Scottish hospitality.
'I congratulate both Edinburgh Airport and Hainan Airlines on securing this new service and have no doubt it will prove a great success. I look forward to the flights taking off later this year.'
City of Edinburgh Council leader, Adam McVey added: 'As the Gateway to Scotland, Edinburgh Airport is well-placed to welcome visitors from an ever increasing global range of destinations. A direct flight path from the Capital to China has been a coveted route for many years, and today's confirmation of the country's first route to Beijing is a major coup for the city.
'The council has worked hard to lay the foundations for this connection to the world's fastest growing economy. Working with the Airport and Marketing Edinburgh, I am pleased we have helped deliver this substantial outreach to Asia for tourism, business travel and investment opportunities.'
Malcolm Roughead, chief executive of VisitScotland, concluded: 'This first-ever direct flight from China to Scotland is fantastic news and marks an exciting gear change for Scottish tourism and its engagement with the Chinese market.
'Already in recent years we have seen a steady rise in Chinese visitors to our shores and have been working closely with businesses across Scotland to help them to access this important opportunity. At the same time, we have been working with Chinese travel companies to continue to develop the range of Scottish holidays available to their clients.
'At our own VisitScotland Expo travel trade fair in Glasgow next month we will be hosting 35 Chinese tour operators, keen to do business with Scotland, and today's announcement by Hainan Airlines will offer further encouragement for them to drive forward their plans to increase the number of Chinese visitors choosing Scotland as their next destination.'