New interactive whisky map of the UK is launched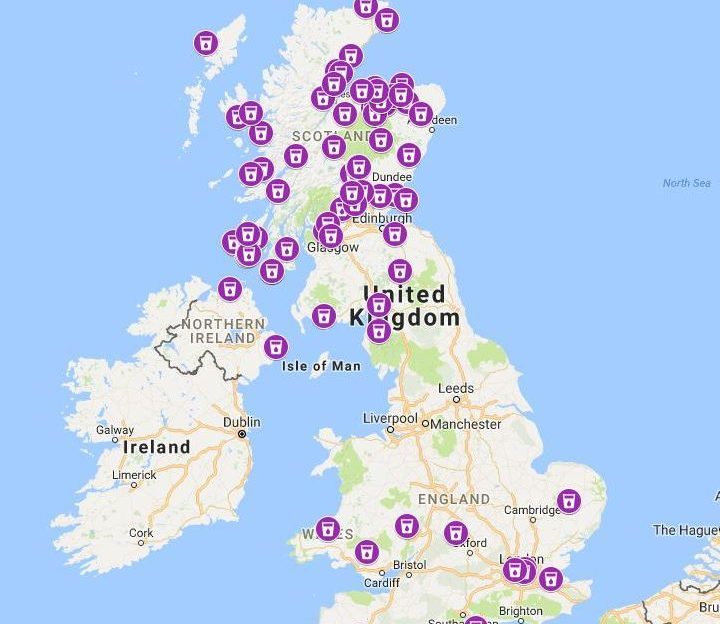 To celebrate World Whisky Day this Saturday (19 May), Premier Inn has created the first ever interactive whisky map of the UK.
For both connoisseurs and novices alike, the map marks every whisky distillery in the UK that you can visit, all offering tours and trips that detail the fascinating process behind some of the nation's best whiskies.
With a total of 96 distilleries in the across the country, it's the perfect way to discover the UK's rich whisky scene – one 'wee dram' at a time.
Being able to see every distillery on one map reveals the distinct geographical hotspots of whisky-making in the UK, from the most northernly, Highland Park Whisky Distillery on the Orkney Islands, to the most southernly, Hicks & Healey in Cornwall.
With a whopping 1.23 billion bottles of Scotch Whisky being exported last year alone, it's no wonder that Scottish distilleries dominate the map – there are 76 different distilleries in total over the border that you can visit.
Amongst these are the two oldest whiskey distilleries in the UK, both Glenturret and Bowmore distilleries claim this title saying to have been founded in 1775 and 1779 respectively.
However, the map shows that if you aren't able to travel to Scotland you needn't miss out, you can still find the perfect tipple south of the border.
There are a cluster of distilleries in other parts of the UK, from the Penderyn Distillery in Wales to the Isle of White Distillery. Even London is home to three whisky-makers, the Bimber Distillery, The London Distillery Company and the East London Liquor Company – all relatively new distilleries that are looking to challenge the more established, famous names in Scotland.
So, whether you want to plan your next trip around your favourite tipple or just want to find the nearest distillery to you, Premier Inn's interactive whisky map can help you explore the UK's whisky heritage in just a few clicks.
Find the map HERE.