Cameron House Hotel: A touch of luxury by the Bonnie Banks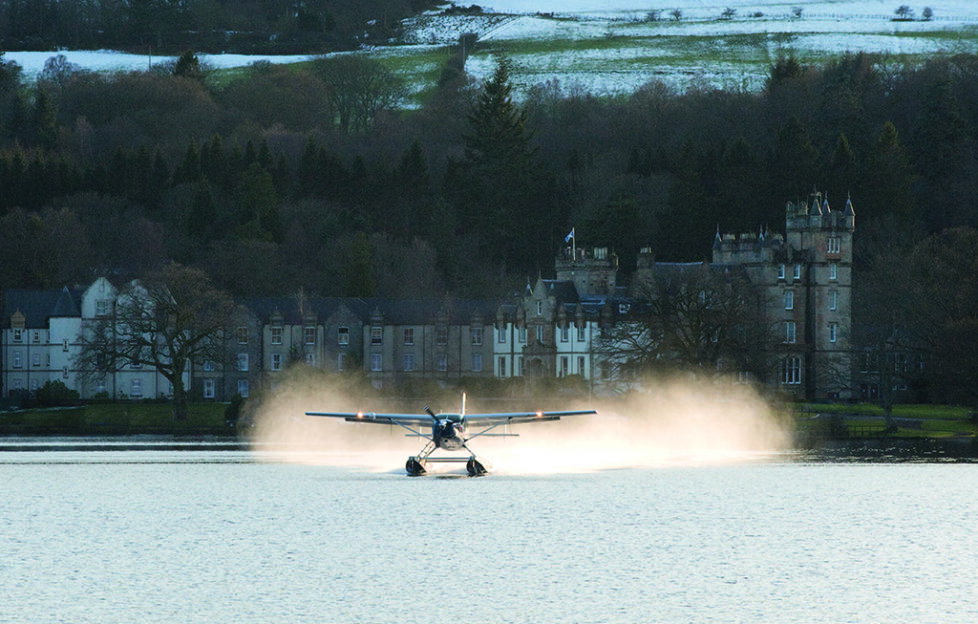 Following extensive renovations at Cameron House Hotel, Rosie Morton travels by land and by loch to suss out the offerings…
There's nothing like placing your life in someone else's hands to cement a new friendship.
As we hurtled over burns, clattered across boulders and scraped unflinchingly through ditches, I began to wonder how I (an off-road driving rookie who had just sent all passengers flying from their seats) had wound up at the wheel of a Land Rover Defender in Cameron House Hotel's 400-acre playground. Hilarity ensued, grins stretched from ear to ear, and an innocent Caramel Wafer met its crunchy demise as it landed with an unceremonious thud on the floor. I was absolutely loving it, and I'd like to think my new acquaintances were too.
'The handbrake in these may as well be made out of chocolate,' said Steve – AKA 'Kilted Chucky' – our 4×4 driving instructor who was thankfully accustomed to rocky rides. Assuring me there were 'no issues' with hitting third gear while rounding a corner, I put pedal to the metal. It was adrenaline-fuelled, and frankly there was no better way to kick-start our stay at Cameron House.
Following extensive renovations of the 17th-century baronial mansion, which is based by the Bonnie Bonnie Banks in the heart of the Loch Lomond & Trossachs National Park, Cameron House reopened its doors to visitors in September 2021. Greeted by an impressive reception area, plush lounges and a gilded library, it was immediately clear why this resort enjoys a five-star reputation. With 140 guest bedrooms, including 24 luxury suites complete with furnishings and designs by Glasgow-based Timorous Beasties, this is a magnificent place for friends and family to take a well-earned break.
After checking into our spectacular suites (Room 10 was mine and it overlooked Loch Lomond and was swathed in Johnston's of Elgin textiles) it was time for the next hit of endorphins – and a special guest was there to see us off. Fresh from covering London's Boat Race, Dame Katherine Grainger, the UK's most decorated female Olympian and Chair of UK Sport, welcomed us by the shore to launch the hotel's 'Unrivalled Adventures' – their new package of land and loch activities.
'You're going to love it,' she whispered over my shoulder with a smile. And she was absolutely right.
By land & by loch
'Cameron House has been, and always will be one of a kind,' said Dame Katherine. 'I'm proud to be working with the team to re-introduce the hotel's exceptional experiences against the backdrop of breath-taking Loch Lomond. Having been lucky enough to experience some of the best activities on offer, I can testify how magnificent each event is and hope people will travel near and far to enjoy the resort and Scotland at its very best.'
Though the rain pelted our faces (I like to think of it as Mother Nature's own exfoliating facial), a kayak trip around the loch was a beautifully serene start to proceedings. Paddling around to see the façade of Cameron House Hotel from the water was hugely impressive, and we were able to watch a lucky soul clamber ashore from a nearby seaplane. My fellow kayakers and I nodded in agreement that, should we land a role in the next James Bond movie, we would suggest this as our preferred mode of transport.
Next, I tried to navigate my way around the marina on a paddleboard which, I now know, is much like trying to balance on a pencil. After shaking to my knees, then clambering onto my feet in a move that I'm sure looked every bit as elegant as it felt, I'm happy to report that no big splashes were made. Beginners luck, perhaps? But I'll take it.
The third and final water-based activity of the day had the entire group as excited as children on Christmas Eve. After waiting patiently for our turn, jet-ski instructor, Ben, showed us the ropes before we hurtled across the famed loch at 40mph. Not only was this a unique way of experiencing the Bonnie Banks, it was without doubt an 'unrivalled adventure' and one that I haven't stopped smiling about since.
If a need for speed is not on your agenda, there are some more leisurely options to consider at Cameron House Hotel. Sam Rees, skipper of the hotel's Celtic Warrior boat, can take you for a spin around Loch Lomond, or (if you'd prefer to keep your feet on dry land) you can test out the mountain bike trails, clay pigeon shooting traps and Segways.
In case of rainy days, the 35-seat Cameron Cinema is also a wonderful option, where you can sit back in plush red seats and enjoy a selection of new-release films and all-time classics. Throw in a visit to the spa, the rooftop infinity pool, leisure centre, and the 18-hole golf course, and there's enough to keep you and the family entertained for weeks.
Food
'Our menus are inspired by our local produce and ingredients. From wholesome natural dishes to the very best of modern cooking, we aim to create a divine gastronomic experience for all foodies.'
As far as a culinary ethos goes, this one sounds pretty idyllic. And much to my delight, Cameron House Hotel have executed it perfectly – not least because they have a seemingly endless choice of restaurants, bistros and bars to choose from.
If it's a relaxed waterside dining experience you're after, The Boat House (which has a strong focus on fresh Scottish seafood) sits right by the banks of Loch Lomond and is an ideal option for growing families who have worked up an appetite on jet-skis and paddleboards. Truffle mac and cheese with king prawns? The young 'uns will love it. Grilled fillet of hake? It's a true crowd-pleaser. Fresh Scottish oysters plucked straight from the water? Don't mind if I do.
Alternatively, you might try the Cameron Grill (with its contemporary fine dining), the Café Spa (for a healthy bite to eat after a detoxing spa session), The Great Scots Bar (where you can partake in one of 300 drams alongside your meal), The Tavern or The Lobby Bar.
If that isn't enough to whet the appetite, the jewel in Cameron House's culinary crown awaits: Tamburrini & Wishart, the exclusive new restaurant which offers contemporary, innovative fine dining with seasonal produce. We were lucky enough to try out their tasting menu (which changes every two weeks), but daytime diners can also enjoy a three-course lunch. A menu crafted by revered Scottish chefs Paul Tamburrini and Martin Wishart, this was a truly exceptional experience.
Although beautifully executed dishes came thick and fast, one of the highlights was the roasted Orkney sea scallop, served with broccoli, togarashi and white wine. With a hit of saltiness and a rich, creamy texture, it was the perfect introduction to a stellar evening of the finest local and seasonal ingredients. Each dish, whether it was cured halibut with oscietra caviar, new season lamb with morels, potato and asparagus, or veal sweetbread with cauliflower, peas and broad beans, was incredibly special and left us all wide-eyed.
With each course, head sommelier, Peter Convery, surprised and delighted us with reds, whites, and dessert wines. Regaling us with stories of each glassful's history and background, listening to Peter was as much a treat as the meal itself. To round off an extraordinary evening, he shared his prized 'golden rule' for wine pairing: 'If it grows together, it goes together.' 
And with that wonderful simple, yet genius pearl of wisdom safely stowed for future, we bid each other goodnight…
If you are ready to plan your own Cameron House Hotel adventure, please visit their website. 
Email: reservations@cameronhouse.co.uk 
Tel: +44 (0)1389 312 210
Loch Lomond, West Dunbartonshire, G83 8QZ, Scotland, United Kingdom