Leaving Edinburgh on a misty September morning I excitedly set off for Scone Palace to take part as a passenger in the Lang Atholl luxury supercar drive to Blairgowrie. To my surprise, by the time I reached my destination the sun had broken through the haar and the scene was set perfectly.
Once we had introduced ourselves to the Lang Atholl team, it was straight to the cars, and what cars they were too. Six of the best, and each one capable of  reaching speeds of around 200mph, First in the line-up was the Audi R8 V10 Spyder with the S tronic engine, then the Ferrari California, a Lamborghini LP560 Spyder, a Bentley GTC Mulliner Speed, Ferrari 458 Spyder and Italia. Time to drool!
My car of choice for the drive along the A93 was the Ferrari California – admittedly this was mainly because the Lamborghini had already been chosen. Just standing next to the Lamborghini as it fired up made a massive grin spread across my face, that sweet sound of music – a V10 560hp engine. An even bigger grin occurred when I sat inside the Ferrari California. The smell of Italian leather was strong but this quickly faded away when the roof began to lower. Then that unique sound of a Ferrari V8 500hp fired up and off we set, the horses under the bonnet of this Italian thoroughbred made acceleration immediate, 0-60 in this car is under four seconds, and the automatic gear changes were quick and smooth, inside the car the air turbulence was almost non-existent even though the roof was down, so you didn't have to shout to have a conversation.
Billy – my driver for the trip and owner of the cars – bought his first car in 2005 and now has 15 in his fleet. He explained how he can show you (if need be) how to drive these supercars. And only when you are fully confident in your own ability, will he leave you to drive these stunners yourself. We also chatted at length about how different this new breed of supercar is from the classics of the past. Reliability and build quality is so much better, so that if you are lucky enough to own one, you could use it as an everyday vehicle.
But my journey was coming to an end as we entered the gates of Scone Palace. I must admit these machines are head turners, and they do make you feel like a million dollars. So, instead of flying off abroad for a weekend away, why not think about hiring out one of these amazing cars? These are the memories that will stay with you forever.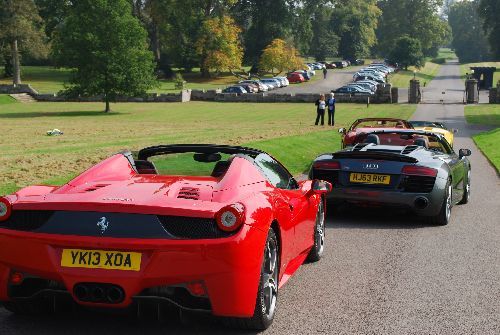 If you are looking for the chance to drive some of the world's finest luxury cars then why not try The Lang Atholl Experience. Cars can be hired from £595 a day for an Aston Martin V8 Vantage to £695 for the Lamborghini Gallardo. For more information visit the Lang Atholl website: http://langatholl.com/supercar-hire-scotland or call: +44 (0) 3333 440822.
By Andrew Balahura